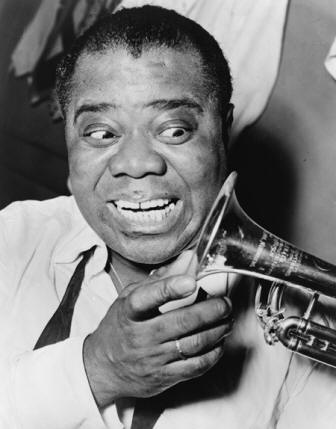 Renowned for his charismatic stage presence and deep, instantly recognizable voice almost as much as for his trumpet-playing, Louis Armstrong's influence extends well beyond jazz music, and by the end of his career in the 1960s, he was widely regarded as a profound influence on popular music in general. By the time of his death in 1971, the man known around the world as Satchmo was widely recognized as a founding father of jazz, a uniquely American art form. Louis Armstrong was the greatest of all Jazz musicians. Armstrong defined what it was to play Jazz. His amazing technical abilities, the joy and spontaneity, and amazingly quick, inventive musical mind still dominate Jazz to this day. Only
Charlie Parker
comes close to having as much influence on the history of Jazz as Louis Armstrong did.
African American Louis
Armstrong was born in one of the poorest sections of New Orleans on Aug. 4, 1901. "He was a prodigy," says art historian and curator Marc Miller, "a hard-working kid who helped support his mother and sister by working every type of job there was, including going out on street corners at night to sing for coins." At age 7, he bought his first real horn, a cornet.
Armstrong developed his cornet playing seriously in the band of the New Orleans Home for Colored Waifs, where he had been sent multiple times for general delinquency, most notably for a long term after firing his stepfather's pistol into the air at a New Year's Eve celebration, as police records confirm. Professor Peter Davis (who frequently appeared at the Home at the request of its administrator, Captain Joseph Jones) instilled discipline in and provided musical training to the otherwise self-taught Armstrong. Eventually, Davis made Armstrong the band leader. The Home band played around New Orleans and the thirteen year old Louis began to draw attention by his cornet playing, starting him on a musical career. At fourteen he was released from the Home, living again with his father and new stepmother and then back with his mother and also back to the streets and their temptations. Armstrong got his first dance hall job at Henry Ponce's where Black Benny became his protector and guide. He hauled coal by day and played his cornet at night.
The early 1920s saw Armstrong's popularity explode as he left New Orleans for Chicago to play with "King" Oliver's Creole Jazz Band, and then moved on to New York, where he influenced the Fletcher Henderson Orchestra with improvisation and a new musical vocabulary.

When he returned to Chicago in 1926, Louis Armstrong was a headliner on records and radio, and in jazz clubs, wowing audiences with the utter fearlessness and freedom of his groundbreaking trumpet solos. His "scat" singing transformed vocal tradition and musicians studied his recordings to hear what a horn could do. It has been said that Armstrong used his horn like a singer's voice and used his voice like a musical instrument.

On March 19, 1918, Louis married Daisy Parker from Gretna, Louisiana. They adopted a 3-year-old boy, Clarence Armstrong, whose mother, Louis's cousin Flora, died soon after giving birth. Clarence Armstrong was mentally disabled (the result of a head injury at an early age) and Louis would spend the rest of his life taking care of him. Louis's marriage to Parker failed quickly and they separated. She died shortly after the divorce.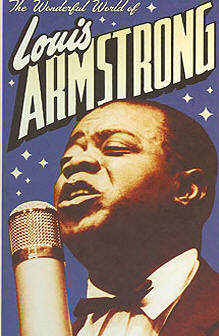 In 1929, Louis Armstrong returned to New York, where he performed at Connie's Inn in Harlem and on Broadway in Connie's Hot Chocolates, and made his first nationwide hit recordings. Jazz was becoming a worldwide phenomenon and Armstrong was its leader!


After World War II and though the early years of the Cold War, Armstrong served as "Ambassador Satch," spreading good will for America around the globe including State Department-sponsored tours and broadcasts in the '60s. He was especially well-received in the newly independent nations of Africa, marked by such events as a 1956 concert celebrating Ghana's independence, attended by more than 100,000 Louis Armstrong fans.

Although he was no stranger to racial prejudice himself, Armstrong rarely made public statements. In 1957, however, he publicly condemned the violence that swept Little Rock over school integration and how it was handled. "Do you dig me when I say, 'I have a right to blow my top over injustice?'" he said. For this statement, Armstrong was called a firebrand in newspapers across the country.

By the '50s, Louis Armstrong was an established international celebrity, an icon to musicians and lovers of jazz--and a genial, infectiously optimistic presence wherever he appeared. His death on July 6, 1971, was front-page news around the world, and more than 25,000 mourners filed past his coffin as he lay in state at the New York National Guard Armory.

Through the years, Louis entertained millions, from heads of state and royalty to the kids on his stoop in Corona. Despite his fame, he remained a humble man and lived a simple life in a working-class neighborhood. To this day, everyone loves Louis Armstrong—just the mention of his name makes people smile.