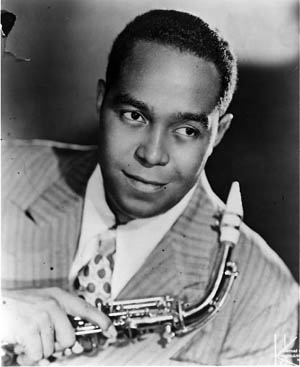 African American musician Charlie Parker was one of the most widely influential soloists in jazz history and one of the creators of a new style of playing called bop, or bebop. He was an alto saxophonist, composer, and bandleader, and generally considered the greatest jazz saxophonist. Together with Louis Armstrong and Ornette Coleman, Charlie Parker was one of the three great revolutionary geniuses in jazz. Charlie "Bird" Parker is one of the most important figures in jazz history and also one of its greatest tragic heroes. He got his nickname (also known as "Yardbird") from his love of chicken.
Charles Christopher Parker Jr. was born in Kansas City, Kansas, on August 29, 1920, the only child of Charles and Addie Parker. The family moved to Kansas City, Missouri, in 1927. His mother, who raised him by herself after his father left the family, bought him a saxophone in 1931, and he started taking lessons in school. His father presumably provided some musical influence; he was a pianist, dancer and singer on the T.O.B.A. circuit, although he later became a Pullman waiter or chef on the railways. His mother worked nights at the local Western Union. His biggest musical influence was a young trombone player who taught him the basics of improvisation.

Parker began playing the saxophone at age 11 and at age 14 joined his school's band using a rented school instrument. One story holds that, without formal training, he was terrible, and thrown out of the band. Experiencing periodic setbacks of this sort, at one point he broke off from his constant practicing. In the following years he played with several well-known local big bands, and in 1935 he left high school to become a full-time musician.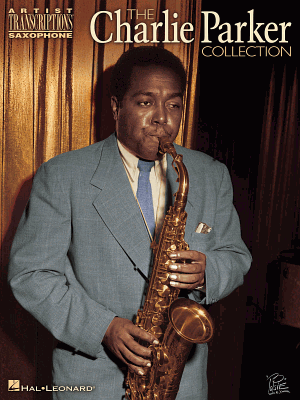 From 1935 to 1939, Parker worked in Kansas City with several local jazz and blues bands from which he developed his art. In 1939, Parker visited New York for the first time, and he stayed for nearly a year working as a professional musician and often participating in jam sessions. The New York atmosphere greatly influenced Parker's musical style.

In 1938, Parker joined the band of pianist Jay McShann, with whom he toured around Southwest Chicago and New York. A year later, Parker traveled to Chicago and was a regular performer at a club on 55th street. Parker soon moved to New York. He washed dishes at a local food place where he met guitarist Biddy Fleet, the man who taught him about instrumental harmony. Shortly afterwards, Parker returned to Kansas City to attend his father's funeral. Once there, he joined Harlan Leonard's Rockets and stayed for five months. In 1939, Yardbird rejoined McShann and was placed in charge of the reed section. Then, in 1940, Parker made his first recording with the McShann orchestra.

During the four years that Parker stayed with McShann's band, he got the opportunity to perform solo in several of their recordings, such as Hootie Blues, Sepian Bounce, and the 1941 hit Confessing the Blues. In 1942, while on tour with McShann, Parker performed in jam sessions at Monroe's and Minton's Playhouse in Harlem. There he caught the attention of up-and-coming jazz artists like Dizzy Gillespie and Thelonious Monk. Later that year, Parker broke with McShann and joined Earl Hines for eight months.
By this time Parker had been addicted to drugs for several years. While working in Los Angeles with Gillespie's group and others, Parker collapsed in the summer of 1946, suffering from heroin and alcohol addiction, and was confined to a state mental hospital.

Following his release after six months, Parker formed his own quintet, which included trumpeter Miles Davis and drummer Max Roach. He performed regularly in New York City and on tours to major U.S. cities and abroad. In 1947 Yardbird Parker played in a Gillespie concert at Carnegie Hall.
A Broadway nightclub, Birdland, was named after Charlie Parker, and he performed there on opening night in late 1949. Birdland went on to become one of the most famous 1950s jazz clubs. In July 1951, Parker's New York cabaret license was revoked at the request of the narcotics squad. This banned him from nightclub employment in the city and forced him to adopt a more peripatetic life until the license was reinstated (probably in autumn 1953). Sporadically employed, badly in debt, and in failing physical and mental health, he twice attempted suicide in 1954 and voluntarily committed himself to Bellevue Hospital in New York. His last public engagement was on March 5, 1955 at Birdland.

Bird's self-destructive life style finally caught up with him in 1955 and he died at the age of 34. He had so badly abused his body that the doctor who examined him estimated his age at 60. Besides his often imitated, but never matched style, he left behind a terrible legacy with other jazz musicians, who also did drugs, thinking if they used like Bird, they could play like Bird.