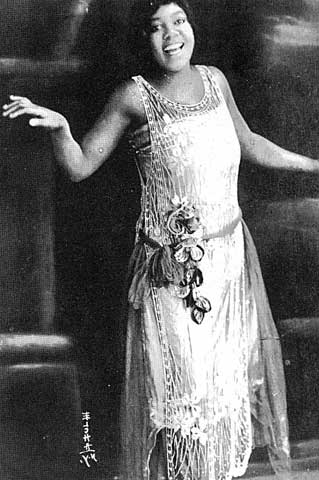 The first major blues and jazz singer on record and one of the most powerful of all time, Bessie Smith rightly earned the title of "The Empress of the Blues." Bessie Smith was a rough, crude, violent woman. She was also the greatest of the classic Blues singers of the 1920s.
Bessie Smith was born into poverty in Chattanooga, Tennessee in 1894. She was one of seven children of William and Laura Smith. Her father was a Baptist minister and a laborer. Her father died soon after her birth and her mother and two of her brothers died by the time she was eight or nine. An unmarried aunt raised her and her siblings. Smith realized that she had an unusual voice and sang for money on street corners at an early age, accompanied on guitar by Andrew, her younger brother.
At age eighteen Bessie worked with the Moses Stokes traveling minstrel show, and later with the Rabbit Foot Minstrels under Gertrude "Ma" Rainey. The minstrel show circuit was a difficult life. Late hours, low pay, gambling, fighting, and abusing alcohol and drugs were commonplace. But Smith's voice was remarkable, filling the largest hall without amplification and reaching out to each listener in beautiful, earthy tones.
Signed to Columbia Records, Bessie Smith made her first recording in 1923. Her first recording, Down-Hearted Blues, established her as the most successful black performing artist of her time. The song "Down Hearted Blues" was a big success. With her rich, powerful, and clear voice, she became a successful recording artist and toured extensively for the rest of her life. Smith had a great rapport with their audiences, who turned out in droves to see her. She recorded regularly until 1928.
As the popularity of Smith's records grew, her touring schedule grew. As she traveled from her home base of Philadelphia, Pennsylvania, throughout the United States, adoring crowds greeted her at each stop. In spite of Smith's commercial success, her personal life was very similar to the blues she sang. Her marriage to Jack Gee was stormy and ended in a bitter separation in 1929. Smith was also struggling to battle liquor.
Smith's career was cut short by a combination of the Great Depression (which all but put the recording industry out of business) and the advent of "talkies", which spelled the end for vaudeville. She never stopped performing, however. While the days of elaborate vaudeville shows were over, Smith continued touring and occasionally singing in clubs. In 1929, she appeared in a Broadway flop called Pansy, a musical in which top critics said she was the only asset.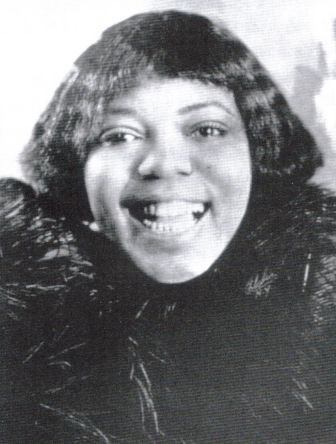 In 1929, Smith made her only film appearance, starring in a two-reeler titled St. Louis Blues, based on W. C. Handy's song of the same name. In the film, directed by Dudley Murphy and shot in Astoria, she sings the title song accompanied by members of Fletcher Henderson's orchestra, the Hall Johnson Choir, pianist James P. Johnson and a string section. It was a musical environment radically different from any found on her recordings.

On the morning of September 26, 1937, Smith and her close friend Richard Morgan were driving from a Memphis performance to Darling, Mississippi, for the next day's show. Near Clarksdale, Mississippi, their car was involved in an accident resulting in Bessie Smith's death.
Smith was unquestionably the greatest of the vaudeville blues singers and brought the emotional intensity, personal involvement, and expression of blues singing into the jazz repertory with unexcelled artistry. Baby Doll and After You've Gone, both made with Joe Smith, and Nobody Knows You When You're Down And Out, with Ed Allen on cornet, illustrate her capacity for sensitive interpretation of popular songs. Her broad phrasing, fine intonation, blue-note inflections, and wide, expressive range made hers the measure of jazz-blues singing in the 1920s.
Recordings of Bessie Smith were inducted into the Grammy Hall of Fame. This special Grammy Award was established in 1973 to honor recordings that are at least 25 years old and that have "qualitative or historical significance."
In 2002 Smith's recording of the single, "Downhearted Blues", was included by the National Recording Preservation Board in the Library of Congress' National Recording Registry. The board selects songs on an annual basis that are "culturally, historically, or aesthetically significant."

"Downhearted Blues" was included in the list of Songs of the Century by the Recording Industry of America and the National Endowment for the Arts in 2001. It is in the Rock and Roll Hall of Fame as one of the 500 songs that shaped rock 'n' roll.