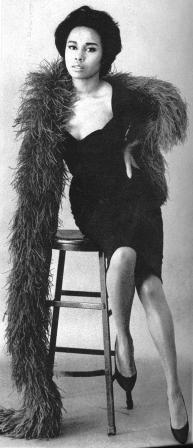 Diahann Carroll is one of America's major performing talents appearing in nightclubs, the Broadway stage, a Las Vegas headliner, in motion pictures and television. Diahann Carroll is a Tony Award winner, an Emmy and Grammy nominee, a Golden Globe winner and a Best Actress Oscar nominee. She is an award-winning actress, a successful entrepreneur, a devoted humanitarian, indeed Diahann Carroll is a legend.
Having appeared in some of the earliest major studio films to feature black casts such as Carmen Jones and Porgy and Bess, she starred in 1968's Julia, one of the first series on American television to star a black woman in a non-stereotypical role. Later she created the role of Dominique Deveraux on the popular prime time soap opera, Dynasty.
Diahann Carroll was born Carol Diahann Johnson in The Bronx, New York, to John Johnson and Mabel Faulk. Her family moved to the Harlem neighborhood of New York City when she was an infant. The Bronx-born beauty started out at age ten when she received a scholarship from the Metropolitan Opera to enroll in New York's prestigious High School of Music and Art, along with schoolmate Billy Dee Williams.
While Carroll was a sociology major at New York University, she began modeling and then singing in nightclubs. This led to television performances, which in turn led her to Broadway in 1954, when she debuted in "House of Flowers". That year she also made her film debut in Carmen Jones
. In 1962, Carroll earned a Tony award for starring in the Broadway production of No Strings.


Diahann Carroll made her mark on television in 1968 when she was cast in the title role of the pioneering sitcom Julia, the first television series to star an African-American actress. The show was also innovative for portraying the travails of an intelligent, capable single mother (Julia's husband died in Vietnam) who juggles her career, home life, and romance. When it was first broadcast, the show's interracial themes generated some controversy, but largely due to the charming Carroll, the show became popular and ran until 1971. She was nominated for an Emmy Award for
Julia
in 1969 and won the Golden Globe Award in 1968.
In 1974, Carroll received an Oscar nomination for Claudine. In 1989 she was nominated for an Emmy Award for the successful NBC-TV series, "A Different World", as outstanding actress in a comedy series. In 1984 Diahann Carroll become the first black actress to star in the award-winning night-time series "Dynasty", which is still in syndication around the world.
Carroll has had four marriages, the first of which, with the record producer Monte Kay, produced a daughter, Suzanne Kay Bamford (born 1960), who became a freelance media journalist. In 1973, Carroll surprised the press by marrying Las Vegas boutique owner Fred Glusman. She and British television host and producer David Frost had been dating at the time, and were actually engaged. Several weeks later, she filed for divorce, charging Glusman with physical abuse. In 1975, she married Robert DeLeon, a managing editor of Jet magazine. She was widowed two years later when DeLeon was killed in a car crash. Carroll's fourth and last marriage was to singer Vic Damone in 1987. The union, which Carroll admitted was turbulent, saw a legal separation in 1991, a reconciliation, and finally divorce in 1996.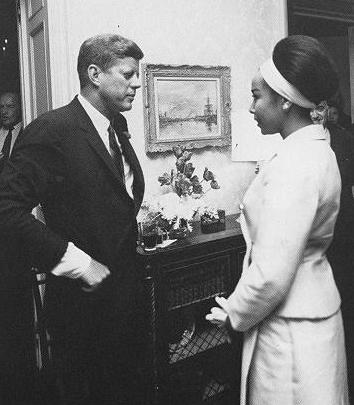 In April 2006, Diahann Carroll debuted her new cabaret show at Feinstein's, New York's prime venue, to sell-out audiences receiving overwhelming reviews. Stephen Holden of The New York Times wrote, "Diahann Carroll is historic. Experience it while you can. Her opening number, "Come Rain or Come Shine" erupts out of her like an emotional volcano. From here on, the lava never stops flowing. The forceful dramatic immediacy of her performance of "As if We Never Said Goodbye", is second to none. Throughout the show Ms. Carroll demonstrates her A-to-Z range as a singing actress. A rip-roaring version of the Sophie Tucker showstopper "Some of These Days" is matched in commitment by its quiet opposite, the break-up song "Where Do I Start?". The New York Post said "Looking impossibly beautiful for her 70 years, and dressed and coiffed in a manner that would make Norma Desmond (whom she played "Sunset Boulevard") proud, she delivers in a strong voice remarkably unaffected by age, a well-chosen mixture of standards, pop ballads and songs associated with her stage career".
In December 2008, Carroll was cast in USA Newtork's series White Collar as June, the savvy widow who rents out her guest room to Neal Caffrey. Most recently, Carroll has made recurring guest appearances on the hit dramedy Grey's Anatomy.