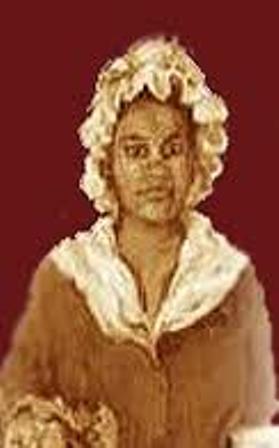 Although best known as the author of the first poem composed by an African American woman, Lucy Terry Prince was a remarkable woman whose many accomplishments included arguing a case before the Supreme Court. Lucy was well known for her speaking ability according to her 1821 obituary, "the fluency of her speech captivated all around her" and she used her skills a number of times in defense of her family's rights and property. In 1785, when a neighboring white family threatened the Princes, Lucy and Abijah appealed to the governor and his Council for protection. The Council ordered Guilford's selectmen to defend them. Lucy argued unsuccessfully before the trustees of Williams College for the admission of one of her sons, skillfully citing scripture and law "in an earnest and eloquent speech of three hours."
The baby whose slavery name would become Lucy Terry was born in Africa around 1730. Slave traders sold her in Rhode Island while she was very young, and it is believed that she was purchased by the Terry family of Enfield, Connecticut. At the age of five she was sold again, to Ebenezer Wells, of Deerfield, Massachusetts.
Lucy Terry became a member of the church when she reached the age of fourteen. It is not known how Lucy Terry became literate, but it is reasonable to conclude that she was taught while growing up in the Wells household. She was baptized during the Great Awakening, and nineteen years later, at the age of 20, she was "admitted to the fellowship of the church."
Lucy Terry remained with the Wells family until 1756, when she married a free African American man, Abijah Prince. Lucy became a free woman, although it is not known whether her husband had to buy her freedom or if Wells freed her of his own accord. Abijah and Lucy Terry Prince had six children; at least one of their sons, Cesar, is known to have fought in the Revolutionary War.
In 1756, Lucy Terry married Abijah Prince, a prosperous free black man who purchased her freedom. Their first child was born the following year, and by 1769 they had five others. In the 1760s, the Prince family moved to Guilford, Vermont.
Lucy Terry Prince composed poetry that was transmitted orally, as was common in colonial times. Because most of her works were not formally published, only the poem "Bars Fight" remains; a Deerfield resident, Harriet Hitchcock, recorded it from memory after Lucy Terry Prince's death. It was printed in 1855 (Josiah Holland's History of Western Massachusetts) for the first time, more than one hundred years after it was composed, and was thus preserved. The poem describes a violent incident between settlers and Native Americans in Deerfield in 1746.


The Princes later settled in Vermont. Abijah Prince, who already owned land in Massachusetts, acquired holdings in Vermont and was one of the founders of the town of Sunderland, Vermont.
Lucy Terry Prince's reputation as a skilled storyteller and orator grew, and in the 1790s she became the first African American woman to argue a case in front of the Supreme Court of the United States.
The Princes had become involved in a land dispute with one Colonel Eli Bronson, and had retained Isaac Ticknor (who would later become a governor of Vermont) as legal counsel.
Despite having hired a lawyer, Lucy Terry Prince went before the Supreme Court personally, and won the case.
Abijah Prince died in 1794.
Some accounts say that Lucy Terry Prince argued before the board of Williams College in an attempt to persuade them to admit one of her sons—if this indeed occurred, the attempt failed.
Lucy Terry Prince died at the age of ninety-one in Vermont.
She is remembered as the first Black woman to present a case to the Supreme Court (and win), and as our earliest-known African American poet.
The Bars Fight
1746
August, 'twas the twenty-fifth,
Seventeen hundred forty-six,
The Indians did in ambush lay,
Some very valiant men to slay.
' Twas nigh unto Sam Dickinson's mill,
The Indians there five men did kill.
The names of whom I'll not leave out,
Samuel Allen like a hero foute,
And though he was so brave and bold,
His face no more shall we behold.
Eleazer Hawks was killed outright,
Before he had time to fight,
Before he did the Indians see,
Was shot and killed immediately.
Oliver Amsden he was slain,
Which caused his friends much grief pain.
Simeon Amsden they found dead
Not many rods from Oliver's head.
Adonijah Gillett, we do hear,
Did lose his life which was so dear,
John Sadler fled across the water,
And thus escaped the dreadful slaughter.
Eunice Allen see the Indians comeing
And hoped to save herself by running;
And had not her petticoats stopt her,
The awful creatures had not cotched her,
Nor tommyhawked her on the head,
And left her on the ground for dead.
Young Samuel Allen, Oh! lack-a-day!
Was taken and carried to Canada.