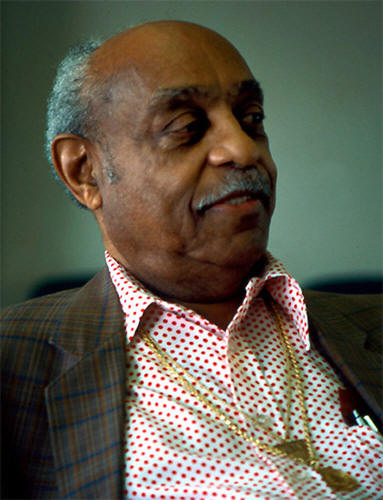 One of the most important figures in twentieth century jazz, Benny Carter was a noted arranger, composer, bandleader, and soloist. He is recognized as one of the top alto sax players of all time and his talents served many fellow musicians and bandleaders.
As a soloist, Carter, along with Johnny Hodges, was the model for swing era alto saxophonists. He is nearly unique in his ability to double on trumpet, which he plays in an equally distinctive style. In addition, he is an accomplished clarinetist, and has recorded proficiently on piano and trombone. As an arranger, he helped chart the course of big band jazz, and his compositions, such as "When Lights Are Low" and "Blues In My Heart," have become jazz standards. Carter has also made major musical contributions to the world of film and television. His musicianship and personality have won him the respect of fellow artists and audiences on every continent.
Born in New York City, Carter learned to play the piano as a child. He was attracted to the trumpet through his cousin, the legendary Cuban Bennett, and a neighbor, the great Ellington brass man Bubber Miley. Carter saved for months to buy a trumpet but, failing to master it over the weekend, he exchanged it for a C-melody saxophone. By his teens Carter was working with groups in Harlem and Pittsburgh. Frankie Trumbauer was an early inspiration to the young Benny, who was largely self-taught. By age fifteen, Carter was already sitting in at Harlem night spots.
Benny Carter planned to study theology upon entering Wilberforce College in Ohio in 1925 but was sidetracked by music. From 1924 to 1928, Carter gained valuable professional experience as a sideman in some of New York's top bands. He also traveled to the Midwest to work with the Wilberforce Collegians, and to Pittsburgh for a stint with Earl Hines.
Carter worked briefly with
Duke Ellington
in the 1920s and in 1928 made his recording and arranging debut as a member of Charlie Johnson's Orchestra. With no formal music education, he taught himself to arrange music on two of the orchestra's recordings, Charleston Is the Best Dance After All and Easy Money. Later that year, he joined Fletcher Henderson's orchestra and assumed arrangement duties. Carter's innovative scores, particularly his writing for the sax section, revitalized the band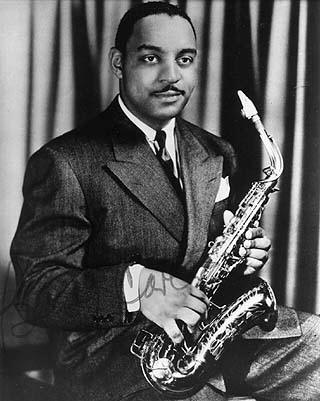 By 1932 Carter, already greatly respected by fellow Jazzmen and now composing as well as playing and arranging, was able to launch his own band, which he kept together intermittently for the next couple of years. This early Carter aggregation disbanded in 1934 largely due to financial reasons. Important soloists in his regular band included Chu Berry, Sid Catlett, and Teddy Wilson among others. Carter also organized an all-star band for visiting British composer-critic Spike Hughes. It was a European connection that would soon mean much as Carter left the U.S. for France ending up in England as a staff arranger for Henry Hall's BBC house radio band in 1936. Prior to leaving the U.S. however Carter made some memorable contributions as a sideman in Willie Bryant's band playing trumpet.
Benny Carter left the U.S. for Paris in 1935 to join the Willie Lewis band on trumpet and alto before moving to England at the urgings of Leonard Feather to take the aforementioned BBC arranging job. Unfortunately, during this period Carter was only able to record as an instrumentalist sparingly due to musician union rules. In the summer of 1937 he played a season at a Dutch seaside resort leading a big interracial and international band, the first successful unit of its kind in jazz history. Before returning to the U.S. in 1938 he also spent time in Scandinavia and France, recording with Coleman Hawkins, Django Reinhardt, Stephane Grapelly and other American and European Jazzmen.
Carter nearly missed the Swing Era in the U.S. returning to New York amid much fanfare from Down Beat magazine in 1938. He soon re-formed a big band in which sidemen from time to time included Vic Dickenson, Eddie Heywood, Jonah Jones and Tyree Glenn. Carter also found work as soloist, composer and arranger on a number of Lionel Hampton all-star sides for Bluebird in the late 1930s. Among the gems recorded with Hampton were two Carter originals; When Lights Are Low with Dizzy Gillespie on trumpet and a star-studded tenor section of Chu Berry, Coleman Hawkins and Ben Webster, and a flag waver called I'm In The Mood For Swing that featured trumpet licks from Harry James along with Benny's alto saxophone.
The versatile Carter moved increasingly into studio work. Beginning with "Stormy Weather" in 1943, he arranged for dozens of feature films and television productions. His credits encompass all musical idioms, from feature films such as "A Man Called Adam" and "Buck and the Preacher" to television shows, including "M Squad" and "Chrysler Theater." He has provided arrangements for almost every major popular singer including Billie Holiday, Ella Fitzgerald, Sarah Vaughan, Lou Rawls, Ray Charles, Peggy Lee, Louis Armstrong, Pearl Bailey, Billy Eckstine and Mel Torme.
One of the most remarkable things about Benny Carter's career was its length. It has been said that he is the only musician to have recorded in eight different decades. Having started a career in music before music was even recorded electrically, Carter remained a masterful musician, arranger and composer until he retired from performing in 1997. In 1998, Benny Carter was honored at Third Annual Awards Gala and Concert at Lincoln Center. He received the Jazz at Lincoln Center Award for Artistic Excellence and his music was performed by the Lincoln Center Jazz Orchestra with Wynton Marsalis, Diana Krall and Bobby Short. Wynton accepted on Benny's behalf. (Back trouble prevented Benny from attending).

Carter died in Los Angeles, California at Cedars-Sinai Hospital July 12, 2003 from complications of bronchitis at the age of 95. In 1979, he married Hilma Ollila Arons, who survives him, along with a daughter, a granddaughter and a grandson.