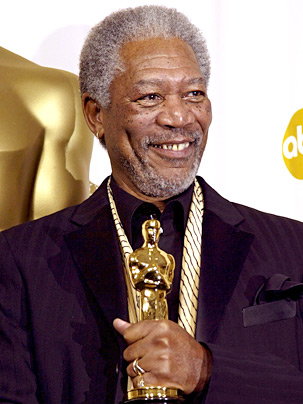 Morgan Freeman is an American actor,
film director
, and narrator. He is noted for his reserved demeanor and authoritative speaking voice. Freeman has received Academy Award nominations for his performances in
Street Smart
,
Driving Miss Daisy,
T
he Shawshank Redemption
and
Invictus
and won in 2005 for
Million Dollar Baby
. He has also won a Golden Globe Award and a Screen Actors Guild Award. With an authoritative voice and calm demeanor, this ever popular African American actor has grown into one of the most respected figures in modern US cinema.
Morgan Freeman was born in Memphis, Tennessee, the son of Mayme Edna and Morgan Porterfield Freeman, Sr., a barber who died in 1961 from cirrhosis. He has three older siblings. Freeman was sent as an infant to his paternal grandmother in Charleston, Mississippi. His family moved frequently during his childhood, living in Greenwood, Mississippi; Gary, Indiana; and finally Chicago, Illinois. Freeman made his acting debut at age nine playing the lead role in a school play. He then attended Broad Street High School, currently Threadgill Elementary School, in Mississippi.
At age 12, Morgan Freeman won a statewide drama competition, and while still at Broad Street High School, he performed in a radio show based in Nashville, Tennessee. In 1955, he graduated from Broad Street, but turned down a partial drama scholarship from Jackson State University, opting instead to work as a mechanic in the United States Air Force.
Freeman moved to Los Angeles in the early 1960s and worked as a transcript clerk at Los Angeles Community College. During this period, he also lived in New York City, working as a dancer at the 1964 World's Fair, and in San Francisco, where he was a member of the Opera Ring music group. Freeman acted in a touring company version of
The Royal Hunt of the Sun
, and also appeared as an extra in the 1965 film "The Pawnbroker".
Morgan Freeman made his off-Broadway debut in 1967, opposite Viveca Lindfors in
The Nigger Lovers
, a play about the civil rights era "Freedom Riders", before debuting on Broadway in 1968's all-black version of
Hello, Dolly!
, which also starred Pearl Bailey and
Cab Calloway
.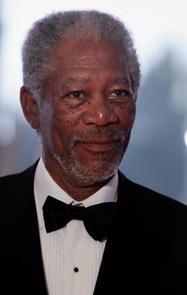 Then came the Seventies, and the first real taste of fame. Strangely, considering he's now one of the most respected screen actors alive, this came with the TV series The Electric Company, a kind of prototype Sesame Street that taught kids phonetics and grammar via sketches, songs and cartoons. Co-starring with Rita Moreno and
Bill Cosby
, Freeman appeared as such characters as Easy Reader, Count Dracula, the Mad Scientist and, naturally given the roles to come, The Cop. Freeman later took a supporting role in the film Brubaker but things cooled off after that.
Fed up with the lower wages of theatre and having two children to support Freeman auditioned for, and won, the role of a doctor in the daytime soap-opera, Another World. He kept the regular work for two years before leaving to take a role in the film, Harry and Son.
Morgan Freeman returned to Broadway where he was making a name for himself. It was back on Broadway that Freeman landed his Obie award-winning role in the stage version of Driving Miss Daisy. His role as the dignified chauffeur assisting a moody pensioner gave him much needed publicity and it was not long before he landed a role opposite Christopher Reeve in Street Smart. Freeman was 50 in 1987 and winning praise for his characterization of a menacing pimp. He also won his first Oscar nomination for the part. Two years later, Freeman was nominated for another Oscar for playing Hoke Colburn, the chauffeur in the film version of Driving Miss Daisy, opposite Jessica Tandy.
In 1993, Freeman demonstrated his skills on the other side of the camera, making his directorial debut with
Bopha!
, the story of a South African cop alienated from his son by apartheid. The following year, the actor received a third Oscar nomination as an aged lifer in the prison drama
The Shawshank Redemption
. He went on to do steady work throughout the rest of the decade. In 2000, as a 63-year-old, Freeman kissed Renée Zellweger in Nurse Betty; it was his first on-screen kiss.
By the time Freeman appeared opposite Hilary Swank and Clint Eastwood in Eastwood's acclaimed 2004 boxing drama Million Dollar Baby, his reputation as one of Hollywood's hardest-working, most-respected actors was cemented in place. When Freeman took home the Best Supporting Actor Oscar at the 77th Annual Academy Awards for his performance as the former boxer turned trainer who convinces his old friend to take a scrappy female fighter (Hilary Swank) under his wing, the award was considered overdue given Freeman's impressive body of work.
In 2005, Freeman labeled the concept of a month, dedicated to black history in America, as "ridiculous''. He told a 60 Minutes reporter: "You're going to relegate my history to a month? I don't want a black history month. Black history is American history.''Freeman has played a black President, twice played God and played civil rights activist Nelson Mandella.
Morgan Freeman has worked hard and tries to give something back. Having co-founded the Frank Silvera Writers' Workshop, he's also donated $250,000 to establish a chair of performing arts at Hutchison School for Girls in his birthplace, Memphis. When relaxing, he likes to ride. He owns horses and a boat, as well as collections of gold coins and rare stamps. Coming from so little, Morgan Freeman now owns property in Mississippi, New York, Los Angeles and the Virgin Islands.