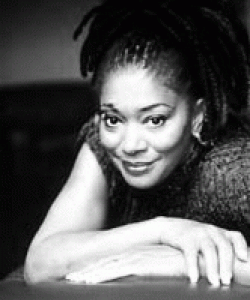 Terry McMillian is an African-American author. McMillian is the critically acclaimed and bestselling author of Mama, Disappearing Acts, Waiting to Exhale, How Stella Got Her Groove Back, and her latest, A Day Late and a Dollar Short. She is also the editor of Breaking the Ice: An Anthology of Contemporary African-American Fiction. She achieved national attention in 1992 with her third novel, Waiting to Exhale, which remained on The New York Times bestseller list for months.
Terry Lynn McMillan is the oldest of 5 children. She was born to Madeline Washington and Edward McMillan in Port Huron Michigan October 18, 1951. Her parents were separated when she was young and her father died when she was fourteen years old. She helped her mother raise her siblings, Edwin, Crystal, Vicki and Roslyn. Her childhood memories are full of hard work and family, unhampered by what was missing. She said her mother never let them out of the house looking anything less than brand new.
Terry's diligent studies earned her a full scholarship at St. Clair Community College in Port Huron. In a rare show of rebellion against her mother's wishes, Terry refused the financial assistance and moved to Los Angeles instead. She worked in an entertainment law firm as a clerk while attending community college, happy to at least in the proximity of dreams becoming real.
Terry soon relocated again, transferring to UC Berkeley. The Black Power renaissance of the late 70's was as serious as her afro was high. Her time in college was preparation for a career: a job that paid. Terry wanted to become a social worker, a stable job that would also allow her to save the world. Despite her specific focus, like most other college students she found herself drawn in other directions. Compelled to employ words as tools for change, she wrote editorials for the school paper to vocalize her opinions. Words were also the best tool for mending her broken heart. She took a creative class with Professor Ishmael Reed, and could not deny the power of writing. When the time came, she compromised between words and social work and majored in Journalism.
Moving to New York City, Terry McMillian spent her days among Manhattan's most powerful entertainment lawyers working as a word processor. Never letting an opportunity pass her by, she relinquished her position as an employee to become a contractor, doing the same job for better money and more control. She used her spare time to continue writing fiction and Terry's work began to appear in magazines, journals and even a children's story.
Terry was work-shopping a story called Mama with her writing group, the Harlem Writer's Guild. They encouraged her to keep exploring the voice of Mildred Peacock. What started as as short story was now a novel. McMillian submitted the story to a fiction contest at Doubleday and won. Not only would her work be published but she was also introduced to an agent. She met agent Molly Friedrich who remains her agent more than twenty years later.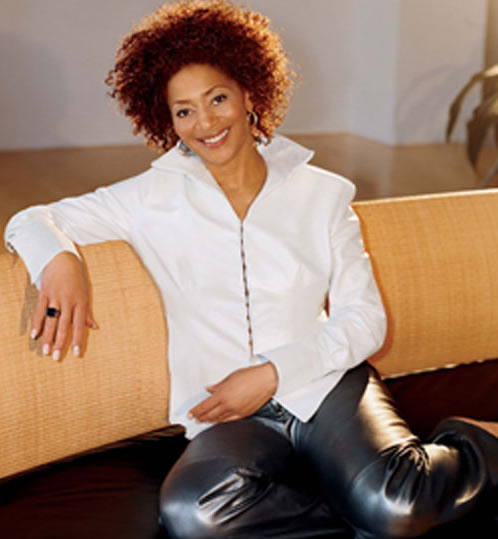 McMillian's next novel Disappearing Acts was met with critical success. Few writers, let alone black women, were able to shift from their own sensitive feminine side to a construction working male lover like Terry did with Franklin and Zora. She also edited the seminal anthology Breaking Ice and moved on to a tenure track position in the prestigious English Department at University of Arizona at Tucson.
Waiting to Exhale took the publishing world by storm. No one predicted the droves of women and black people who would line the streets hoping to hear Terry read and sign their books.
Following Waiting to Exhale, Terry McMillian suffered several personal losses in a short period of time. Trying to lift herself up, she planned a vacation to Jamaica. How Stella Got Her Groove Back was written in just 30 days, Stella was inspired by an indecisive romance that led to a wedding and resulted in a novel that broke records.
McMillan married Jamaican native Jonathan Plummer in 1998. When they married, McMillan was in her mid 40s, Plummer, his early 20s; he was the inspiration for the love interest of the main character in the book How Stella Got Her Groove Back. Her life did not follow the movie when in December 2004, Plummer told McMillan that he was gay; in March 2005, she
filed for divorce
. The divorce was settled for an undisclosed amount. In March 2007, McMillan sued Plummer and his lawyer for $40 million citing an intentional strategy to embarrass and humiliate her during the divorce proceedings; McMillan eventually won a judgment intentional infliction of emotional distress but had also withdrew the suit before the case went to trial, and Plummer was never ordered to pay the intended amount.
On September 27, 2010, the two sat together with
Oprah Winfrey
to discuss their post-divorce relationship and partial reconciliation; both acknowledged that he fulfilled the role of boyfriend and husband before his coming-out, although McMillan stated that "he's not my BFF"
Waiting to Exhale and How Stella Got Her Groove Back were both released as major motion pictures and did well in the theaters. Disappearing Acts was produced for television by HBO Films. McMillan lives outside of San Francisco.