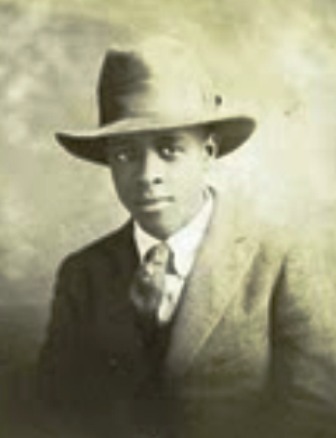 One of the most gifted editors and critics of the Harlem Renaissance, Wallace Thurman, though an initial supporter of the flourishing African American art scene of the 1920s, became one of its most virulent critics. Arriving in New York in 1925, during the second phase of the Harlem Renaissance, he helped launch two short-lived periodicals dedicated to black artists and wrote three novels and several plays. The leading bohemian figure of Harlem's literary circle, Thurman envisioned an African American literary movement owing itself, not to the patronage of elitist black intellectuals and white
Thurman was born on August 16, 1902, in Salt Lake City, Utah, to Beulah and Oscar Thurman. His father moved to California not long after the birth, leaving Thurman in the care of his mother. Though raised by Beulah, Thurman developed a loving bond to 'Ma Jack' (Emma Jackson), his maternal grandmother. A sickly child, Thurman spent many hours of his youth reading a wide variety of literature and watching Saturday matinee films which inspired him to write his own Hollywood scenarios.
In 1919, Wallace Henry Thurman enrolled at the University of Utah in Salt Lake City. After a couple of years there, he transferred to the University of Southern California. Although initially interested in medicine, at USC Thurman rediscovered an earlier enthusiasm for writing and literature.
Without finishing his education, Thurman turned his attention to writing the column Inklings for a black Los Angeles newspaper, and founding the short-lived magazine Outlet, a publication intended to initiate a literary movement on the West coast like that of New York City's Harlem Renaissance. In the early 1920s Thurman divided his time between journalistic endeavors and working as a part time postal clerk.
Unable to organize a literary group in California, Thurman moved to Harlem and arrived there on Labor Day in 1925, during the peak of the Harlem Renaissance. Thurman sought work at the New York Customs House, but instead found employment as an elevator operator a few blocks from Harlem. Despite his interest in pursuing a writing career, he gained notoriety as a talented editor who could read several lines of copy at once. In New York City he worked as a reporter and editor for the magazine, The Looking Glass, published by noted Harlem theater critic Theophilus Lewis.
The following year he became the editor of The Messenger, a socialist journal aimed at blacks. While at The Messenger, Thurman became the first to publish the adult-themed stories of Langston Hughes. Thurman left the journal in October 1926 to become the editor of a white-owned magazine called World Tomorrow. The following month, he collaborated in publishing the literary magazine Fire!! Devoted to the Younger Negro Artists, among whose contributors were Hughes, Zora Neale Hurston, Richard Bruce Nugent, Aaron Douglas, and Gwendolyn B. Bennett.
Only one issue of Fire!! was ever published. Fire!! challenged the ideas of
W. E. B. Du Bois
and many of the African American bourgeoisie, who, in their search for social equality and racial integration, believed that black art should serve as propaganda for those ends. The New Negro movement needed to show white Americans that blacks were not inferior.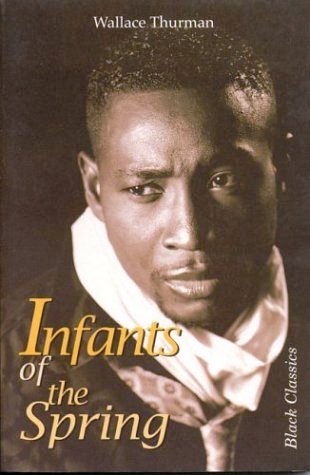 But Thurman and others of the "Niggerati" (the deliberately ironic name Thurman used for the young African American artists and intellectuals of the Harlem Renaissance) wanted to show the real lives of African Americans, both the good and the bad. Thurman believed that black artists should be more objective in their writings and not so self-conscious that they failed to acknowledge and celebrate the arduous conditions of African American lives. As Singh and Scott put it, "Thurman's Harlem Renaissance is, thus, staunch and revolutionary in its commitment to individuality and critical objectivity: the black writer need not pander to the aesthetic preferences of the black middle class, nor should he or she write for an easy and patronizing white approval."
During this time, Thurman's rooming house apartment at 267 West 136th Street in Harlem became the main place where the African-American literary avant-garde and visual artists of the Harlem Renaissance met and socialized. Thurman and Hurston mockingly called the room "Niggerati Manor", in reference to all of the black literati who showed up there. The walls of Niggerati Manor were painted red and black, colors to be emulated on the cover of Fire!! Nugent painted murals on the walls, some of which contained homoerotic content.
In 1928, Thurman published another magazine called Harlem: a Forum of Negro Life, whose contributors included Alain Locke, George Schuyler, and Alice Dunbar-Nelson. The publication lasted for only two issues. Afterwards, Thurman became a reader for a major New York publishing company, the first African American ever in such a position.
On February 20, 1929, Thurman
'
s play,
Harlem: A Melodrama of Negro Life in Harlem,
(originally titled
Black Belt)
opened at the Apollo Theatre, and eventually completed a successful run on Broadway. Loosely based on Thurman
'
s short story
"
Cordelia the Crude,
"
Harlem
was written in collaboration with Thurman
'
s white associate and lifelong friend, William Jourdan Rapp.
Harlem
centered on the experiences of a migrant family who, coming to New York with bright hopes of a better life, discover further hardship in adjusting to city life and the problems of unemployment.
In March of 1929 Thurman
'
s first novel,
Blacker the Berry,
was published. The novel, which he dedicated to his grandmother Emma Jackson was one of the earliest American novels which dealt with the subject of interracial prejudice.
Three years later Thurman published
Infants of the Spring
, a satire of the themes and the individuals of the Harlem Renaissance. He co-authored
The Interne
, a final novel with A.L. Furman, published in 1932.