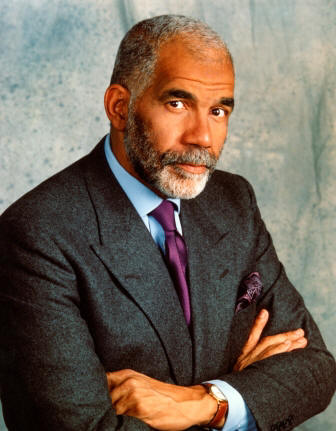 Ed Bradley was a suave and streetwise reporter considered one of the best interviewers on television and the winner of 19 Emmy awards for his work on "60 Minutes" and "CBS Reports. Bradley, the first African American at CBS to be a White House correspondent and a Sunday night anchor, covered a broad array of stories with insight and aplomb during his 39-year career, from war to politics to sensitive portraits of artists. He won virtually every broadcast news award and some of them more than once. As one of the most visible black journalists on television, Bradley broke down racial barriers and became a role model for young African Americans.
Ed Bradley's ability to handle hard-nosed investigations and to draw out guarded celebrities made him a star. He covered the Vietnam War, a presidential campaign and the White House and at times anchored the evening news. Bradley was a jazz-loving native of Philadelphia who rose from unpaid radio work to the most senior position on the most popular news program on TV.
Edward R. Bradley was born June 22, 1941, in a tough section of west Philadelphia, where, he recalled, his parents worked 20-hour days, with two jobs each. He graduated from what is now Cheyney University of Pennsylvania, a historically black college. Bradley taught sixth grade after college and worked at night and without pay as a disc jockey playing jazz and doing play-by-play for basketball games on WDAS-FM radio in Philadelphia.
He covered basketball games, spun records and read the news for the station until one day in the middle 1960s when he heard about the riots in Philadelphia on the radio. He offered to cover the story for WDAS and wound up reporting the event in phone call interviews with community leaders. When he returned to the station, they sent him out with a recorder. Bradley never looked back and reporting became his passion.
Ed Bradley soon landed a job at WCBS radio in New York, where he asserted himself and argued with his editor that he would not only cover black issues, he would cover all stories. After a few years, he quit his job and moved to Paris on a romantic whim soon dashed when he ran out of money. Bradley went back to his second love, reporting, and was freelancing for CBS News when they offered him a job covering the war in 1972. In Cambodia, he was hit by shrapnel in the arm and in his back in 1973 and was soon transferred to the Washington bureau to cover Capitol Hill. It was boring work to Bradley and he couldn't wait to get back to the war. He then volunteered to cover the fall of Vietnam and Cambodia and was one of the last reporters to leave both war zones when they fell to the Communists in 1975.
Upon returning to the states, he covered the
Carter presidential campaign
and became White House correspondent in the Carter White House before beginning his work on "CBS Reports."
Ed Bradley's true talent was his ability to do any story and look natural doing it, whether clowning around with Robin Williams, probing company executives in an investigation or conducting sensitive interviews with bereaved people. The range of Bradley's immense talent was demonstrated almost immediately on
60 Minutes
with two Emmy-Award winning interviews in his first few seasons. In the first, an insightful profile of
Lena Horne
, the fragile singer became so comfortable with the young Bradley, she unconsciously grabbed his hand as they walked.
Bradley built on his work with more award-winning stories for 60 Minutes for a total of 20 Emmys and recognition from all of journalism's most prestigious awards. He won a George Foster Peabody Award for "Big Man, Big Voice" (November 1997), the uplifting story of a German singer who became successful despite significant birth defects. In 1995, he won his 11th Emmy Award for a 60 Minutes segment on the cruel effects of nuclear testing in the town of Semipalatinsk, Kazakhstan, a report that also won him an Alfred I. duPont-Columbia University Award in 1994. Also in 1994, he was honored with an Overseas Press Club Award for two 60 Minutes reports that took viewers inside sensitive military installations in Russia and the United States. In 1985, he received an Emmy Award for "Schizophrenia," a 60 Minutes report on that misunderstood brain disorder. He received an Alfred I. duPont-Columbia University Silver Baton and a 1991 Emmy Award for his 60 Minutes report "Made in China," a look at Chinese forced-labor camps, and another Emmy for "Caitlin's Story" (November 1992), an examination of the controversy between the parents of a deaf child and a deaf association.
Some of the more prominent investigative work carried out by Bradley included one of his last reports, an investigation of the Duke University lacrosse rape case, in which he broke new ground with the first interviews with the accused in a story that made headlines just last month; a report on the recalled painkiller, Vioxx, in November of 2004; an expose on the inclination of Ford Explorers with Firestone tires to roll over in crashes in 2000; a 2004 segment that reported the reopening of the 50-year-old racial murder case of Emmett Till; and a look at anti-gay feeling in the military that played a role the beating death of Pfc. Barry Winchell at Ft. Campbell, Ky., broadcast in 2003.
Ed Bradley passed away on November 9, 2006 at New York's Mount Sinai Hospital from leukemia with his wife Patricia and friends Jimmy Buffett and Charlayne Hunter-Gault at his side. In a comment that served to evaluate his stellar career, Bradley recalled the subject of his first Emmy-winning piece for
60 Minutes
: "If I arrive at the pearly gates and St. Peter said what have I done to deserve entry, I'd ask, 'Did you see my Lena Horne story?'