African American Marian Anderson was one of the most celebrated singers of the twentieth century. Most of her singing career was spent performing in concert and recital in major music venues and with major orchestras throughout the United States and Europe between 1925 and 1965. Although she was offered contracts to perform roles with many important European opera companies, Anderson declined all of these, preferring to perform in concert and recital only. Marian Anderson became an important figure in the struggle for black artists to overcome racial prejudice in the United States during the mid twentieth century.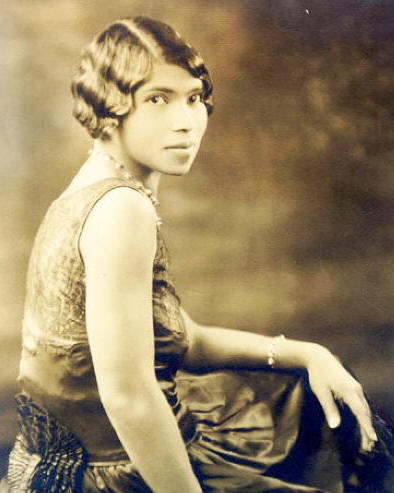 Marian Anderson was the oldest of three daughters born to John and Anna Anderson. John was a loader at the Reading Terminal Market, while Anna had been a teacher in Virginia. In 1912, John suffered a head wound at work and died soon after. Anna and her three daughters moved in with John's parents, while Anna found work cleaning, laundering and scrubbing floors.
When Marian was 13 years old, she joined the senior choir at church and began visiting other churches; becoming well-known and accepting invitations to sing. She became so popular, she would sometimes perform at three different places in a single night. Finally she summoned the confidence to request five dollars per performance. In 1919, at the age of 22, she sang at the National Baptist Convention. When she was 15 years old, Marian began voice lessons with Mary Saunders Patterson, a prominent black soprano. Shortly thereafter, the Philadelphia Choral Society held a benefit concert, providing $500 for her to study for two years with leading contralto Agnes Reifsnyder. After she graduated from high school, her principal enabled her to meet Guiseppe Boghetti, a much sought-after teacher. When he heard Marian audition, singing "Deep River," he was moved to tears.
Marian Anderson went to London in 1925 to study. She visited Germany and Finland, where composer Jean Sibelius dedicated the song "Solitude" to her. In 1926, Marian toured the eastern and southern states, adding songs to her repertoire. On December 30, 1928, she performed a solo recital at Carnegie Hall. A New York Times critic wrote: "A true mezzo-soprano, she encompassed both ranges with full power, expressive feeling, dynamic contrast, and utmost delicacy." But despite this success, her engagements were stagnating; she was still performing mainly for black audiences. During the next ten years, she performed extensively in Europe, including an appearance during the 1935 Mozart festival in Austria. She sang before the Archbishop of Salzburg and many of Europe's leading musicians. Her performance led the archbishop to request an encore of Schubert's "Ave Maria" and Arturo Toscanini to state "Yours is a voice one hears once in a hundred years."
In 1939, the Daughters of the American Revolution (DAR) refused permission for Anderson to sing to an integrated audience in Constitution Hall. Their race-driven refusal placed Anderson into the spotlight of the international community on a level usually only found by high profile celebrities and politicians. The public was outraged, famous musicians protested, and First Lady Eleanor Roosevelt resigned from the Daughters of the American Revolution. Roosevelt, along with with
Walter White
of the National Association for the Advancement of Colored People (NAACP), encouraged Secretary of the Interior Harold Ickes to arrange a free open-air concert on the steps of the Lincoln Memorial for Easter Sunday. On April 9, Marian sang before 75,000 people and millions of radio listeners. Shortly after her concert Marian gave a private concert at the White House, where President Franklin D. Roosevelt was entertaining King George VI and Queen Elizabeth of Britain.
In 1943, Marian performed at Constitution Hall, at a benefit for Chinese relief. She insisted the DAR suspend its segregated seating policy for the concert. In July 1943, Marian married Orpheus H. Fisher, a Delaware architect she had known since childhood. They lived on her "Marianna Farm" in Connecticut. During World War II and the Korean War, Marian entertained troops in hospitals and bases. By 1956, she had performed over a thousand times. In January 1955, Marian debuted at the New York Metropolitan Opera as Ulrica in Guiseppe Verdi's "Un Ballo in Machera" (The Masked Ball) – the first black singer as a regular company member.
In 1957, Marian Anderson toured India and the Far East as a goodwill ambassador through the U.S. State Department and the American National Theater and Academy. She traveled 35,000 miles in 12 weeks, giving 24 concerts. After that, President Dwight Eisenhower appointed her as a delegate to the United Nations Human Rights Committee. She sang at his inauguration, as well as John F. Kennedy's in 1961. In 1962, she toured Australia. In 1963, Marian Anderson sang at the March on Washington for Job and Freedom. On April 19, 1965, Easter Sunday, Marian gave her final concert at Carnegie Hall, following a year-long farewell tour.
The recipient of numerous awards and honors, Anderson was notably awarded the Presidential Medal of Freedom in 1963, the Kennedy Center Honors in 1978, the National Medal of Arts in 1986, and a Grammy Lifetime Achievement Award in 1991.
Before her death in 1993 Marian Anderson placed her personal papers - including letters, music scores, programs, photographs, and sound recordings - with the University of Pennsylvania Libraries, where they are housed in the Rare Book & Manuscript Library. In 1996 the National Endowment for the Humanities provided Penn with outright and matching grants to preserve, catalog, and make available to the public the archive of Marian Anderson.