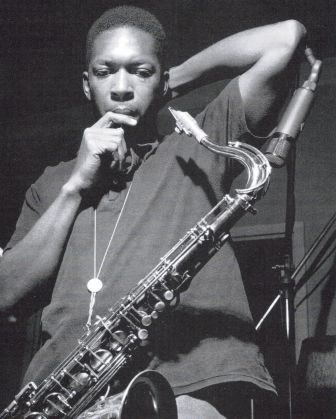 Despite a relatively brief career, saxophonist John Coltrane was among the most important, and most controversial, figures in jazz. John Coltrane possessed that special something associated with spiritual and artistic genius. The excitement and unpredictability of John Coltrane's work separated him from other sax players of his time. When John Coltrane died in 1967 jazz was robbed of one of the most important saxophonists in the twentieth century, and his sound is held in awe by jazz musicians. Known as the "Jazz Prophet" John Coltrane will live on in his music.
John William Coltrane was born on September 23, 1926 in Hamlet, North Carolina. At the age of three his family moved to High Point, NC, where young Coltrane spent his early years. His father, John Robert Coltrane, died in 1939, leaving twelve year-old John and his mother on their own. His mother, Alice Blair Coltrane, moved to New Jersey to work as a domestic while John completed high school. John played first the clarinet, then alto saxophone in his high school band. His first musical influence was the tenor saxophonist Lester Young of Count Basie's band. In June of 1943, after graduation, Coltrane moved to Philadelphia to be closer to his mother.
John Coltrane intended to study music and he enrolled in the Ornstein Conservatory where he studied for eight years, and also at Granoff Studios. Drafted into the navy, Coltrane spent a brief stint in Hawaii, where he played the clarinet in navy bands. After a year Coltrane was back from the navy and in 1946 he begin to get gigs in and around Philadelphia, Sadly it was during this time that John Coltrane also began abusing alcohol and drugs, a problem that would plaque Coltrane throughout his career.
A lucky break came for John Coltrane when he played with the Dizzy Gillespie Big Band, and he began to play the tenor sax. Coltrane played with Earl Bostic's group in 1952, switching to the band of his early idol Johnny Hodges in 1953. Problems with drug and alcohol abuse, however, forced Coltrane out of the group in 1954.Substance abuse is common in the world of music, but many musicians fail or choose not to sign up for drug and alcohol abuse treatment programs that would have helped them clean their act up.
In 1955, John Coltrane's hero on the alto sax, Charlie Bird Parker, died from alcohol poisoning. In that same year, Coltrane married his first wife Juanita Austin, known to friends as Naima. She was a newly converted Muslim and introduced Coltrane to new spirituality. This was also the same year that he joined the Miles Davis Quintet. By working with highly respected Miles Davis, John Coltrane began to be taken more seriously as a cutting edge musician with innovative ideas on how to play a saxophone. John Coltrane became known for his long solos with the band. Once when a reporter asked Miles about why Coltrane played such long solos, he smiled and replied" It takes him all that time to say what he needs to say".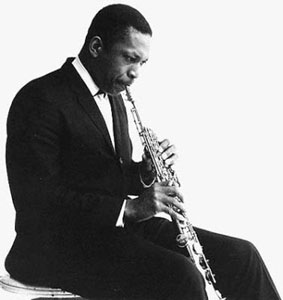 For a brief period in 1957, John Coltrane left the Miles Band and played with pianist Thelonious Monk. They played the now famous "Five Spot Cafe" engagements. The Five spot was the premiere club in New York for experimental jazz. It was here that Coltrane honed his craft under Monk, whom he considered a master teacher. Coltrane was able to talk to Monk about musical problems and Monk would show him the answers just by playing them. He claimed he could watch Monk play and find out things he wanted to know about music. While with Monk John Coltrane grew spiritually and he was able to give up heroin. Coltrane returned to Miles band a year later and they recorded some of their greatest jazz including Milestone and King of Blue.
John Coltrane was interested in learning more about the African and Indian religions and he studied briefly with Ravi Shankar. His new beliefs soon translated into his music. He played "My Favorite Things" as though it was an Indian raga and began using a set of pitches or modes, rather than functional harmony as in bebop. He also created a set of harmonic formulas, known today as Coltrane substitutions. It was John Coltrane who first brought back the soprano saxophone as a viable jazz instrument, something Sidney Bechet had done some forty years earlier. Recording from this period in John Coltrane's career included Blue Train, Giant Steps and his first hit record My Favorite Things, established him as one of the most innovative musicians in jazz history.
In 1961 John Coltrane formed his own band, the Classic Quartet. It consisted of him on Sax, McCoy Tyner on piano, Elvis Jones on drums, and either Reggie Workman or Jimmy Garrison on the bass. The group was popular and successfully toured throughout the United States. Martin Luther King and the racial problems in Birmingham was the backdrop for the recording Alabama done in 1963.
In the summer of 1963 John Coltrane moved out of the house he shared with his wife, Naima, and moved in with Alice McLeod. Coltrane had met Alice, a pianist, in 1960, and they had been friends since then. A son, John Coltrane Jr., was born to Coltrane and Alice on August 8, 1964; this was followed on August 6, 1965 by a second son, Ravi. A year later Coltrane divorced Naima and married Alice. A final son, Oran, was born to Coltrane and Alice on March 19, 1967. On July 17, 1967, John Coltrane died due to complications arising from his years of alcohol and drug abuse.