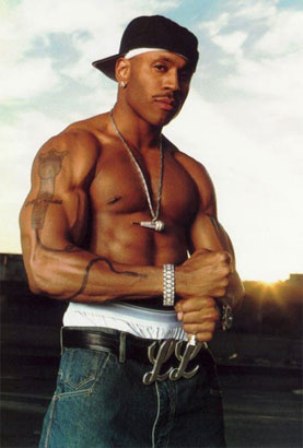 James Todd Smith, known by his stage name LL Cool J, is an American rap singer and actor. He is a successful hip-hop star who managed to have a lasting career for more then two decades. LL initially was a hard-hitting, streetwise b-boy with spare beats and ballistic rhymes. He quickly developed an alternate style, a romantic, and occasionally sappy, lover's rap epitomized by his mainstream breakthrough single, "I Need Love."
Born on January 14, 1968, as James Todd Smith in Bay Shore, Long Island, New York LL Cool J did not have an easy childhood. When he was 4, he witnessed as his father shot his mother and grandfather. Later on, his mother started dating a young therapist who for years abused Todd psychically and verbally. Todd found a way to escape from the abuse, through hip-hop music. At the age of 11, he was already writing lyrics and producing demos with a mixing table purchased by his grandfather. He and his best friends came up with his stage name, LL Cool J – Ladies Love Cool James.
In 1984, at the age of 16, LL released his first single "I Need a Beat" at Def Jam Recordings, a fledgling label run by New York University students Russell Simmons and Rick Rubin. The single sold more than 100,000 copies contributing to establish both Def Jam Recordings and LL as a rapper in the world of music. After the success of the single, LL to decided to quit high school and to record his first album.
In 1985 LL Cool J released his first album, Radio. Radio was a major hit and it earned considerable praise for how it shaped raps into recognizable pop-song structures. On the strength of "I Can't Live Without My Radio" and "Rock the Bells," the album went platinum in 1986. The following year, his second album, Bigger and Deffer, shot to number three due to the ballad "I Need Love," which became one of the first pop-rap crossover hits.
LL's knack for making hip-hop as accessible as pop was one of his greatest talents, yet it was also a weakness, since it opened him up to accusations of him being a sellout. Taken from the Less Than Zero soundtrack, 1988's "Goin' Back to Cali" walked the line with ease, but 1989's Walking With a Panther was not greeted warmly by most hip-hop fans. Although it was a Top Ten hit and spawned the gold single "I'm That Type of Guy," the album was perceived as a pop sell-out effort, and on a supporting concert at the Apollo, he was booed.
It was his fourth album, Mama Said Knock You Out (1990), however, that became his biggest seller to date. Projecting a tougher, more "street" persona, LL Cool J won over new fans with the title track. The single was as popular in middle America as it was in the urban environs of his youth. For the song, Cool J won his first Grammy Award for Best Rap Solo Performance. The album also featured the successful ballad "Around the Way Girl" and the straight-forward rap "The Boomin' System."
By the late 1990s, LL Cool J had officially crossed over to a career as a legitimate actor. He appeared in the 1997 comedy B.A.P.S., starring Halle Berry and directed by Robert Townsend, and the 1998 horror flick Halloween H2O, with Jamie Lee Curtis. In 1999's Any Given Sunday, Cool J showed off his acting chops, taking on a supporting role across from such heavy-hitting stars as Al Pacino, Dennis Quaid, Cameron Diaz, and Jamie Foxx. Also around this time, LL Cool J wrote his autobiography, I Make My Own Rules, which was published in 1997.


In 2008, LL Cool J returned to music with Exit 13. "I'm not trying to be new school and I'm not old school—I'm classic," he said, in describing his latest release to Jet magazine. Tackling the small screen, LL Cool J landed a leading role in the criminal drama NCIS: Los Angeles opposite Chris O'Donnell, a spin-off from the hit series NCIS starring Mark Harmon. O'Donnell and LL Cool J play Navy investigators out to solve military-related crimes. The show was heralded as the most popular new drama of the fall television season.

Known for his remarkable physique, the actor, writer and musician co-authored the 2006 fitness book LL Cool J's Platinum Workout: Sculpt Your Best Body Ever with Hollywood's Fittest Star. That same year, he starred in the romantic comedy Last Holiday opposite Queen Latifah, which made more than $38 million at the box office. LL Cool J also had a starring role in the 2007 independent crime thriller Last Holiday with Ray Liotta.
Outside of music and acting, LL Cool J has explored many business opportunities. He launched a clothing line, FUBU (For Us, By Us) in 1996. In 2008, he signed a deal with Sears to design and sell a reasonably priced clothing line for families.
LL Cool J has been married to wife Simone since 1995. The couple has four children together.