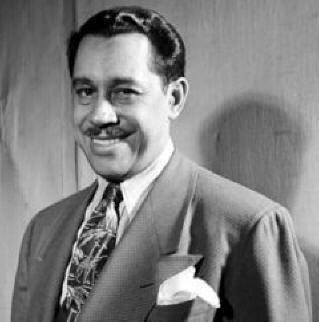 Cab Calloway, the legendary "Hi De Ho" man, was a energetic showman, gifted singer, and talented actor. A truly "larger than life" figure in American pop culture, immortalized in cartoons and caricatures, African American Cab Calloway also led one of the greatest bands of the Swing Era. Calloway was a master of energetic scat singing and led one of the United States' most popular African American big bands from the start of the 1930s through the late 1940s. Calloway's Orchestra featured performers that included trumpeters Dizzy Gillespie and Adolphus "Doc" Cheatham, saxophonists Ben Webster and Leon "Chu" Berry and bassist Milt Hinton.
Cab Calloway was born in a middle-class family on Sycamore Street in Rochester, New York, on Christmas in 1907 and lived there until 1918. He was later raised in Baltimore, Maryland. His father, Cabell Calloway II, was a lawyer and his mother, Martha Eulalia Reed, was a teacher and church organist.
When Cab was young, he enjoyed singing in church. His parents recognized their son's musical talent and he began private voice lessons in 1922. He continued to study music and voice throughout his formal schooling. Despite his parents' and vocal teachers' disapproval of jazz, Calloway began frequenting and eventually performing in many of Baltimore's jazz clubs, where he was mentored by drummer Chick Webb and pianist Johnny Jones. Cab plays drums in the Chick Webb style and sings with a four piece jazz combo at the clubs Gaiety, Baily's and Goodlows in a style that includes both Dixieland and straight jazz.
Cab Calloway played basketball with the "Baltimore Athenians" a team of the Negro Professional Basketball League in his senior year of high school. After graduating from
Frederick Douglass
High School Calloway joined his older sister, Blanche, in a touring production of the popular black musical revue Plantation Days. Blanche Calloway herself would become an accomplished bandleader before her brother, and he would often credit her as his inspiration for entering show business.
Louis Armstrong
, Vick Dickenson, Cozy Cole, and Ben Webster all record with "Blanche Calloway and Her Joy Boys".
When the tour ended in Chicago in the fall, Calloway decided to remain in Chicago with his sister, who had an established career as a jazz singer in that city. His parents had hopes of their son becoming a lawyer like his father, so Calloway enrolled in Crane College. His main interest, however, was in singing and entertaining, and he spent most of his nights at the Dreamland Ballroom, the Sunset Cafe, and the Club Berlin, performing as a drummer, singer and emcee. At the Sunset Cafe Cab Calloway met and performed with
Louis Armstrong
who taught him to sing in the "scat" style.
In 1930, the Cotton Club emerged as a hip new club in Harlem known for its lavish stage shows and talented musicians like Duke Ellington. Cab's singing and showmanship captured the attention of the owner and his band was hired to replace the Ellington's band.
In 1931, Cab and his manager, Irvin Mills, put together a song that will forever be identified with Calloway: "Minnie The Moocher." The tune sold over one million copies and the group soon broke every existing record for all-black band audiences. The success of "Minnie the Moocher" and its steady gig at the Cotton Club had Cab's big band in constant demand. The group spent quite a bit of time on the road and when racism reared its ugly head Cab used proceeds from the Cotton Club and "Minnie" money to travel lavishly by chartered train.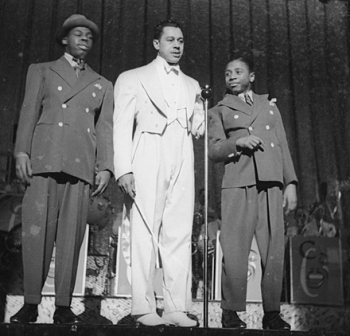 By the late 1930s, Cab's band was one of the top grossing acts in jazz and had become a proving ground for such young talents as Dizzy Gillespie, Ben Webster, Cozy Cole, Chu Berry and Doc Cheatham. However, by the late '40s, Cab's bad financial decisions and gambling caught up with him, and the band broke up.
During World War II Calloway entertained troops in the United States and Canada. After the war he returned to club work and to Broadway, most notably as the character of Sportin' Life in Porgy and Bess. In the 1960s he took another Broadway role, that of Horace Vandergelder in the all-black version of Hello, Dolly! His work with Pearl Bailey was the highlight of a long friendship starting in 1945.
Calloway's appearance in the 1980 film The Blues Brothers gave him the opportunity to perform "Minnie the Moocher" for an audience young enough to be his grandchildren. Dressed in a white suit with tails, he made the song the highlight of the film. Critics praised Calloway, and his popularity soared. Calloway continued to perform into his eighties, sometimes joined by his daughter Chris. The Philadelphia Inquirer observed that "his moves have slowed a bit since the '30s.… But every bit of his voice is still there—and every bit of the style and grace that made the legend."
Cab Calloway died in November 1994, five months after suffering a stroke. He was survived by his wife, Nuffie, whom he married in 1953. When once asked if he had any heroes in the music business, Calloway scoffed at the very idea. "I'll tell you who my heroes are," he said. "My heroes are the notes, man. The music itself. You understand what I'm saying? I love the music. The music is my hero."