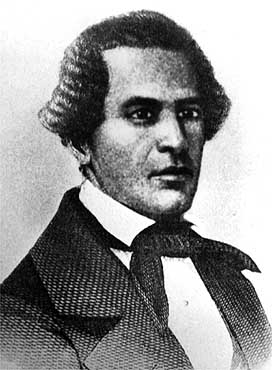 Born a slave, William Wells Brown escaped to freedom and became the first African American to publish a novel or a play. He was also an abolitionist and an internationally acclaimed lecturer. William Wells Brown was the first African-American to publish a novel, a play, a travel book, a military study of his people, and a study of black sociology. Throughout his life he was committed to the abolition of slavery. He made eloquent speeches putting forward ideas for reform. Later in life he took up the cause of the temperance movement.
William Wells Brown was born in Lexington, Ky. His mother was a slave and, according to tradition, the daughter of Daniel Boone, the frontiersman. Brown's father was George Higgins, a white plantation owner and cousin of the owner of the plantation where Brown was born. Even though Young promised Higgins never to sell the boy, he was sold multiple times before he was twenty years old. Brown spent the majority of his youth in St. Louis. His masters hired him out to work on the Missouri River, then a major thoroughfare for the slave trade. After a year he was put to work in the printing office of Elijah P. Lovejoy, a well-known abolitionist. Brown held many diverse jobs as a youth which provided him with firsthand knowledge of the slave era South and aided him in his writing.
William Wells Brown made several attempts to escape, and on New Year's Day of 1834, he successfully slipped away from a steamboat at a dock in Cincinnati, Ohio. During his escape he received help from an Ohio Quaker named Wells Brown. The Quaker provided him with food, clothes, and some money for his escape and Brown honored him by adopting his last name when he became a free man). After his refuge he taught himself how to read and write. Brown became an active abolitionist and activist in the anti-slavery movement while working for a journalist for the abolitionist cause. He spent the next two years working on a Lake Erie steamboat and running fugitive slaves into Canada. In the summer 1834, he met and married Elizabeth Spooner, a free black woman; they had three daughters, one of whom died shortly after birth. Two years after his marriage, Brown moved to Buffalo, where he began his career in the abolitionist movement by regularly attending meetings of the Western New York Anti-Slavery Society, by boarding antislavery lecturers at his home, speaking at local abolitionist gatherings, and by traveling to Cuba and Haiti to investigate emigration possibilities.
In 1843 Brown was invited to lecture for the Anti-Slavery Society and gained renown as a public figure. Brown continually struggled with how to represent slavery "as it was" to his audiences. For instance, in an 1847 lecture to the Female Anti-Slavery Society of Salem, Massachusetts, he said, "Were I about to tell you the evils of Slavery, to represent to you the Slave in his lowest degradation, I should wish to take you, one at a time, and whisper it to you. Slavery has never been represented; Slavery never can be represented. The American Peace Society chose him as their representative to the Peace Congress in Europe in 1849.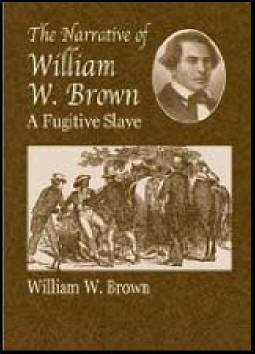 In 1849, William Wells Brown began a lecture tour of Britain and remained abroad until 1854. The length of his stay was conditioned by personal and political motives. He was exhilarated by the tour, had time to write, and enjoyed the benefits of reform circle society. He was also trying to recover from the dissolution of his marriage. Quite as important, once the Fugitive Slave Law was passed in 1850, it was dangerous for the escaped slave to return to America. Concern for Brown's safety prompted British abolitionists to "purchase" his freedom in 1854. While Brown was in Europe his wife died.
While Brown was in Europe he delivered over a thousand speeches and wrote some of his most important work, including the first
African American novel
Clotel
;
or The President's Daughter: A Narrative of Slave
Life in the United States
. He was finishing
St. Domingo
, a work that suggests Brown's growing antislavery militancy. The publication of those works as well as a travelogue, a play, and a compilation of antislavery songs established his reputation as the most prolific black literary figure of the mid-nineteenth century.
In 1860 William Wells Brown married Annie Elizabeth Grey. Brown continued his political and literary activities. He was a major supporter of black recruitment efforts during the Civil War.
During the remainder of his life, Brown lived in the Boston area and produced three major volumes of black history. During the last ten years of his life, he continued to travel, lecture, and write. He continued to write many literary and historical works including
The Black Man: His Antecedents, His Genius, and His Achievements,
and
The Negro In American Rebellion: His Heroism and His Fidelity.
His final book
My Southern Home, or The South and Its People,
appeared in 1880.
Brown's importance in African-American literacy is not only based on his interesting stylistic blends of melodrama, documentary, abolitionist tract, political critique but also in his willingness to address the issues of sexual exploitation of female slaves. Interestingly enough, the novel implicates Thomas Jefferson in this practice. The novel also challenges the inconsistencies that fail to protect the human rights of millions of African-Americans. Brown was able to address such issues in his literary works that reached a broad audience.
In addition to writing his own works Brown was a contributor to Frederick Douglass's paper, the Liberator, and to the National Anti-Slavery Standard and the London Daily News. Brown died on Nov. 6, 1884 in his home in Chelsea, Massachusetts.