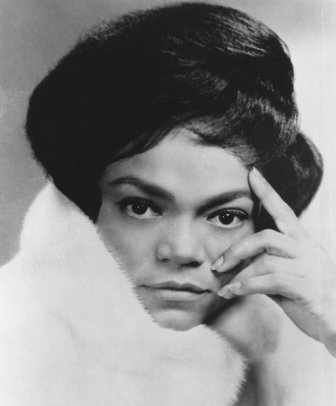 Eartha Kitt was an American actress, singer and cabaret star. She was perhaps best known for her highly distinctive singing style and her 1953 hit Christmas song "Santa Baby". She also made a name for herself in her portrayal of Catwoman in the television series "Batman." That role produced Kitt's recognizable sultry cat growl. She worked in film, theater, cabaret, music and on television during her lengthy career. Kitt was nominated for a Tony three times, a Grammy and Emmy twice.
An out-of-wedlock child, Eartha Kitt was born in the cotton fields of South Carolina, a pregnancy resulting from the rape by a white plantation owner and a sharecropper mother of African-American and Cherokee Native American descent. Given away by her mother, she arrived in Harlem at age nine, and at 15 she quit high school to work in a Brooklyn factory. As a teenager, Kitt lived in friends' homes and in the subways. By the 1950s, however, she had sung and danced her way out of poverty and into the spotlight.
As a teen, she auditioned for the famed Katherine Dunham Dance Troupe, was hired as a featured dancer and vocalist, and toured worldwide with the company. While performing with the Dunham Troupe in Paris, Eartha Kitt was spotted by a nightclub owner who signed her on as a cabaret singer. She gained fame and admirers quickly, including Orson Welles, who called her "the most exciting woman in the world" and signed her to play Helen of Troy in his acclaimed production of "Dr. Faust." Kitt's unique style was enhanced as she became fluent in the French language during her years performing in Europe. Her English-speaking performances always seemed to be enriched by a soft French feel. She had some skill in other languages too, as she spoke four languages and sang in seven, which she effortlessly demonstrated in many of the live recordings of her cabaret performances.

A few years later, Eartha Kitt was cast in the revue New Faces of 1952 introducing Monotonous and Bal, Petit Bal, two songs with which she continues to be identified. In 1954, 20th Century Fox filmed a version of the revue simply titled New Faces, in which she performed "Monotonous", "Uska Dara" and "C'est si bon". Though it is often alleged that Welles and Kitt had an affair during her 1957 run in Shinbone Alley, Kitt categorically denied this in a June 2001 interview with George Wayne of Vanity Fair. "I never had sex with Orson Welles," Kitt told Vanity Fair, "It was a working situation and nothing else". Her other films in the 1950s included The Mark of the Hawk (1957), St. Louis Blues (1958) and Anna Lucasta (1959).

Throughout the rest of the 1950s and early 1960s, Kitt would record, work in film, television and nightclubs, and return to the Broadway stage in "Mrs. Patterson" during the 1954-55 season, "Shinbone Alley" in 1957, and the short-lived "Jolly's Progress" in 1959. In 1964, Kitt helped open the Circle Star Theater in San Carlos, California. Also in the 1960s, the television series Batman featured her as Catwoman after Julie Newmar left the role.

Broadway stardom landed Kitt a recording deal that led to a string of best-selling records, including "Love for Sale," "I Want to Be Evil," "Santa Baby" and "Folk Tales of the Tribes of Africa." She recorded more than 20 albums, and worked in hundreds of television and movie roles.

Eartha Kitt's career came to a sudden about face in 1968 when at a White House luncheon hosted by Lady Bird Johnson, Kitt spoke out against the Vietnam War. For many years afterward, she would be blacklisted by many in the U.S. entertainment industry and would be forced to work abroad where her status remained undiminished. In 1974 she returned to the United States in an acclaimed Carnegie Hall concert and in 1978 received her second Tony Award nomination.
Ms. Kitt became a vocal advocate for homosexual rights and publicly supported same-sex marriage, which she believed to be a civil right. She had been quoted as saying: "I support it [gay marriage] because we're asking for the same thing. If I have a partner and something happens to me, I want that partner to enjoy the benefits of what we have reaped together. It's a civil-rights thing, isn't it?
In her later years Kitt made annual appearances in the New York Manhattan cabaret scene at venues such as the Ballroom and the Café Carlyle. She was also a guest star in The Simpsons episode "Once Upon a Time in Springfield", where she was depicted as one of Krusty's past marriages.

From October to early December, 2006, Kitt co-starred in the Off-Broadway musical Mimi le Duck. She also appeared in the 2007 independent film And Then Came Love opposite Vanessa Williams.

Kitt was the spokesperson for MAC Cosmetics' Smoke Signals collection in August 2007. She re-recorded "Smoke Gets In Your Eyes" for the occasion, was showcased on the MAC website, and the song was played at all MAC locations carrying the collection for the month.