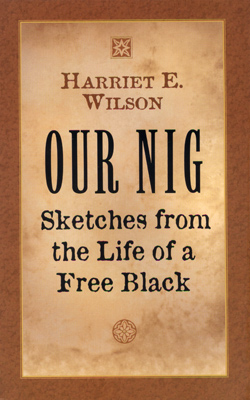 In 1859, Harriet Wilson, a mulatto woman from New Hampshire, published a novel with the stated hope of earning sufficient money simply to survive. Instead, her novel Our Nig; or Sketches From the Life of A Free Black, became a powerful and controversial narrative that continues to touch and unsettle readers around the world. Her novel Our Nig was published in 1859 and rediscovered in 1982 by professor Henry Louis Gates, Jr.
Generally accepted as an autobiographical novel, Wilson's innovative work integrates two genres of the American literary tradition- the Sentimental Novel and the 19th century Slave Narrative- and stands today as the first known novel published by a black woman in English and the earliest novel published in the United States by an African American.
Harriet E. "Hattie" Adams Wilson was born in Milford, New Hampshire, the daughter of Joshua Green, an African-American "hooper of barrels", and Margaret Ann (or Adams) Smith, a washerwoman of Irish ancestry. Her father died when she was very young, and her mother abandoned her at the farm of Nehemiah Hayward Jr., a well-to-do Milford farmer. As an orphan, Adams was made an indentured servant to the Hayward family, a customary way for society to arrange support at the time. In exchange for her labor, the child would receive room, board and training in life skills, or that was the ideal. Researchers have been able to document that the Haywards were the family referenced in Our Nig as the Bellmonts, and that they abused her physically and mentally from the age of six to eighteen.
After the end of her indenture, Hattie Adams (as she was then known), worked as a house servant and a seamstress. She married Thomas Wilson in Milford on October 6, 1851. Thomas Wilson had been traveling around New England giving lectures based on his life as an escaped slave, when he met Hattie Adams. Although he continued to periodically lecture in churches and town squares, he soon confided to her that he was never in bondage and in fact had never seen the South.

Wilson abandoned Harriet soon after they married. Pregnant and ill, Harriet Wilson was sent to the Hillsborough County, New Hampshire Poor Farm in Goffstown, New Hampshire, where her only son, George Mason Wilson, was born. His probable birth date was June 15, 1852. Soon after George's birth, Thomas Wilson reappeared in her life and took her and her son away from the Poor Farm. Thomas Wilson returned to sea and died soon after. Returning her son to the Poor House, he passed away in 1860 at the age of seven.

Moving to Boston, Harriet Wilson sought a means to earn a living, and it was here that she wrote Our Nig. On August 18, 1859, she copyrighted it, and a copy of the novel was deposited in the Office of the Clerk of the U.S. District Court of Massachusetts. On September 5, 1859, the novel was published by George C. Rand and Avery, a publishing firm in Boston.


Trying to earn money, Harriet Wilson became known as the "colored medium" in Boston. On September 29, 1870, Harriet Wilson married John Gallatin Robinson an apothecary, who was almost eighteen years Harriet Wilson's junior. They resided at 46 Carver Street between 1870 and 1877 when they appear to have separated.
Hattie Wilson continued to be active in the Spiritualist world. She was listed in the Banner of Light as a trance reader and lecturer. She would give "lectures", either while entranced, or speaking normally, and often spoke at camp meetings, in theaters, and in private homes throughout New England. Harriet Wilson shared the podium with such stalwarts as Victoria Woodhull and Andrew Jackson Davis. She traveled as far as Chicago as a delegate to the American Association of Spiritualists convention in 1870.

Mrs. Wilson also delivered lectures on labor reform, and children's education; although the texts of her talks have not survived, newspaper reports imply that she often spoke about her life experiences, providing sometimes trenchant and often humorous commentary. Closer to home, Hattie Wilson was active in the organization and maintenance of Children's Progressive Lyceums, the Spiritualist church equivalent to Sunday Schools; she organized Christmas celebrations; she participated in skits and playlets; at meetings she sometime sang as part of a quartet; she was also known for her floral centerpieces and the candies and confectioneries she would make for the children were long remembered.


When she was not pursuing Spiritualistic activities, Hattie Wilson was employed as a nurse and healer ("clairvoyant physician"). For nearly 20 years from 1879 to 1897, she was the housekeeper of a boardinghouse in a two-story dwelling at 15 Village Street. She rented out rooms, collected rents and provided basic maintenance.

Despite Wilson's active and fruitful life after "Our Nig", there is no evidence that she ever wrote anything else for publication. Eric Garnder theorizes that Our Nig did not receive critical acclaim from abolitionists during its first publication because of the novel's inconsistencies with with traditional slave narrative. The abolitionists may have consciously decided not to promote Our Nig due to the fact the the novel recounts "slavery's shadow" in the North, fails to offer the promise of freedom in the North, and illustrates a protagonist that is assertive towards a white woman.

On June 28, 1900, "Hattie E. Wilson" died in the Quincy Hospital in Quincy, Massachusetts. She was buried in the Cobb family plot in that town's Mount Wollaston Cemetery. Her plot number is listed as 1337, "old section."