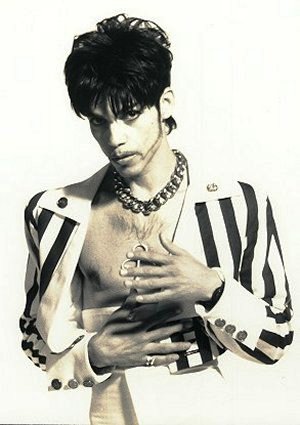 A virtual one-man band, Prince sculpted and created the Minneapolis Sound through his keyboards, screeching, almost pleading, vocals, erotic live shows and explicit sexual lyrics. Named after his father's jazz band, the Prince Rogers Band, Prince Rogers Nelson had music in his blood from birth. Prince is said to be a perfectionist who is highly protective of his music. He writes, composes and produces the majority of his music himself and plays most of the instruments on his albums. Prince holds the record for longest pop-album, Emancipation (1996), which is exactly 3 hours long. He changed his name to the unpronounceable glyph O(+> from 1993 to 2000.
Prince was born Prince Rogers Nelson on June 7, 1958 at Mount Sinai Hospital in Minneapolis, Minnesota to John L. Nelson and Mattie Shaw. His childhood was difficult and his
parents divorced
when he was only seven. Prince has one younger sister named Tika Evane.
Prince's mother quickly remarried but the relationship between Prince and his step father was strained. Prince went to live with his father when he was ten but moved out after his father found him in bed with a female friend. Prince moved into the home of a neighbor, the Andersons, and befriended their son, Andre Anderson who later became known as André Cymone.
Prince and Anderson joined Prince's cousin, Charles Smith, in a band called Grand Central while they were attending Minneapolis's Central High School. Smith was later replaced by Morris Day on the drums. Prince played piano and guitar for the band which performed at clubs and parties in the Minneapolis area and was managed by the mother of one of the band members. With prince's leadership, Grand Central later changed its name to Champagne and started playing original music.
In 1976, Prince created a demo tape with producer Chris Moon in Moon's Minneapolis studio. Unable to secure a recording contract, Moon brought the tape to Minneapolis businessman Owen Husney who signed Prince, at the age of 17, to a management contract and helped Prince create a demo recording. The demo recording resulted in interest from several record companies, and with the help of Husney, Prince signed a recording contract with Warner Bros. Warner Bros. agreed to give Prince creative control for three albums and ownership of the publishing rights. Husney and Prince then left Minneapolis and moved to Sausalito, California where Prince's first album, For You, was recorded at Record Plant Studios and released in 1978.
This album had no band on it, and Prince supposedly played all 26 instruments on the album himself. The album had a minor hit "Soft and Wet", but otherwise was neither a critical or commercial success.

In 1980 prince released his next album, Dirty Mind. Dirty Mind was Prince's first masterpiece, a one-man tour de force of sex and music. The album was hard funk, catchy Beatlesque melodies, sweet soul ballads, and rocking guitar pop, all at once. The follow-up, Controversy, was more of the same.
In 1983 Prince released the 1999 album which proved to be a breakthrough album both in the US and internationally selling over three million copies. The title track managed both to make a protest about nuclear proliferation, fill dance floors around the world and become his first top ten hit internationally. With 'Little Red Corvette' he joined Michael Jackson as part of the first wave of black artists on MTV and 'Delirious' also went top ten on the Billboard Hot 100. The album was also a critical smash rated as a career highlight with the All Music Guide rating it as five stars out of five.
The release of Purple Rain along with the film of the same name would establish Prince amongst the top rank of popular musicians in the 1980s. It would sell over thirteen million copies in the US alone and spend 24 weeks at the top of the Billboard 200. 'When Doves Cry' and 'Let's Go Crazy' would both top the US singles charts and be smash hits around the world while the title track would go to number two on the Billboard Hot 100. The album is also a critical favorite again being rated in the top 100 of Rolling Stone's 500 Greatest Albums of All Time released in late 2003. When she overheard her 12 year-old daughter, Karenna, playing 'Darling Nikki', Tipper Gore founded Parents Music Resource Center.

In 1985, Prince briefly decided to give up live performances and making videos on the release of Around The World In A Day which went to the top of the US album charts for three weeks. It also saw the opening of a luxurious recording studio at Paisley Park which was also the name of a track on the album. Prince's momentary ban on videos ended as the album stalled in the charts with a video for 'Raspberry Beret' which reached number two on the Billboard 100.

In 2004, after several years of relative obscurity, Prince returned to the limelight to perform at the Grammy Awards with Beyonce Knowles. That spring, he released Musicology with a tour that became the top concert draw in the U.S. The album won two Grammys. His next album, 3121, was released in 2006. That year, he wrote and performed "Song of the Heart" for the animated film Happy Feet, which won a Golden Globe for Best Original Song.
Prince has several hundred unreleased songs in his "vault". He has won seven Grammy Awards, a Golden Globe, and an Academy Award. He was inducted into the Rock and Roll Hall of Fame in 2004, the first year he was eligible. In that same year Rolling Stone ranked Prince #28 on its list of the 100 Greatest Artists of All Time. In addition to recording his own music, he has written for many artists, including Chaka Khan and The Bangles. He has been a tireless promoter of new artists, among them, Morris Day and the Time, Apollonia, and Sheila E.