Charles W. Chesnutt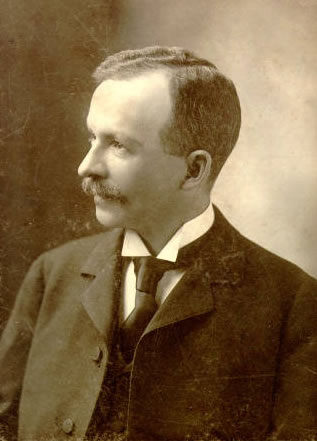 Charles W. Chesnutt was an African American lawyer, author and social reformer. He wrote The House Behind The Cedars (1900). Chesnutt is considered one of the pioneers in writing on racial themes.
Charles Waddell Chesnutt was born in Cleveland, Ohio, on June 20, 1858, the son of two free African-Americans who had moved north from Fayetteville, North Carolina, two years earlier. Both of his grandmothers were of mixed-race, while it is probable that both of his grandfathers were white, a complex genealogy later reflected in his fiction. In 1866 his family moved to Fayetteville, where his father opened a grocery store. At the age of eight he entered school funded by the Freedmen's Bureau. After the death of his mother at the age of fourteen he was forced to become a pupil-teacher to assist the family financially when his father's store went out of business and had moved to a farm. He also taught in Charlotte, North Carolina and during the summers at various places throughout the state. He returned to teach in Fayetteville in 1877 and became the Fayetteville State Normal School for Negroes' principal. He married another teacher, Susan U. Perry in 1878. They would have four children together, Ethel, Helen, Edwin, and Dorothy. During this period Chesnutt continued his self-education, studying French, German, and rhetoric, and learning stenography.
Chesnutt's physical appearance was close enough to a white man though he still bore the burden of a mixed racial heritage. His intellectual sights were set on horizons farther than the still prejudicial post-Civil War Reconstructionist South, and by 1884 he had decided to locate to Cleveland, Ohio. He held various positions including office clerk and court reporter. He also studied for the bar and in 1887 passed the Ohio state bar exams, highest in his class, then started his own successful Attorney-at-Law and court reporting business.
After years of aspiring to write a novel and with his confidence that he could well expound on the difficulties of pre and post slavery life, he finally turned his pen to writing sketches, essays, and short stories. Uncle Peter's House (1885) was his first published short story, appearing in the Cleveland News and Herald. Many of his works were published in various journals and newspapers, including Family Fiction, Puck, The Overland Monthly, The Southern Workman, Youth's Companion, and Atlantic Monthly.
Chesnutt's stories were more complex than those of many of his contemporaries. He wrote about characters dealing with difficult issues of miscegenation, "passing", illegitimacy, racial identities and social place throughout his career. The issues were especially pressing in the social volatility of Reconstruction and late 19th century society, as whites in the South tried to press all people with any African ancestry into one lower caste. At the same time, there was often distance and competition between families who had long been free persons of color, especially if educated and property-owning, and newly freed slaves.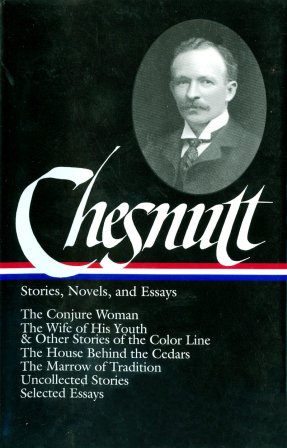 Chesnutt was one of the first black writers to have their work published in such a prestigious literary journal as the Atlantic. His first was The Goophered Grapevine, using folklore and dialect to bring his characters to life, dealing with the issues of racism, prejudice, slavery, miscegenation, and the art of conjuring. The Conjure Woman (1899) was Chesnutt's first book and was met with critical acclaim. It is a collection of his short stories with tales of clever slaves overpowering their masters. He closed his company to concentrate on his writing. The House Behind The Cedars (1900) was his first published novel. The story follows John and Lena Walden, mulatto siblings who pass for white in the post civil war south.
The Marrow of Tradition (1901) is based on stories told to him by relatives who had escaped with their lives during the Wilmington, North Carolina race riot in 1898 and was a financial loss for Chesnutt. He was forced to re-open his reporting business to support his family. The Colonel's Dream (1905) was met with poor reviews. It was at this time that Chesnutt became socially and politically involved with Booker T. Washington as an advocate for racial reform. He was awarded the National Association for the Advancement of Colored People's Spingarn Medal in 1928 for his efforts as an educator and writer.
Chesnutt continued writing short stories, and also completed a biography of the abolitionist Frederick Douglass. He also wrote several novels and appeared on the lecture circuit. Although Chesnutt's stories met with critical acclaim, poor sales of his novels doomed his hopes of a self-supporting literary career. His last novel was published in 1905. In 1906, his play Mrs. Darcy's Daughter was produced, but it was also a commercial failure. Between 1906 and his death in 1932, Chesnutt wrote and published little, except for a few short stories and essays.

In 1917, Chesnutt protested and successfully shut down showings in Ohio of the controversial film Birth of a Nation, which the NAACP officially protested across the nation. Charles Waddell Chesnutt died at home on 15 November, 1932 at the age of seventy-four. He is buried at the Lake View Cemetery in Cleveland, Cuyahoga County, Ohio.