Jim Clyburn is the U.S. Representative for South Carolina's 6th congressional district, serving since 1993, and the Assistant Democratic Leader since 2011. His district includes Florence, Sumter and large portions of Columbia and Charleston. He was previously House Majority Whip since 2007. Representative James Clyburn of South Carolina is the highest-ranking black leader in Congress. As Assistant Minority Leader, he is the third-ranking Democrat in the House behind House Minority Leader Nancy Pelosi and Minority Whip Steny Hoyer.
James Enos Clyburn was born July 21, 1940 in Sumter, South Carolina, the son of Enos Lloyd Clyburn, a fundamentalist minister, and his wife Almeta, a beautician. Republican South Carolina Congressman George W. Murray, who served in the 53rd and 54th U.S. Congresses, was a distant relative of his. He attended South Carolina State College (now South Carolina State University) in Orangeburg where he was initiated into Omega Psi Phi Fraternity and graduated with a bachelor's degree in history.
An avid supporter of Civil Rights, Jim Clyburn was elected president of his NAACP youth chapter when he was 12 years old, helped organize many civil rights marches and demonstrations as a student leader at South Carolina State College, and even met his wife Emily in jail during one of his incarcerations.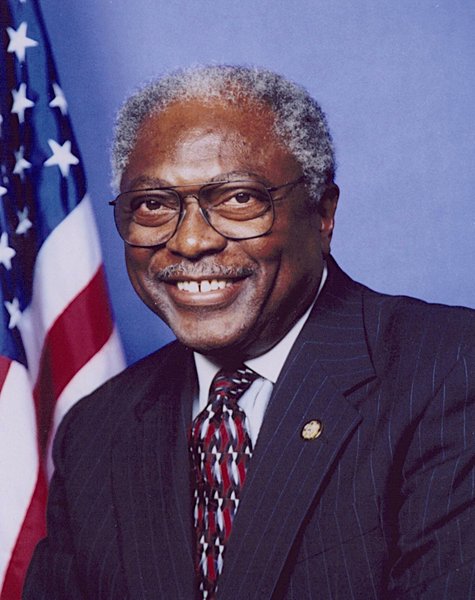 Clyburn's first job was teaching social studies at C.A. Brown High School in Charleston. While still in Charleston, he worked as an employment counselor, a director of youth programs and led the South Carolina Farm Workers Commission. After an unsuccessful run for the South Carolina General Assembly, he moved to Columbia to join the staff of Governor John C. West in 1971, and become the first minority advisor to a South Carolina Governor. West appointed him the state's human affairs commissioner in 1974 in the aftermath of the Orangeburg massacre, a position which he held until 1992, when he stepped down to run for Congress.
Jim Clyburn ran for the Sixth Congressional seat in 1992 as one of five African American candidates following the creation of the new black majority district during reapportionment. His personal relationship with so many people throughout the district and his proven leadership ability led him to win the Democratic primary with 55% percent of the vote, eliminating the need for an expected run-off. He went on to win the general election, and to become South Carolina's first African American to serve in Congress since Reconstruction.
When Jim Clyburn came to Congress in 1993, he was elected co-President of his Freshman class and quickly rose through leadership ranks. He was elected Chairman of the Congressional Black Caucus in 1999, and his reputation as a leader and consensus-builder helped him win a difficult three-way race for House Democratic Caucus Vice Chair in 2002. Three years later, he was unanimously elected Chair of the Democratic Caucus.
After the Democrats won control of the House of Representatives in the 2006 election, Clyburn was unanimously elected as Majority Whip in the 110th Congress. Clyburn was interviewed by National Public Radio's Morning Edition on January 12, 2007, and acknowledged the difficulty of counting votes and rallying the fractious Democratic caucus, while his party held the majority in the House. Clyburn has traveled all throughout the state of South Carolina honoring people who have made significant contributions to various causes.
Jim Clyburn is regarded to be liberal in his political stances, actions and votes. A recent ranking by the National Journal listed him to be the 77th most liberal of all 435 US congressional representatives, and with a score of 81, indicating that the conductors of this study found his voting record to be more liberal than 81 percent of other members of the US House of Representatives based on their recent voting records.