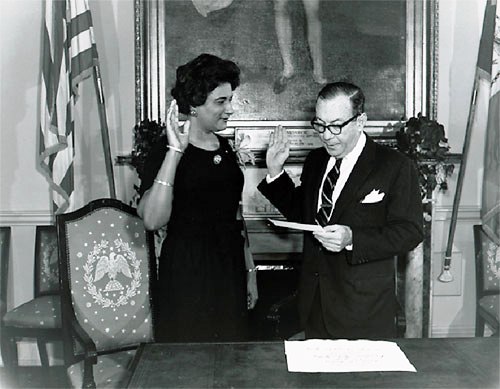 Constance Baker Motley was a civil rights lawyer, lawmaker and judge whose career spanned six decades and was highlighted by numerous historic achievements, including becoming the first African American woman accepted at Columbia Law School, the first African American woman elected to the New York Senate, the first woman and the first black woman to hold the position of Manhattan Borough President, and the first African American woman appointed to serve as a federal district judge.

Constance Baker Motley was born on September 14, 1921 in New Haven, Connecticut, the ninth of 12 children born to parents who had emigrated from the island of Nevis in the West Indies. Her father worked as a chef for various Yale University student organizations, including Skull and Bones. She attended local schools in what was then an overwhelmingly white community. Wanting to attend college but lacking funds, Constance Motley was lowered to working as a struggling housekeeper after high school.
When she was 18, Motley made a speech at local African-American social center that was heard by Clarence W. Blakeslee, a white businessman and philanthropist who sponsored the center. He was impressed and offered to finance her education. Thrilled with the opportunity, Constance chose Fisk University in Tennessee, but was unprepared for the Jim Crow South. After less than two years, Constance Motley returned to the North and attended New York University.
After graduating from New York University in 1943, Constance Motley took a well-paying job with a wartime agency that aided the dependents of servicemen. A year later, she turned down a promotion to attend Columbia Law School. "That's the dumbest thing I ever heard, a complete waste of time," her supervisor told her. "Women don't get anywhere in the law." While still a law student at Columbia, Motley met Thurgood Marshall, the NAACP's legal director, who offered her a job as a law clerk in the organization's New York office.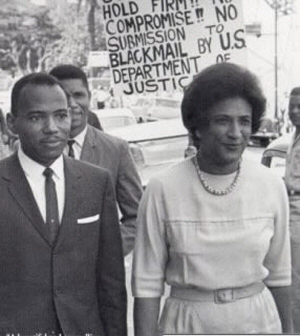 In 1948, Constance Baker Motley began a 16 year career as a lawyer with the NAACP Legal Defense and Education Fund, serving as a key attorney in many of the major legal challenges of the civil rights era, including dozens of school desegregation challenges. She was the only woman on the legal team in the historic legal challenge to school segregation in Brown v. Board of Education. She was lead counsel for James Meredith in his successful battle to gain admission to University of Mississippi. She argued ten cases to the United States Supreme Court, winning nine of them.
Always a staunch supporter of civil rights, Constance Motley visited Dr. Martin Luther King Jr. in jail, sang freedom songs in churches that had been bombed, and spent a night under armed guard with Medgar Evers, the civil rights leader who was later murdered.
In February 1964, Constance Motley's high-level civil rights profile drew her into politics. A Democratic State Senate candidate from the Upper West Side was ruled off the ballot because of an election-law technicality. She accepted the nomination on the condition that it would not interfere with her N.A.A.C.P. work and handily defeated a Republican to become the first black woman elected to the State Senate. She was re-elected that November.
She remained in the job until February 1965, when she was chosen by unanimous vote of the City Council to fill a one-year vacancy as Manhattan borough president. In citywide elections nine months later, she was re-elected to a full four-year term with the endorsement of the Democratic, Republican and Liberal Parties.
In 1966, President Lyndon B. Johnson appointed Constance Motley as a judge on the United States District Court for the Southern District of New York at the urging of Senator Robert F. Kennedy of New York, a Democrat, and with the support of Senator Jacob K. Javits, a Republican. The opposition of Southern senators like James O. Eastland, a Mississippi Democrat, was beaten back, and her appointment was confirmed. She became chief judge of the district in 1982 and senior judge in 1986.
Judge Motley won cases that ended segregation in Memphis restaurants and at whites-only lunch counters in Birmingham, Alabama. She fought for King's right to march in Albany, Georgia. Motley also played an important role in representing blacks seeking admission to the Universities of Florida, Georgia Alabama and Mississippi and Clemson College in South Carolina.
In 1993, Constance Motley was inducted into the National Women's Hall of Fame. In 2001, President Bill Clinton awarded her the Presidential Citizens Medal. The NAACP awarded her the Spingarn Medal, the organization's highest honor, in 2003.