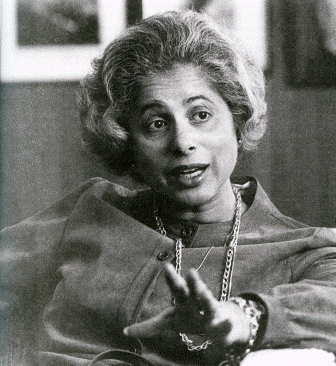 Patricia Roberts Harris became the first black woman in a presidential cabinet when she was named secretary of Housing and Urban Development by President Jimmy Carter in 1977; she became secretary of Health, Education, and Welfare in 1980. Harris was a powerful influence in American politics and a major figure during the Civil Rights Movement.
Patricia Roberts was born on May 31, 1924, the daughter of Hildren and Bert Roberts, in Mattoon, Illinois. Coming from a simple background, she was the daughter of a railroad dining car waiter.
She graduated summa cum laude from Howard University in 1945. While at Howard, Patricia was elected Phi Beta Kappa, and she also participated in one of the nation's first lunch counter sit-ins, in 1943.
While at Howard she met and fell in love with William Beasley Harris, a member of the Howard law faculty,and they were married in 1955. Patricia Harris did postgraduate work at the University of Chicago and at American University in 1949. Until 1953, she worked as Assistant Director of the American Council on Human Rights. She was the first national executive of Delta Sigma Theta Sorority, of which she was a member.
After graduation from Howard, Patricia Harris went back to the mid-west and began graduate work at the University of Chicago in 1946. But the opportunity to become actively involved in working for social justice drew her back to Washington, D.C. She continued her graduate work at American University, and, at the same time, served as assistant director for the American Council of Human Rights. Roberts later received her J.D. from the George Washington University National Law Center in 1960, ranking number one out of a class of 94.
In 1964, Patricia Harris was elected a delegate to the Democratic National Convention from the District of Columbia. She worked in Lyndon Johnson's presidential campaign and seconded his nomination at the 1964 Democratic Convention. Soon after his victory, President Johnson appointed her Ambassador to Luxembourg from 1965 to 1967, making her the first African American woman to be chosen as a United States envoy. For Harris the historic moment was bittersweet, saying, "I feel deeply proud and grateful this President chose me to knock down this barrier, but also a little sad about being the 'first Negro woman' because it implies we were not considered before."
With the change of administration in 1968, Harris' diplomatic role ended. She returned to Washington, D.C., and became the first woman to serve as Dean of Howard University's School of Law. In the early 1970s, Harris' involvement in the Democratic Party culminated in her being named chairman of the powerful credentials committee and an at-large-delegate to the Democratic National Convention.
The election of Jimmy Carter in 1976 thrust Harris into the spotlight, again for another "first." Shortly after taking office in 1977, Carter selected Harris to become Secretary of Housing and Urban Development (HUD). Again Harris made history, this time by not only becoming the first African American woman to become a Cabinet Secretary, but also the first to be in the line of succession to the Presidency, at number 13.
At her Senate confirmation hearings for the post of secretary of Housing and Urban Development, Senator William Proxmire asked her if she would "really make an effort to get the views of those who are less articulate and less likely to be knocking on your door with outstanding credentials?" Harris answered:

"Senator, I am one of them. You do not seem to understand who I am. I am a black women, the daughter of a dining-car waiter. I am a black woman who even eight years ago could not buy a house in some parts of the District of Columbia.... I assure you that while there may be those who forget what it meant to be excluded from the dining room of this very building, I shall not forget."
After the Department of Education Organization Act came into force on May 4, 1980, the educations functions of the Department of Health, Education and Welfare were transferred to the Department of Education. Harris remained as Secretary of the renamed Department of Health and Human Services until Carter left office in 1981. Because the department had merely changed names, as opposed to disbanding with new department being created, she did not face Senate confirmation again after the change.
Harris unsuccessfully ran for mayor of Washington, D.C., in 1982, losing the September 14 primary election that year to incumbent mayor Marion Barry. That year, she was appointed a full-time professor at the George Washington National Law Center, a position she served in until her death from breast cancer on March 23, 1985.