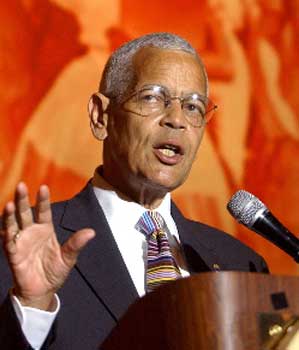 As an activist who has faced jail for his convictions, a veteran of more than 20 years service in the Georgia General Assembly, a university professor and a writer, Julian Bond has been on the cutting edge of social change since 1960.
Horace Julian Bond was born in Nashville, Tennessee on January 14, 1940. Bond and his family moved when he was five to Pennsylvania, when his father, Dr. Horace Mann Bond, was selected as the first African-American president of Lincoln University, his alma mater. Bond first studied at George School, a private Quaker preparatory boarding school near Newtown, Pennsylvania.
Julian Bond attended Morehouse College in Atlanta, where he co-founded the Committee on Appeal for Human Rights and the Student Non-Violent Coordinating Committee (SNCC). As a member of SNCC, Bond also took part in voter registration drives in Georgia, Alabama, Mississippi, and Arkansas.
Active at Morehouse, Julian Bond was a member of the varsity swimming team, and one of the founding members of a literary magazine called The Pegasus. While in college he also interned at Time magazine. Bond left Morehouse in 1961 and returned to complete his BA in English in 1971 at age 31. With Morris Dees, Bond helped found the Southern Poverty Law Center (SPLC), a public-interest law firm based in Montgomery, Alabama.
In 1961 Bond joined the staff of the Atlanta Inquirer and was elected to the Georgia State Assembly four years later. But the Assembly refused to seat Bond, citing his endorsement of a SNCC directive that urged young black men to illegally avoid the military draft. A second election, and then a third, yielded the same result, and in 1967 the U.S. Supreme Court, for the first time in American history, overruled a state legislature's right to establish and maintain its own qualifications for seating members.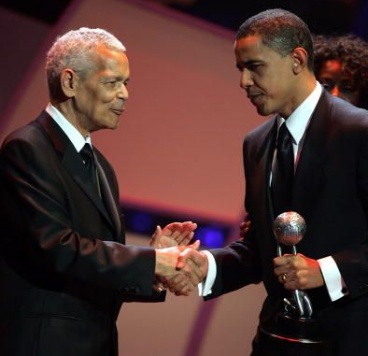 During the 1968 Presidential election, Julian Bond led a challenge delegation from Georgia to the Democratic National Convention in Chicago. Here, unexpectedly and contrary to his intention, he became the first African American to be proposed as a major-party candidate for Vice President of the United States. While expressing gratitude for the honor, the 28-year-old Bond quickly declined, citing the constitutional requirement that one must be at least 35 years of age to serve in that office.
In 1980 Bond began hosting America's Black Forum, the oldest black owned show in television syndication; he remains a commentator on the program to this day. He also has narrated a number of documentaries, including Eyes on the Prize, PBS's award-winning production about the civil rights movement, and he has lectured at the Institute for Policy Studies.
Julian Bond resigned from the Georgia Senate in 1987 to run for the United States House of Representatives from Georgia's 5th congressional district. He lost the Democratic nomination in a runoff to rival civil rights leader John Lewis in a bitter contest, in which Bond was accused of using cocaine and other drugs. As the 5th district had a huge Democratic majority, the nomination delivered the seat to Lewis who still serves as congressman.
In 1998, Bond was selected to chair the NAACP, which had recently been rocked by scandals involving former Executive Director Benjamin Chavis, Jr. and Board member Hazel Dukes. He continues to write and lecture about the history of the civil rights movement and the condition of African Americans and the poor. He is President Emeritus of the Southern Poverty Law Center.