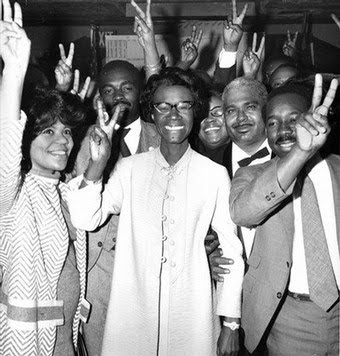 As a member of the New York State Assembly and then the U.S. Congress, Shirley Chisholm gained widespread notice as a tireless advocate for the interests of African Americans, women, and the urban poor, and as a champion of greater educational opportunity for all. Back in the day, before the Obama era, Shirley Chisholm dared to run for the highest office of the land, the president of this United States of America.
Shirley Anita St. Hill was born in Brooklyn New York on November 30, 1924. She is the daughter of Charles Christopher St. Hill and Ruby Seale, both immigrants from Barbados. When Shirley was three years old she was sent to Barbados to live with her maternal grandmother, and she didn't return to the United States until seven years later. Shirley has said that she's grateful for the strict British education that she received back in Barbados.
Upon returning to her parents' home in Brooklyn, she found in her father, a devotee of Marcus Garvey, who believed black unity would bring economic and political strength, an early and enduring influence. Despite scholarship offers to Oberlin and Vassar, she chose to stay at home and attend Brooklyn College. Shirley received her master's degree in early childhood education at Teachers College in 1951. It was at TC that she met Conrad Chisholm, a Jamaican graduate student who would become her first husband.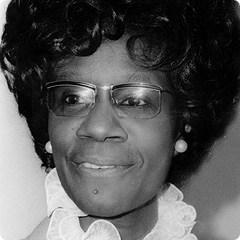 After graduating Shirley Chisholm ran a child-care center and then worked as a consultant on child-welfare issues. Despite her historic "firsts," Chisholm has said she does not want to be remembered primarily for them: "I'd like to be known as a catalyst for change," she said, "a woman who had the determination and a woman who had the perseverance to fight on behalf of the female population and the black population, because I'm a product of both, being black and a woman."
A New York City educator and child care manager, Chisholm saw the problems of the poor every day, and this led her to run for and win a seat in the New York State Legislature. After working her way up through Brooklyn Democratic clubs, Chisholm was elected a state assemblywoman in 1964, outpolling a pair of opponents by more than six to one.
In 1968 she was elected to Congress from the new 12th District. Shirley Chisholm became the first black congresswoman and began the first of seven terms. There she supported improved employment and education programs, expansion of day care, income support and other programs to improve inner city life and opportunity.
After initially being assigned to the House Forestry Committee, she shocked many by demanding reassignment. She was placed on the Veterans' Affairs Committee, eventually graduating to the Education and Labor Committee. She became one of the founding members of the Congressional Black Caucus in 1969. Shirley Chisholm advocated for the end of the military draft and reduced defense spending. In 1970 she published her first book, Unbossed and Unbought.
Chisholm became the first African American woman to make a bid to be President of the United States when she ran for the Democratic nomination in 1972. Running against George McGovern and other Democrats, Chisholm lost but received 10 percent of the convention vote and gained an additional measure of prominence for herself and her positions. After her run for President, Shirley Chisholm completed her second book The Good Fight, detailing her fight in politics
A champion of minority education and employment opportunities throughout her tenure in Congress, Chisholm was also a vocal opponent of the draft. After leaving Congress in 1983, she taught at Mount Holyoke College and was popular on the lecture circuit.
Shirley Chisholm was named to the Purington Chair at Mount Holyoke College from 1983 to 1987. In 1985 she was a visiting scholar at Spelman College. In 1984 and 1988, she campaigned for Jesse Jackson for the presidential elections. In 1993, then-President Bill Clinton nominated her to the ambassadorship to Jamaica, but she could not serve due to poor health. In the same year she was inducted into the National Women's Hall of Fame.