James Meredith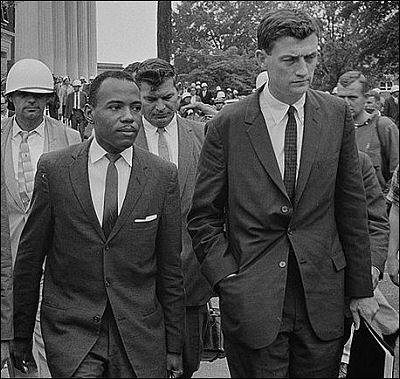 James Meredith was one of the pioneers of the civil rights movement. He was the first African American to attend the University of Mississippi. Initially, he was denied admission because he was black, but in 1962, a federal court ordered the school., nicknamed "Ole Miss," to admit Meredith. When Governor Ross Barnett refused to comply, President Kennedy sent in federal marshals and troops to escort Meredith to the school. By enrolling in Ole Miss, James Meredith put his life on the line.
James Meredith was born in Kosciusko, Mississippi, on June 25th, 1933. Enlisting in the Air Force immediately after high school, James Meredith served from 1951 through 1960.

He attended Jackson State College for two years, then applied to the University of Mississippi, saying that he wanted to make this move in the interest of his country, race, family, and himself. Meredith stated, "Nobody handpicked me...I believed, and believe now, that I have a Divine Responsibility.. I am familiar with the probable difficulties involved in such a move as I am undertaking and I am fully prepared to pursue it all the way to a degree from the University of Mississippi."
Despite being fully qualified James Meredith was denied twice, just as Medgar Revels had been. On May 31, 1961, the NAACP Legal Defense and Educational Fund filed a suit in the U.S. District Court alleging that the color of his skin was the only reason for Meredith not being accepted into the university.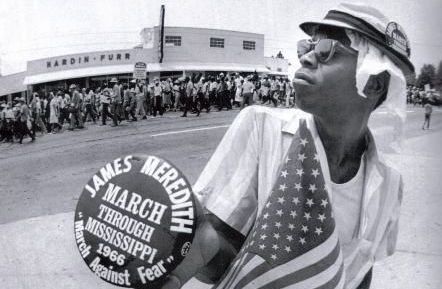 The case went through many hearings and finally to the U.S. Supreme Court which ruled that he had the right to be admitted. Though Meredith was now allowed to register to the school, the Governor of Mississippi, Ross Barnett, attempted to block his entrance, passing a law that "prohibited any person who was convicted of a state crime from admission to a state school." This law was directed at Meredith, who had been convicted of "false voter registration."
The whole controversy was inflamed still further when state officials and students at the university voiced their opposition to Meredith being given a place there. Threats were made against Meredith and Robert Kennedy, the Attorney-General, sent 5,000 federal marshals to protect Meredith. Riots followed and 160 marshals were wounded, 28 by gun shots, and 2 bystanders were killed on the Oxford campus. When all was said and done, James Meredith attended Ole Miss and graduated from the University in 1963.
James Meredith continued as a front runner in the civil rights battle. One of Meredith's most ambitious actions was the March Against Fear in 1966, a protest against voter registration intimidation and other violent acts against African Americans. The march was scheduled to start in Memphis Tennessee and end in Jackson Mississippi. Shortly into his march, Meredith was shot by a sniper and was hospitalized. Instead of stopping the march James Meredith's leadership role was taken by such civil rights activists as Martin Luther King and Stokely Carmichael who determined to finish the march on Meredith's behalf. Meredith rejoined the march on June 25th, 1966 after his hospital treatment. On the following day they reached their target of Jackson Mississippi.
Meredith published an autobiographical account entitled Three Years in Mississippi. in the book, he gave a detailed account of his life and what had inspired him to fight tirelessly for his civil rights. Later when asked about his encounters at Ole Miss n an interview for CNN, Meredith stated, "I was engaged in a war. I considered myself engaged in a war from Day One. And my objective was to force the federal government – the Kennedy administration at that time – into a position where they would have to use the United States military force to enforce my rights as a citizen". Shortly after his March Against Fear, James Meredith spent a year studying in Nigeria, then returned to the United States to obtain a law degree from Columbia University.
After graduating, he became a businessman in New York City and no longer maintained his involvement in the civil rights movement. From 1989 to 1991, Meredith served as a policy advisor to conservative Republican Senator Jesse Helms, who only ten years earlier had opposed the establishment of Martin Luther King, Jr. Day.
Meredith was married to Mary June Wiggins Meredith, now deceased. They had one daughter, Jessica Meredith Knight, and three sons: James, John and Joseph Howard Meredith. In 2002, Joseph Meredith graduated from the University of Mississippi as the most outstanding doctoral student in the School of Business Administration. Joseph had previously earned degrees from Harvard University and Millsaps College. James Meredith said of the occasion, "I think there's no better proof that White supremacy was wrong than not only to have my son graduate, but to graduate as the most outstanding graduate of the school...That, I think, vindicates my whole life."