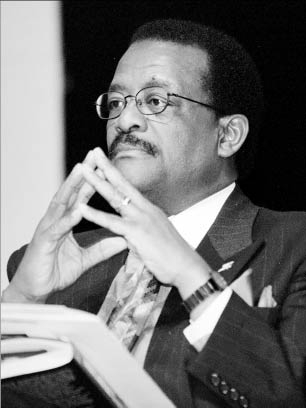 Johnnie Cochran was a lawyer best known for his leadership role in the defense and criminal acquittal of O. J. Simpson for the alleged murder of his former wife Nicole Simpson and her friend Ronald Goldman. Cochran also represented Michael Jackson, rapper Tupac Shakur, actor Todd Bridges, football player Jim Brown, rapper Snoop Dogg, former heavyweight Champion Riddick Bowe, 1992 Los Angeles riot beating victim Reginald Oliver Denny, and Rosa Parks. Cochran was known for his skill in the courtroom and his prominence as an early advocate for victims of police brutality.
Johnnie L. Cochran Jr., was born Oct. 2, 1937 in Shreveport, Louisiana, the great-grandson of slaves, grandson of a sharecropper and son of an insurance salesman. He came to Los Angeles with his family in 1949 and became one of two dozen black students integrated into Los Angeles High School in the 1950s.
Johnnie Cochran graduated first in his class from Los Angeles High School in 1955. He went on to receive his Bachelor of Science degree in business administration from the University of California, Los Angeles in 1959 and his Juris Doctor at Loyola Marymount University School of Law (now Loyola Law School) in 1962.
Inspired by Thurgood Marshall and the legal victory he won in Brown v. Board of Education, Cochran decided to dedicate his life to practicing law. Cochran felt his career was a calling, a double opportunity to work for what he considered to be right and to challenge what he considered wrong; he could make a difference by practicing law. In A Lawyer's Life, Cochran wrote: I read everything that I could find about Thurgood Marshall and confirmed that a single dedicated man could use the law to change society." He also said, "An injustice anywhere is a threat to justice everywhere." It was his rallying cry as he worked to right many wrongs, and as he provided a voice to those who needed to be heard.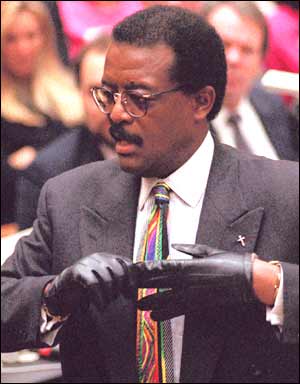 Johnnie Cochran began his legal career as Deputy City Attorney for the City of Los Angeles, assigned to the Criminal Division from 1963 to 1965. He then founded the law firm of Cochran, Atkins & Evans, where he handled both civil and criminal cases. Cochran was named Criminal Trial Lawyer of the Year in February 1977 by the Los Angeles Criminal Courts Bar Association and then served as the Assistant District Attorney for Los Angeles County from 1978-1980, the first African-American to hold the position. In 1979, he was instrumental in founding the Los Angeles County Domestic Violence Council.
Cochran's position at the district attorney's office did not spare him a brush with racist police. One afternoon as he drove his two young daughters across town in his Rolls Royce, he was pulled over. The police yelled at him to get out of the car with his hands up, and when he did he could see that they had drawn their guns. "Well, talk about an illegal search and seizure!" Cochran exclaimed in The American Lawyer, recalling the event. "These guys just go through ripping through my bag. Suddenly this cop goes gray. He sees my number three badge from the D.A.'s office! He's like, `Ahh! Ahh!' They all go apoplectic. I never got stopped again, but I'm careful not to make any weird moves. I might get shot!"
Cochran never publicized the incident, but he was deeply disturbed about its effect on his two daughters. "I didn't want to tell them it was because of racism," he added. "I didn't want to tell them it happened because their daddy was a black guy in a Rolls, so they thought he was a pimp. So I tried to smooth things over.... As an African American, you hope and pray that things will be better for your children. And you don't want them to feel hatred."
In 1981, Jonnie Cochran returned to private practice as a plaintiff's trial lawyer and won a number of landmark decisions against police misconduct. In 1992, he received the highest jury award in the history of the city of Los Angeles in a police misconduct matter on behalf of a 13-year-old girl molested by an LAPD officer.
Over the years, Cochran represented football great Jim Brown on rape and assault charges, actor Todd Bridges on attempted murder charges, rapper Tupac Shakur on a weapons charge and rapper Snoop Dogg on a murder charge. He also represented former Black Panther Elmer ''Geronimo'' Pratt, who spent 27 years in prison for a murder he didn't commit. When Cochran helped Pratt win his freedom in 1997 he called the moment ''the happiest day of my life practicing law.'' But the attention he received from all of those cases didn't come remotely close to the fame the Simpson trial brought him.
Johnnie Cochran was the lead attorney for Simpson, accused of murder in the 1994 slayings of his ex-wife, Nicole Brown Simpson, and her acquaintance Ron Goldman. No celebrity trial was more followed than O. J. Simpson's trial. In the summer of 1994, Simpson was arrested and charged with the murders of his ex-wife, Nicole Brown Simpson, and her friend Ron Goldman. Simpson declared that he was innocent, and he engaged Cochran as part of an expensive "dream team" of lawyers dedicated to his defense.
Before long, Cochran had replaced Robert Shapiro as leader of the "dream team" as the matter was brought to trial. Calling the O. J. Simpson trial a "classic rush-to-judgment case," Cochran vowed to win an acquittal for the football star-turned-television celebrity. Responding to questions about the nickname for his legal team, Cochran told Time: "We certainly don't refer to ourselves as the Dream Team. We're just a collection of lawyers just trying to do the best we can."
One week into the Simpson trial in February of 1995, Time reported that Cochran had "unveiled an unexpectedly strong defense." With his engaging manner and sincerity, Cochran sought to poke holes in the case against Simpson as presented by district attorneys Marcia Clark and Christopher Darden. Piece by piece, he challenged the evidence, paying special attention to the racist attitudes of one of the investigating officers, Mark Fuhrman. During Simpson's trial, Cochran famously quipped, "If it doesn't fit, you must acquit," in reminding jurors during his summation that the former star football running back couldn't fit his hands inside a bloody glove found at the scene of the killings.
Johnnie Cochran was both effective and controversial in his closing arguments on Simpson's behalf. He claimed his client had been framed by a racist police officer, and that if such injustice were allowed to persist, it could lead to genocide as practiced by Nazi dictator Adolf Hitler. Speaking to the jury, Cochran concluded: "If you don't speak out, if you don't stand up, if you don't do what's right, this kind of conduct will continue on forever." After deliberating only four hours, the mostly black jury found Simpson not guilty on all counts.
When Cochran died in 2005, family and friends proclaimed they "were most proud of the work he did on behalf of those in the community" rather than those with wealth and might. In the words of Harvard Law professor Charles Ogletree, Cochran "was willing to fight for the underdog." Reverend Jesse Jackson believed Cochran was the "people's lawyer."
Johnnie Cochran was the only attorney in Los Angeles ever to receive both the "Civil Trial Lawyer of the Year" Award and the "Criminal Trial Lawyer of the Year" Award. In 1995, he was named "America's Trial Lawyer of the Year" by The National Law Journal, as well as being named one of the "Headliners of the Year" by Time magazine. In 1999, he was named one of the "Top 50 Trial Attorneys of 1999" by the Los Angeles Business Journal.
In 1996, Johnnie was elected for membership into the Inner Circle of Advocates, an exclusive organization composed of the top 100 personal injury lawyers in America. He further held the distinction of being inducted into the American College of Trial Lawyers, an organization whose membership consists of the top one percent of trial lawyers in the United States. He was also inducted into the prestigious International Academy of Trial lawyers, which is comprised of leading trial attorneys from throughout the world.