Louis Farrakhan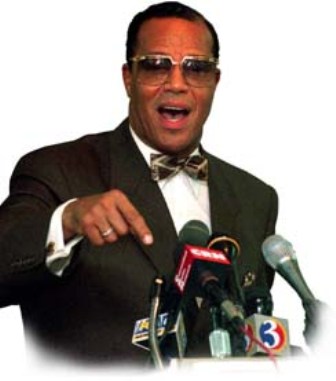 Louis Farrakhan was the leader of the Chicago-based Nation of Islam. He served as minister of major mosques in Boston and Harlem before the 1975 death of the longtime Nation of Islam leader Elijah Muhammad. After Warith Deen Muhammad led most of the NOI members into traditional Islam and renamed the group the American Society of Muslims, Farrakhan set up a separate group, at first named Final Call. In 1981 his minority group took back the name of Nation of Islam.

Farrakhan is an advocate of civil rights for African Americans and a critic of the United States government on many issues. For nearly 30 years, Louis Farrakhan has marked himself a notable figure on the extremist scene by making hateful statements targeting Jews, whites and homosexuals. Farrakhan has been both praised and widely criticized for his often controversial political views and outspoken rhetorical style. In October 1995, he helped organize a Million Man March in Washington, DC, calling on black men to renew their commitments to their families and communities.
Louis Eugene Walcott was born on May 11, 1933, in the Bronx, New York. His mother was born in Saint Kitts and his father was a Jamaican native who worked as a taxicab driver. After Louis' father died in 1936, the Walcott family moved to Boston, Massachusetts, where they settled in the West Indian neighborhood of the Roxbury area.

As a child Louis had intense musical training on the violin, receiving his first violin at the young age of six. By the age of thirteen, he had played with the Boston College Orchestra and the Boston Civic Symphony, and just a year later Louis went on to win national competitions. In 1946 he was one of the first black performers to appear on the Ted Mack Original Amateur Hour, where he also won an award. He and his family were active members of the Episcopal St. Cyprian's Church in Roxbury.
In February 1955, while visiting Chicago for a musical engagement, 21 year old Louis Farrakhan was invited to attend the Nation of Islam's Saviors' Day convention. The second leader of the Nation of Islam, Elijah Muhammad had attained his position following the mysterious disappearance of founder W.D. Fard in 1934, and had overseen its growth to tens or hundreds of thousands of members with an extensive network of farms, restaurants, stores, schools, and other businesses and institutions.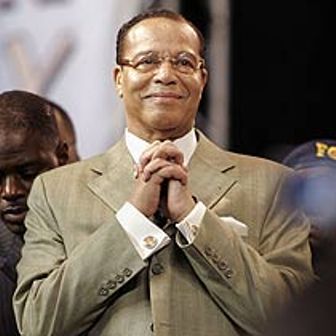 Muhammad's message excoriated "white devils" and promised that the day would soon arrive when God would restore African Americans, who were regarded as the original humans, to their rightful position as leaders of the world. Muhammad also imposed strict standards of behavior on his followers, who were forbidden from smoking, drinking, fighting, eating pork, and other behaviors regarded as destructive and were commanded to say prayers, attend religious services regularly, improve their education, and provide extensive service to the movement. Farrakhan joined the movement soon after hearing its leader speak.
Although music had been his first love, within one month after joining the Nation of Islam in 1955, Minister Malcolm X told the New York Mosque and the new convert Louis X that Elijah Muhammad had said that all Muslims would have to get out of show business or get out of the Temple. Louis X, later renamed Louis Farrakhan, chose to leave music behind and dedicate his life to the Teachings of the Honorable Elijah Muhammad.
One of the competitors to Malcolm X, Farrakhan made numerous incendiary statements about him, contributing to what was called a "climate of vilification". This led to the assassination of Malcolm X at a time when he was beginning to distance himself from the NOI after his Hajj to Mecca. Years later, Farrakhan admitted that the NOI had a part in the murder of Malcolm X; three men from a Newark, New Jersey NOI mosque were convicted of the killing and served prison sentences.
Following the murder of Malcolm X in 1965, Louis Farrakhan was appointed leader of the important Harlem Temple No. 7 and official spokesperson for Elijah Muhammad. He was also given the symbolically important task of introducing Muhammad at rallies on Savior's Day, a major Nation of Islam holiday celebrating Fard's birthday.
Elijah Muhammad died in 1975 and was succeeded by his son Wallace Deen Muhammad, who proved much quieter and more moderate than his father. At Wallace Muhammad's invitation Farrakhan moved to Chicago to work in the movement's headquarters.
The very following year, Wallace Deen moved the NOI toward more traditional Muslim beliefs, re-naming it the American Society of Muslims. Soon after, Louis Farrakhan worked to re-establish the Islam nation in line with its original tenets. With his provocative speeches, Farrakhan received more attention than Wallace Deen. Louis Farrakhan has often made bold and outrageous statements, most notably his reference to Judaism as "a gutter religion" and his declaration that Hitler was "a great man." Most members of the former nation remain loyal to Wallace Deen's organization. The two groups continue to squabble over the legitimacy of Farrakhan's claim to be Muhammad's true heir.
Louis Farrakhan's tremendous success is evidenced by mosques and study groups in over 120 cities in America, Europe, the Caribbean and missions in West Africa and South Africa devoted to the Teachings of the Honorable Elijah Muhammad. In rebuilding the Nation of Islam, Minister Farrakhan has renewed respect for the Honorable Elijah Muhammad, his Teachings and Program.
In 1993, Minister Farrakhan penned the book, "A Torchlight for America," which applied the guiding principles of justice and good will to the problems perplexing America. In May of that year, he traveled to Libreville, Gabon to attend the Second African-African American Summit where he addressed African heads of state and delegates from America. In October of 1994, Minister Farrakhan led 2,000 Blacks from America to Accra, Ghana for the Nation of Islam's first International Saviors' Day. Ghanaian President Jerry Rawlings officially opened and closed the five-day convention.
In October 1995, Louis Farrakhan convened a broad coalition of 1 million men in Washington, D.C., for the Million Man March. He and other speakers called for African American men to renew their commitments to their families and communities. The event was supported by a wide variety of church and other religious groups, and drew men and their sons from across the country. In 2005, together with prominent black Americans such as New Black Panther Party leader Malik Zulu Shabazz, the activist Al Sharpton, Addis Daniel and others, Farrakhan marked the 10th anniversary of the Million Man March by holding a second gathering, the Millions More Movement, October 14–17 in Washington.
In comments in 2005, Louis Farrakhan stated that there was a 25-foot hole under one of the key levees that failed in New Orleans following Hurricane Katrina. He implied that the levee's destruction was a deliberate attempt to wipe out the population of the largely black sections within the city. Farrakhan further claimed that the fact the levee broke the day after Hurricane Katrina is proof that the destruction of the levee was not a natural occurrence. Farrakhan has raised additional questions and has called for federal investigations into the source of the levee break, while asserting that the hurricane was "God's way of punishing America for its warmongering and racism".
Always outspoken Louis Farrakhan remains a pivotal figure among African American Muslims.
Michael Arnold Art
-
Original signed acrylic paintings on canvas by award winning artist Michael Arnold. Beautiful selection of art for sale

michaelarnoldart.com
The Dog Encyclopedia-
Empowering information for pet owners to enhance and enrich a dog's life.

dogencyclopedia.org
Innovative
Improvements-
Innovative ideas to improve your health, finances, education and home.

improvingwebsites.com
Floridian Nature-
Discover the wonderful nature of Florida. From plants to animals, to Florida's pristine waters- Florida is nature at it's best.

floridiannature.com