Staff Sergeant Aubrey L. McDade, Jr.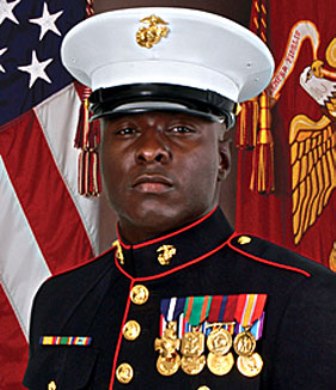 Staff Sergeant Aubrey L. McDade, Jr. is a United States Marine who was awarded the Navy Cross for his heroic actions in which he rescued two fellow Marines during an enemy ambush in Iraq in 2004. He is the 15th Marine to receive the Navy Cross for actions in the United States of America's "War on Terror"; its foreign offensives undertaken since September the 11th 2001.
McDade, a native of Fort Worth, Texas, received the Department of the Navy's second highest award for valor while serving with Company B, 1st Battalion, 8th Marines, Regimental Combat Team 7, 1st Marine Division.
Aubrey L. McDade Jr. enlisted in the Marine Corps after graduating from Western Hills High School in the fall of 1999, and he has deployed in support of Operation Iraqi Freedom three times. McDade received his award January 19, 2007 during a recruit training graduation, when he was a drill instructor. He received more recognition as former first lady Laura Bush's guest of honor at the State of the Union Address on January 23, 2007.
Sergeant McDade, a drill instructor with Charlie Company, 1st Recruit Training Battalion, was a machine-gun squad leader with 1st Platoon, Bravo Company, 1st Battalion, 8th Marines, in Iraq in 2004.
Shortly after departing a platoon firm base and proceeding south toward Phase Line Grace, 1st Platoon entered an alley and encountered an immediate heavy volume of small arms and machine gun fire. In the opening seconds of the engagement, three Marines were seriously wounded as the well positioned and expecting enemy pinned others down. On contact, Sergeant McDade rushed from the rear of the platoon column toward the kill zone and immediately deployed a machine gun team into the alley to provide suppressive fire on the enemy.
After several attempts to reach casualties in the alley were met with heavy, well-aimed machine gun fire, he showed total disregard for his own safety by moving across the alley and successfully extracting the first of three wounded Marines from the kill zone. Aware of the fact that there were still two wounded Marines in the alley, Sergeant McDade dashed through the heart of the kill zone two more times, each time braving intense enemy fire to successfully retrieve a Marine. After extracting the last casualty from the kill zone, he assisted in the treatment and medical evacuation to these Marines. His quick thinking and aggressive actions were crucial in saving the lives of two of the three casualties.
Staff Sergeant Aubrey McDade's actions of heroism exemplify the Marine Corps Values on which their institution was founded upon, making him a true American hero. Besides the Navy medal Staff Sergeant Aubrey McDade, Jr. has received numerous awards and medals, including the Navy Achievement Medal, Combat Action Ribbon, Navy Unit Commendation, Marine Corps Good Conduct Medal, Iraq Campaign Medal, Humanitarian Service Medal, Global War On Terrorism Service Medal, and the Global War on Terrorism Expeditionary Medal.