Four Star General Daniel James Jr.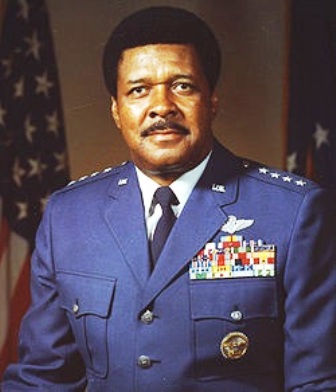 On September 1, 1975, Daniel "Chappie" James Jr., a fighter pilot, became the 1st African-American to become a 4 star general in the U.S. Air Force. He was another of the great Tuskegee Airmen, but didn't see action until the Korean War. His career spanned three wars and 30 years, and he was a recognized civil rights pioneer. General Daniel James, Jr. was an eloquent speaker for the Air Force known for his thoughts on Americanism and patriotism.
General Daniel James Jr. served in World War II and led a fighter group in Korea, inventing air tactics to support ground forces and receiving the Distinguished Service Medal. In Vietnam he was vice commander of the Eighth Tactical Fighter Wing, earning the Legion of Merit award. National attention accompanied his speeches supporting the war and black soldiers' reasons to fight.
Skills and overwhelming personality smoothed James's unprecedented ascent. Generally opposed to mass movements to improve blacks' situation, he cited his mother's dictum that personal excellence could overcome all barriers. He applauded peaceful demonstrations, and the violence at Selma, Alabama, made him consider resigning. Daniel James seemed to brush off personal experiences with racism, although he seldom wore civilian clothes so his uniform might have shielded him. General Daniel James was sometimes criticized by fellow African Americans for his support of the Viet Nam War, but many liked his view of race relations that emphasized individualism.

Daniel James was born in February 1920, in Pensacola, Florida, where he graduated from Washington High School in June 1937. He attended Tuskegee Institute at Tuskegee, Alabama, receiving a bachelor of science degree in physical education. Daniel James, Jr., went on to complete civilian pilot training under the government-sponsored Civilian Pilot Training Program.

After completing the program, James stayed on as an instructor. Facing many obstacles, including the racial prejudices of the times, Daniel James Jr., fought for a place at military flight school. Passing the required tests with ease, he completed his training in 1943. During World War II, James served primarily as an instructor, teaching other African Americans in the 99th Pursuit Squadron.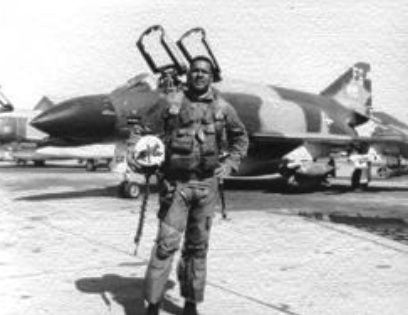 In September 1949, General James went to the Philippines as flight leader for the 12th Fighter-Bomber Squadron, 18th Fighter Wing, at Clark Field. In July 1950 he left for Korea, where he flew in F-51 and F-80 aircraft. It was during the Korean War that James began flying combat missions, completing more than 100 in all. For these achievements, he received the Distinguished Service Medal.
General James returned to the United States and in July 1951 went to Otis AFB, Massachusetts as an all-weather jet fighter pilot with the 58th Fighter-Interceptor Squadron (FIS) and later became operations officer. In April 1953 he became Commander of the 437th FIS, and in August 1955 he assumed command of the 60th FIS. While stationed at Otis, he received the Massachusetts Junior Chamber of Commerce 1954 award of "Young Man of the Year" for his outstanding community relations efforts. He graduated from the Air Command and Staff College in June 1957.
In July 1960 General James was transferred to the Royal Air Force Station at Bentwaters, England, where he served successfully as Assistant Director of Operations and then Director of Operations, 81st Tactical Fighter Wing, Commander of the 92nd Tactical Fighter Squadron, and Deputy Commander for Operations for the 81st Wing. In September 1964 General James was transferred to Davis-Monthan AFB, Arizona, where he was Director of Operations Training and later Deputy Commander for Operations for the 4453rd Combat Crew Training Wing.
General James went to Ubon Royal Thai Air Force Base in Thailand, in December 1966, as Deputy Commander for Operations, 8th TFW, and in June 1967 was named Wing Vice Commander. He flew 78 combat missions into North Vietnam, many in the Hanoi/Haiphong area, and led a flight into the Bolo Mig sweep in which seven Communist Mig 21s were destroyed, the highest total kill of any mission during the Vietnam War.
General James Jr. was awarded the George Washington Freedom Foundation Medal in both 1967 and 1968. He received the Arnold Air Society Eugene M. Zuckert Award in 1970 for outstanding contributions to Air Force professionalism. While stationed at Eglin Air force Base in florida, the Florida State Jaycees named General James as Florida's Outstanding American of the Year for 1969, and he received the Jaycee Distinguished Service Award. General James Jr. received other numerous honors and awards throughout his life and will be remembered as an African-American patriot, and pioneer.
General James died of a heart attack on February 25, 1978, just two weeks after his 58th birthday and three weeks following his retirement from the Air Force.