Rear Admiral Osie V. Combs Jr.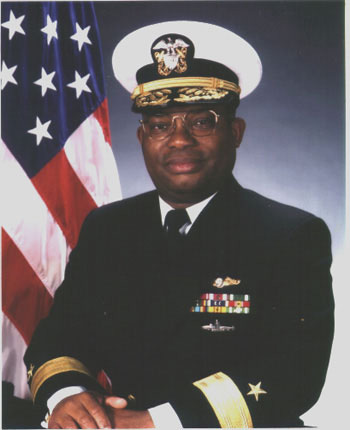 Retired Rear Admiral Osie V. Combs, was one of only forty-one African Americans that rose to become a Flag Officer in the United States Navy as of January 2010. With only sixteen active African American Admirals currently in the navy, Combs was honored to become one of the navy elite.
Rear Admiral Combs was Deputy Commander for Submarines, SEA 92, Naval Sea Systems Command. From November 1997 to July 1998, Rear Admiral Combs was Vice Commander, Space and Naval Warfare Systems Command in San Diego California. Combs was second in command and assisted the commander in providing direction, development, acquisition and life cycle management of command, control, communication, computers and intelligence and Information Technology for the 21st Century.
Osie Combs was born into a family that served it's country. His father Osie Combs, Sr. served during World War II in the United States Marine Corps from September 1943 until his honorable discharge in February 1946 with the rank of Corporal. Of historical significance, Corporal Combs was one of the original Mofitt Point Marines. The Mofitt Point Marines represented approximately 19,000 African American Marines, the first black marines, who served this county. He participated in action against the Japanese on Guam. A loving father and husband, Osie Combs Sr., instilled a strong work ethic in his three children.
Born in Longview Texas and growing up in Texas City, Osie Combs attended Texas City High School, where he graduated in 1967. He was inducted into the Texas City Independent School District Hall Of Honor in 2008. The Hall of Honor was implemented in 2006. The Hall of Honor inductees' photos and biographies are displayed in the main hall of Texas City High School in honor of their accomplishments and to serve as role models for Texas City students.
Always interested in math and science, Osie Combs was driven to attend college by the support of his family, church and friends. Combs saw college as a way to get out of his dead end job of digging ditches. Osie Combs worked his way through college, at times even going back to digging ditches, and graduated from Prairie View A&M University in 1971 with a degree in Electrical Engineering. From 1974-1977, Combs attended graduate school at the Massachusetts Institute of Technology, where he earned a Master's Degree in Mechanical Engineering and a Naval Engineer professional degree (Naval Architecture). He also attended the Program Manager's Course at the Defense Systems Management College and the Program for Executives at Carnegie Mellon University. Some of his more noted awards include Outstanding Senior Engineer, from Prairie View A&M and Outstanding Student Engineer of the Year from the Texas Society of Professional Engineers.
Rear Admiral Osie Combs, Jr. enjoyed his career in the navy and the opportunities it afforded that weren't always available to African Americans in the private sector. Combs appreciated the fact that in the navy he was given huge responsibilities and a multi- million dollar budget compared to being just one of many engineers in the private sector.
Rear Admiral Combs has had three at sea assignments: Assistant Boilers Officer in USS CORAL SEA from 1971 through 1974, Repair Officer onboard USS PROTEUS from 1983 through 1985, and onboard USS WOODROW WILSON in 1980 for Engineering Duty Officer qualifications.
Rear Admiral Osie Combs was assigned to Norfolk Naval Shipyard from 1977-1981. At Norfolk, he served in several key positions including: Surface and Submarine Ship Superintendent, Surface and Submarine Ship Type Deck Officer and backup Docking Officer. During this tour, Rear Admiral Combs completed his qualifications in submarines (Engineering Duty).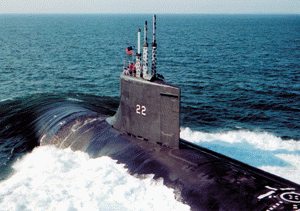 From 1985-1988, Rear Admiral Osie Combs served as Program Manager for the SEAWOLF's Large Scale Vehicle, an autonomous submarine. the following two years Combs continued his work with the SEAWOLF, becoming the Assistant Program Manager for Design and Construction, and worked his way to Project Officer for construction of the lead SEAWOLF at Supervisor of Shipbuilding, Conversion and Repair at Groton, Connecticut. Rear Admiral Combs served as Program Manager for the SEAWOLF Attack Submarine Program from 1992 to 1995. There, he was responsible for the design, development and construction of the Navy's most technologically advanced submarine.
In 1997 Rear Admiral Osie Combs, Jr. was elected to a five year membership to the Corporation of the Massachusetts Institute of Technology's board of trustees. The MIT Corporation in 1997 was comprised of 73 distinguished leaders in education, science, engineering and industry.
In 1990, Rear Admiral Combs was nationally recognized as the Outstanding Engineer of the Year for Technical Excellence by Career Communications Group. He has been awarded the Legion of Merit, Meritorious Service Medal with one gold star, the Navy Commendation Medal, the Navy Unit Commendation with two bronze stars, the Navy "E" Ribbon with second Battle "E", the National Defense Service Medal with one bronze star, the Sea Service Ribbon, the Vietnam Service Medal with one bronze star, and the Republic of Vietnam Campaign Medal.

Rear Admiral Combs lives in Woodbridge, Virginia, with is wife, the former Iris Parks of Bay City, Texas, and daughters, Melany and Natalie.