Lieutenant Colonel Merryl (David) Tengesdal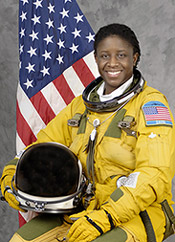 Lieutenant Colonel Merryl Tengesdal was the first and is the only African American woman to fly the Air Force's Elite U-2 spy stealth plane, used for risky reconnaissance missions. Tengesdal, a former naval officer, is one of only five women and three African-Americans to be accepted into the Air Force's elite First Squadron, where U-2 pilots get their training. Solo flights can exceed 70,000 feet and last nine hours, and U-2s, with their tremendous wingspan, are one of the toughest crafts to land.
Air Force Lt. Col. Thomas Engle, 99th Expeditionary Reconnaissance Squadron commander, described the U-2 as an unforgiving aircraft that requires exceptional airmanship to fly. Pilots are carefully screened before being accepted for training, a process that includes a three-sortie interview profile to determine the applicant's aptitude for flying the "Deuce." Only about 850 airmen have flown the U-2 since its introduction. Tengesdal said every contribution in the military is important to winning the global war on terror.

"As a pilot, all that matters is the mission, no matter if you're male or female," she said. "We get it done out here, and I'm happy to be a contributing member of this team. It's an honor to be a part of the U-2 heritage."
Airmen of the 99th Expeditionary Reconnaissance Squadron continued to add to the U-2's 51-year history by being the only U-2 squadron in the area of responsibility supporting operations Enduring Freedom and Iraqi Freedom.
Merryl Tengesdal has had her sights set high since childhood. Growing up in The Bronx, New York, the Star Trek fan dreamed of being an astronaut. Since then she has boasted an impressive flying career, operating combat helicopters and airplanes for the Navy in the Middle East, Korea, and South America. "You don't see many Black females flying in any service," she says. "I hope this will show young girls that this is an option they can have."

Merryl Tengesdal (David) grew up in the Bronx, New York. Wanting the career of an astronaut, she graduated from the University of New Haven with a bachelor's degree in electrical engineering. She decided not to go into the ROTC while in college, and spent three months in Officers' Candidate School after graduating and came out with a commission as an Ensign. David then graduated from the U.S. Navy's fight-aviation program in Pensacola, Florida where she began her military career by flying the SH-60B Sea Hawk Helicopter at NAS Mayport, Florida. During her time there, she deployed on two long cruises and multiple short cruises to the Middle East, South America and the Caribbean.

Once completed with her Navy obligation, Lieutenant Colonel Merryl Tengesdal continued her military career by transferring over to the Air Force to fly the U-2S Dragon Lady at Beale Air Force base in California. She was deployed to multiple locations in support of Operations Olive Harvest, Enduring Freedom, Iraqi Freedom and Horn of Africa. While stationed at Beale Air Force Base, Colonel Tengesdal held the highly esteemed positions of 9RW Chief of Flight Safety and 9th Physiological Support Squadron Director of Operations. She is a senior pilot with more than 3,200 flight hours and over 330 combat hours. She was selected for promotion in January 2008 to Lieutenant Colonel.

Lt Col Merryl Tengesdal is currently the commander of Det 2 WR/ALC at Plant 42 in Palmdale, California, where she is in charge of flight test and Program Depot Maintenance for the U-2S. She has government oversight for approximately 300 military, civil service and contractor personnel and is also the designated Service Government Flight Representative (GFR) for Site 2.
Lt. Col Merryl Tengesdale had received numerous awards and honors including the ACC Aerospace Physiologist of the Year 2008, Meritorious Service Medal, Air Medal, Air Force Commendation Medal, Navy Achievement Medal, National Defense Service Medal, Armed Forces Expeditionary Medal, Global War on Terrorism Service Medal, and the Sea Service Deployment Ribbon.