Private First Class Willy F. James, Jr.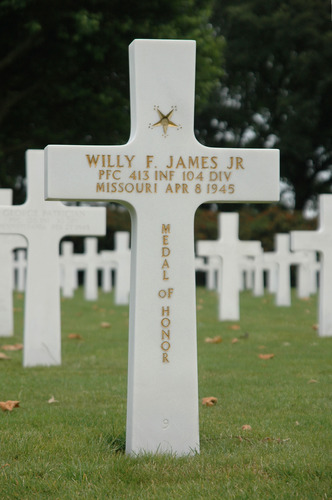 Willy F. James, Jr. was a United States Army private first class who was posthumously awarded the Medal of Honor for his heroic actions during World War II. He was one of seven African-American soldiers who were belatedly awarded the Medal of Honor by President Bill Clinton on January 13, 1997.
No African American soldier was awarded the Medal of Honor during World War II. In 1993 the Army contracted Shaw University in Raleigh, North Carolina, to research and prepare a study "to determine if there was a racial disparity in the way Medal of Honor recipients were selected." Shaw's team researched the issue and, finding that there was disparity, recommended the Army consider a group of 10 soldiers for the Medal of Honor. Of those 10, seven were recommended to receive the award. In October of 1996 Congress passed the necessary legislation which allowed the President to award these Medals of Honor since the statutory limit for presentation had expired. The Medals of Honor were presented, by President William Clinton, in a ceremony on 13 January 1997. Vernon Baker was the only recipient still living and present to receive his award; the other six soldiers received their awards posthumously, with their medals being presented to family members.
Willy James was born on March 18, 1920 in Kansas City, Missouri. He enlisted in the U.S. Army on September 11, 1942. He was an infantry scout assigned to Company G, 413th Infantry Regiment, 104th Infantry Division in April 1945. This division, also known as The Timberwolves, deployed during World War II, seeing almost 200 days of fighting in northern Europe as it fought through France, the Netherlands, and Germany, fighting back several fierce German counterattacks as it advanced through the theater throughout late 1944 and 1945. This would be the only combat duty the 104th Division would see in its history.
On April 7, 1945, Private First Class Willy James, Jr. was lead scout during a maneuver to secure a bridgehead near Lippoldsberg, German. As his regiment crossed the Weser River, he was pinned down for more than an hour by enemy machine gun fire. When he was able to return to his platoon with his scouting observations, he helped to develop a new assault plan, designating targets in the new attack. When his platoon leader was mortally wounded, James went to his aid and was himself killed by machine gun fire.


Private First Class Willy James Citation for the medal of Honor Reads:
For extraordinary heroism in action on 7 April 1945 near Lippoldsberg, Germany. As lead scout during a maneuver to secure and expand a vital bridgehead, Private First Class James was the first to draw enemy fire. He was pinned down for over an hour, during which time he observed enemy positions in detail. Returning to his platoon, he assisted in working out a new plan of maneuver. He then led a squad in the assault, accurately designating targets as he advanced, until he was killed by enemy machine gun fire while going to the aid of his fatally wounded platoon leader. Private First Class James' fearless, self-assigned actions, coupled with his diligent devotion to duty exemplified the finest traditions of the Armed Forces.
Private First Class Willy James received the European-African-Middle Eastern Campaign Medal and Combat Infantry Badge prior to his death. Posthumously, he was awarded the Medal of Honor (on September 23, 2006), the World War II Victory Medal, the Bronze Star, the Purple Heart, and the Army Good Conduct Medal.
Private Willy James was buried in the Netherlands American Cemetery and Memorial in the Dutch town of Margraten. His grave can be found in plot P, row 9, grave 9.