Brigadier General Roscoe C. Cartwright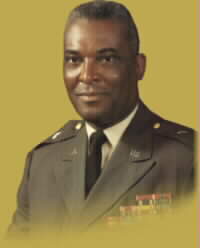 Brigadier General Roscoe Conklin Cartwright, affectionately known as "Rock," forged an impressive record during his 33 years of Army service. He overcame seemingly insurmountable barriers during his service, provided mentoring for young officers ascending through the military ranks and laid a roadmap that lives on today through his legacy.

Serving in World War II, the Korean War and the Vietnam War, General Cartwright became was the first black Field Artilleryman promoted to Brigadier General and would eventually serve in the Pentagon. In 1974, shortly after his retirement from active service, General Cartwright and his wife, Gloria, died in a commercial airplane crash while returning to their home outside of Washington, D.C.
Born May 27, 1919, in Kansas City, KS, General Cartwright spent his youth in Tulsa, Oklahoma. With his sights originally set on a college education prior to the World War II draft, General Cartwright said, "I recall seeing very few blacks in uniform in Tulsa before World War II. Therefore, being or becoming a soldier did not interest me until the draft was initiated and they started the lottery in 1940." Thus, after graduating from Booker T. Washington High School in 1936, he returned to Kansas to attend the Kansas State Teachers College. Unable to continue financing school during the Great Depression, General Cartwright entered the workforce with stints at the University of Tulsa and the Bubble-Up Bottling Company.
Any plans of returning to college were put on hold as General Cartwright was drafted into the Army in 1941 and assigned to the 349th Field Artillery Regiment at Fort Sill, OK. Exemplary of the segregated army at the time, all of the men enlisted in the 349th were black while all of the officers, except the chaplain, were white. Upon completion of Officers Candidate School in November 1942, General Cartwright was commissioned as Field Artillery Second Lieutenant in the 599th Field Artillery Battalion of the famed 92nd Infantry Division where he would remain throughout the war. He proudly led his men through the rigors of combat in Italy and, after the war, was promoted to First Lieutenant.
Roscoe Cartwright was able to complete his education, obtaining a Bachelor of Arts degree from San Francisco State College in June 1960. Further studies included computer training and courses towards a Masters in Business Administration.
After a transfer into the "regular" Army, which was unprecedented for a black officer, General Cartwright was promoted to Captain and served a combat tour in Korea. Next, in 1954, was a promotion to Major and duty in Korea and Japan. He remained in Vietnam until 1971, when he became the third black promoted to Brigadier General after General Benjamin O. Davis, Sr. and General Benjamin O. Davis, Jr. Awards during this time include the Legion of Merit, Bronze Star Medal, Air Medal, National Defense Medal, Korean Service Medal and Vietnam Service Medal among others honors and decorations.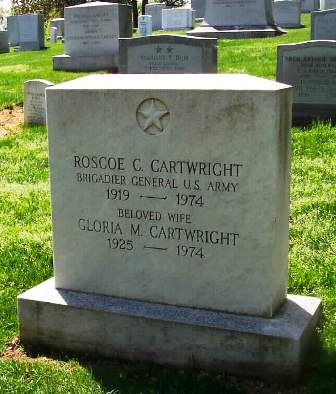 Retiring from the army in September of1974, General Cartwright's life was tragically cut short just months later. At 11:10 a.m., December 1, 1974, TWA Flight 514, a Boeing 727 flying in bad weather, crashed into the wooded slope of a 1,725-feet mountain about 25 nautical miles northwest of Dulles International Airport (first opened in 1962), Washington, D.C., killing all 92 people aboard (85 passengers and 7 crew members) and destroying the plane. It was the worst air disaster of 1974.

Two of the passengers were Brigadier General Roscoe C. Cartwright, only fifty five years of age, and his wife Gloria, who were returning from a Thanksgiving holiday visit with their daughter. Cartwright had received the Distinguished Service Medal on August 12 and retired in September after a 33-year military career.



The ROCKS Incorporated was founded October 9, 1974 by sixty-five United States Army officers in Washington, D.C. Headquartered in Forestville, Maryland and with over 1,100 members, it is the largest professional military officers' organization with a majority African-American membership. It is a non-profit organization comprised of active, reserve, retired and former commissioned officers and warrant officers of the U.S. Armed Forces, and widows and widowers of deceased members. The organization hosts professional development sessions and social events to improve the officer corps.

The ROCKS, Inc. began in the mid-1960s as an informal meeting of Army officers assigned to the Command and General Staff College at Fort Leavenworth, Kansas. The group initially met to help each other "survive" at Fort Leavenworth, and many members continued to meet after being reassigned to the Pentagon and elsewhere in the greater Washington, D.C., area.

In the years that followed, the group grew. On October 9, 1974, along with Colonel Robert B. Burke, Brigadier General Roscoe Cartwright led an initiative to formally organize the growing network. They dubbed themselves the No Name Club until they agreed on a formal name.

On December 1, the No Name Club assembled to ratify an official name when they were informed that General Cartwright and his wife, Gloria, died in a plane crash near Dulles Airport. The No Name Club soon voted to name itself The ROCKS, Inc. It was also agreed that a scholarship fund be established within "The ROCKS" and be named the Roscoe C. Cartwright Scholarship Fund.

Today, The ROCKS, Inc. has 23 active chapters across the Army (including one in Iraq). Membership in The ROCKS is open to active, reserve, retired, and former officers of the Armed Forces established with the explicit purpose of contributing "to strengthening the Army's officer Corps professionalism and to build a stronger, culturally diverse force."