Four Star General Benjamin Davis Jr.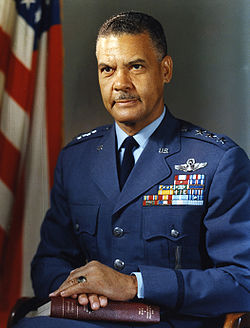 Benjamin Oliver Davis Jr. was an American born United States Air Force general and commander of the World War II Tuskegee Airmen.

Davis was the second African-American General in the United States Air Force. Davis was later advanced to four-star general on December 9, 1998, by President Clinton. During World War II, Davis was commander of the 332nd Fighter Group, which escorted bombers on air combat missions over Europe. Davis himself flew sixty missions in P-39, Curtiss P-40, P-47 and P-51 Mustang fighters.
Benjamin O. Davis Jr. was born in Washington, D.C., in 1912. His father was a U.S. Army officer, and at the time was stationed in Wyoming serving as a lieutenant with an all-white cavalry unit. Benjamin O. Davis, Sr. served 42 years before he was promoted to brigadier general.
At the age of 13, in the summer of 1926, the younger Davis went for a flight with a barnstorming pilot at Bolling Field in Washington, D.C. The experience led to his determination to become a pilot himself. He was the first officer to get his wings from the Tuskegee Army Air Field on March 7, 1942.
Benjamin Davis Jr. graduated from Central High School in Cleveland, Ohio, in 1929, attended Western Reserve University at Cleveland and later the University of Chicago. He entered the U.S. Military Academy at West Point in New York in July of 1932.
Davis was sponsored by Representative Oscar De Priest of Chicago, at the time, the only black member of Congress. During the entire four years of his Academy term, Davis was shunned by his classmates, few of whom spoke to him outside the line of duty. He never had a roommate. He ate by himself. His classmates hoped that this would drive him out of the Academy. The "silent treatment" had the opposite effect. It made Davis more determined to graduate. He graduated in 1936, 35th in a class of 278. He was the academy's fourth black graduate. When he was commissioned as a second lieutenant, the Army had a grand total of two black line officers, Benjamin O. Davis, Sr. and Benjamin O. Davis, Jr.
In June 1937 after a year as commander of an infantry company at Fort Benning, Georgia, Davis entered the Infantry School there and a year later graduated and assumed duties as professor of military science at Tuskegee Institute, Tuskegee, Alabama. In May 1941 Benjamin Davis entered Advanced Flying School at nearby Tuskegee Army Air Base and received his pilot wings in March 1942.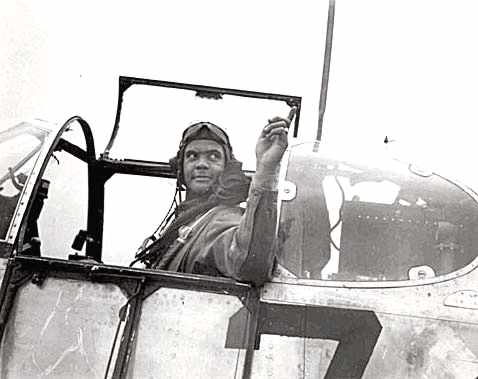 Early in 1941, the Roosevelt administration, in response to public pressure for greater black participation in the military as war approached, ordered the War Department to create a black flying unit. Captain Davis was assigned to the first training class at Tuskegee Army Air Field, and in March 1942 won his wings as one of five black officers to complete the course. He was the first black officer to solo an Army Air Corps aircraft. In July that year, having been promoted to lieutenant colonel, he was named commander of the first all-black air unit, the 99th Pursuit Squadron.

The squadron, equipped with Curtiss P-40 fighters, was sent to Tunisia in North Africa in the spring of 1943. On June 2, they saw combat for the first time in a dive-bombing mission against the German-held island of Pantelleria. The squadron later supported the Allied invasion of Sicily.

In September 1943, Davis was called back to the United States to take command of the 332nd Fighter Group, a larger all-black unit preparing to go overseas. In Italy, General Davis had the opportunity to change missions from ground attack to bomber escort. Successfully exploding the falsehood of racial inferiority by demonstrating the skill of the Tuskegee Airmen against the vaunted Luftwaffe. Their record under General Davis is unique. In 200 escort missions to heavily defended targets, the Tuskegee Airmen never lost a bomber to an enemy fighter. No other fighter unit flying half the missions could claim such success. This triumph stands as a tribute to the dedication, skill, courage, and discipline of these men and to the tactical acumen and leadership of General Davis.
In July 1948, President Harry S. Truman signed an executive order ordering the racial integration of the armed forces. Colonel Davis helped draft the Air Force plan for implementing this order. The United States Air Force became the first service to do away with the practice of segregation by announcing its intention to integrate in April 1948; it began the process in May 1949 and finished it two years later.
In 1949 General Davis went to the Air War College, at the Maxwell Air Force Base in Alabama, and after graduation, he was assigned to the Deputy Chief of Staff for Operations, Headquarters in Washington, D.C. He served in various capacities with the headquarters until July 1953, when he went to the advanced jet fighter gunnery school at Nellis Air Force Base, Nevada.

An important, but often-overlooked period of general Benjamin Davis, Jr.'s career was as commander of the Air Task Force 13, Provisional, based in the nationalist Chinese capital of Taipei, Taiwan. This critical Cold War posting required sophisticated diplomatic skills in addition to military expertise and leadership ability.

General Davis' service career spanned WW II, Korea, and Vietnam. He commanded the 51st Fighter-Interceptor squadron in Korea and flew the F-86 in the Korean War. During the Viet Nam War, he commanded the 13th Air Force from 1967 to 1968.

After retiring as lieutenant general in 1970, Benjamin Davis Jr. was named director of civil aviation security in the U.S. Department of Transportation from 1971 through 1975. In 1998 Davis was awarded his fourth general's star, attaining the highest order in the U.S. military. General Davis died on 4 July 2002 of pneumonia at Walter Reed Army Medical Center in Washington, DC. He is interred at Arlington National Cemetery.

Michael Arnold Art
-
Original signed acrylic paintings on canvas by award winning artist Michael Arnold. Beautiful selection of art for sale

michaelarnoldart.com
The Dog Encyclopedia-
Empowering information for pet owners to enhance and enrich a dog's life.

dogencyclopedia.org