Vice Admiral David L. Brewer III
Vice Admiral David Brewer III is one of only 32 officers that hold the Navy's second highest rank. He began his distinguished naval career May 17, 1970, when he was commissioned an Ensign in the U.S. Navy by former Secretary of the Navy, Senator John Chafee. Brewer was a member of the first graduating class of the Naval ROTC Unit at Prairie View A&M University, Prairie View, Texas, a historically black university.
Brewer, a 35-year veteran of the Navy commanded the Military Sealift Command from August 2001 until his retirement in March 2006, and served as Vice Chief of Naval Education and Training from 1999-2001. As Vice Chief of Naval Education and Training, he is known for helping to develop the Navy College Program and negotiating contracts with 11 colleges, universities and community colleges to provide bachelor and associate degree programs to more than 300,000 sailors.
David Brewer III was born to David L. Brewer, Jr., and Mildred S. Brewer in Farmville, Virginia. At age five, Brewer moved with his family from Farmville, Virginia to Florida, and he attended elementary and secondary schools in Orlando, Florida. Later, he earned a Bachelor of Science in Biology at Prairie View A&M University where he also was a member of the Naval Reserve Officer Training Corp (NROTC). He later earned a Masters of Arts in National Security and Strategic Studies at the Naval War College in Newport, Rhode Island.
Vice Adm. Brewer began his Navy career as a member of the first graduating class of the Naval Reserve Officers Training Corps at a historically African-American university, Prairie View A&M University in Prairie View, Texas.
Early in his naval career, Vice Admiral Brewer demonstrated superior leadership skills and combat acumen. During his first ship command tour aboard the tank landing ship USS Bristol County (LST 1198), his crew won several awards, including the coveted Battle Efficiency "E" award as the most combat efficient ship in its class in the Pacific Fleet. He continued this trend of achievements during the command of his second ship, the Second Fleet Flagship, USS Mount Whitney (LCC 20). Mount Whitney earned the Combat Systems Award and best ship in its class for Community Service in the Atlantic Fleet.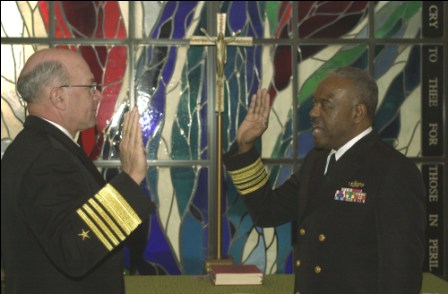 Vice Admiral Brewer's first assignment was as the Electronics Warfare Officer aboard the guided missile cruiser USS LITTLE ROCK (CLG 4). In his follow on tour with the Naval Recruiting District, Memphis, TN, he served as the Minority Recruiting Officer. He returned to sea to serve as the Combat Information Center Officer aboard the guided missile cruiser USS CALIFORNIA (CGN 36).
In 1988, he was hand-selected by Admiral C.A.H. Trost, Chief of Naval Operations, as his Special Assistant for Equal Opportunity. In this capacity, he was the advisor to the Navy's top leadership, and the CNO's personal representative at equal opportunity forums nationwide.
As Commander of Military Sealift Command, he is known for overseeing the massive Military Sealift Command (MSC) partnership with the private sector shipping contractors operation in support of Operation Iraqi Freedom which involved moving over 20 million square feet of equipment to the Persian Gulf in less than four months. He is also known for leading the Military Sealift Command's disaster relief efforts after Hurricane Katrina.

David Brewer III is married to Richardene "Deanie" Brewer, Ed.D. Dr. Brewer is a graduate of Hampton University where she majored in English education. She also has a Master of Arts degree in curriculum and instruction from San Diego State University. Deanie received her Ed.D. in educational leadership from the University of West Florida in Pensacola. Dr. Brewer's teaching career has spanned more than 20 years and has taken her from Virginia to San Diego and from England to Guam. She has taught at the middle school, high school and collegiate levels, earning several teacher excellence and academic awards.

His daughter, Stacey, graduated from Hampton University in 2002 as a distinguished scholar. She went on to receive her jurist doctorate degree from Pennsylvania State's Dickinson School of Law in 2005.
Vice Admiral David Brewer's personal awards include the Defense Superior Service Medal, Legion of Merit (three awards), Meritorious Service Medal (two awards) and the Navy Achievement Medal. Brewer heads The David and Mildred Brewer Foundation, a family foundation that provides scholarships for African American students. It is named in honor of his mother, a retired school teacher, and his late father, who taught at Brewer's high school for more than 33 years.