L. Douglas Wilder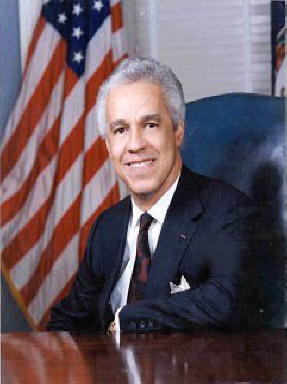 L. Douglas Wilder was governor of Virginia from 1990 until 1994. His was a political career of many firsts: the grandson of slaves, he was the first African American elected governor of any state in America. He was the first black member of the state senate in the twentieth century. And he was the first African American to win statewide office in Virginia when he was elected lieutenant governor in 1985.

Lawrence Douglas Wilder was born January 17, 1938, in Richmond Virginia, the seventh of eight children of Robert and Beulah (Richards) Wilder. The grandson of American slaves, he was named after poet Paul Laurence Dunbar and abolitionist Frederick Douglass. Douglas Wilder attended George Mason Elementary School and Armstrong High School, which were both racially segregated at the time. He did his undergraduate work at Virginia Union University, where he graduated with a degree in chemistry in 1951. Wilder is a prominent life member of Omega Psi Phi Fraternity, Inc., an intercollegiate Greek-letter fraternity established by and for African Americans.

Douglas Wilder served in the Korean War, earning a Bronze Star for heroism at Chop Hill. He rose to leadership in his first experience in an integrated organization, as President Truman had desegregated the military in 1948. After his service, Wilder earned a law degree at Howard University School of Law under the G.I. Bill. Virginia university law schools did not then admit African Americans. He graduated in 1959 and returned to Richmond to co-found the law firm of Wilder, Gregory, and Associates.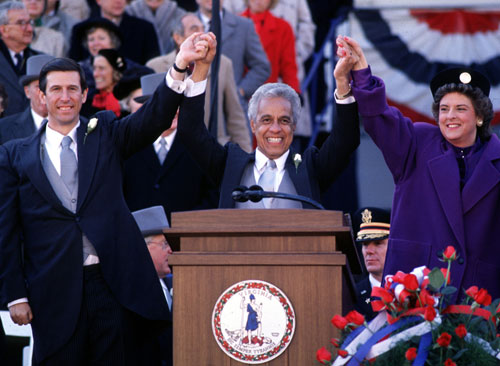 In 1969, Douglas Wilder entered politics, running in a special election for the Virginia state senate. He won and became the first African American state senator in Virginia since Reconstruction. Wilder spent ten years in the General Assembly and was recognized as one of its most effective legislators. During his time in the Senate, Wilder supported a number of bills that were beneficial to low-income residents, and was also a major proponent of anti-discrimination bills. He was most active, however, in reforming legislation relating to juvenile criminal offenders. Beginning in the mid-1970s, Wilder also fought to secure a state holiday for Martin Luther King, Jr.'s birthday, which finally succeeded in 1984

In 1985, Wilder was elected lieutenant governor. Four years later, he ran for statewide office again, and, on January 13, 1990, L. Douglas Wilder became Virginia's sixty-sixth governor. He was the first elected African American governor in United States history. During his administration, Wilder was praised for his sound fiscal management and his ability to balance the state budget during difficult economic times. He sponsored new construction projects at many of Virginia's colleges and universities, mental health facilities, and state parks.
For a brief time in 1991 Wilder was a candidate for the Democratic nomination for president of the United States. His prominence in national politics, based on his achievements in Virginia politics, illustrated how much had changed in Virginia and in the nation since the days when African Americans were often prevented from voting or taking part in public life.