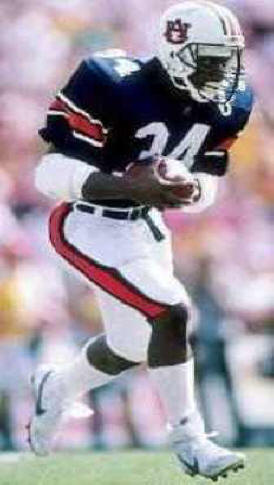 Bo Jackson was one of only a few professional athletes to excel in two different sports. He is the only professional athlete to become an All-Star in both Major League Baseball and the National Football League, and for good measure he also ran the 60-yard dash fast enough to consider joining the U.S. Olympic team. Bo Jackson played running back for the Los Angeles Raiders and left field and designated hitter for the Kansas City Royals, the Chicago White Sox and the California Angels.
Vincent Edward Jackson was born November 30, 1962, the 8th of 10 children in Bessemer Alabama. Named after Vince Edwards, his mother's favorite actor he was quickly nicknamed Bo by his family because he was always getting into trouble, like a "wild boar hog." Jackson attended McAdory High School, where he rushed for 1,175 yards as a running back as a high school senior. Jackson also hit twenty home runs in twenty-five games for McAdory's baseball team during his senior season, along with being a two-time state champion in the decathlon. His senior year Bo Jackson was offered contracts from Major League Baseball, including one from the Yankees, but he wisely chose to attend college as a two sport athlete.
Accepting a football scholarship from Auburn University, Bo Jackson pushed the SEC team into the record books. Sharing the backfield with players like quarterback Randy Campbell, Lionel "Little Train" James and Tommie Agee, Jackson was the premier running back in not just the SEC, but the nation. Becoming the most prolific running back in Auburn history, Bo Jackson averaged an incredible 5.6 yards per carry. A 6 foot 1 inch, 228-pound running back with speed Bo Jackson was always a threat on the grid iron. He was named the MVP in the Sugar Bowl in 1983, and the Liberty Bowl in 1984. Finishing his college career as one of the greatest running backs in SEC history, Bo Jackson gained 4,303 yards in 650 attempts and scored 43 touchdowns during his four years as a starter. In 1985 Bo Jackson won the Walter Camp Award and the highest college football award, the Heisman Trophy. His number 34 jersey was retired by Auburn in 1992. But Bo Jackson wasn't just a college football star, he was also setting records on the baseball diamond.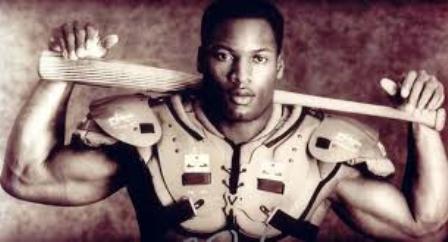 Bo Jackson lettered for the Auburn baseball team in 1983, 1985 and 1986. An outfielder, Jackson hit .401 during the 1985 season, blasting 17 home runs and driving in 43 during his most productive season for Auburn, which concluded with his selection to the ABCA All-South Region Team. His .864 slugging percentage from that season remains an Auburn record while his career slugging percentage mark of .715 is second all-time. In a 1985 baseball game against the Georgia Bulldogs at Foley Field in Athens, Georgia, Jackson led Auburn to victory with a 4-for-5 performance, with three home runs and a double. Jackson launched his last home run that day into a brand new light standard.
Jackson was drafted by the Tampa Bay Buccaneers as the first pick of the 1986 NFL Draft, but he opted to play baseball for the Kansas City Royals, the defending World Series champions. He spent most of the season with the Memphis Chicks in the minor leagues before being called up for regular duty in 1987, where he had 22 home runs, 53 RBIs and 10 stolen bases as an outfielder for the Royals. He would spend a total of eight years in the majors with the Royals, Chicago White Sox and California Angels. In 1989 he was voted to the All-Star game and named the game's MVP.
Since he did not sign with The Tampa Bay Bucs in the 1986 draft, Bo Jackson's name was thrown back into the draft the following year and the Los Angeles Raiders selected Jackson in the 7th round with the 183rd overall pick. The Raiders owner Al Davis supported Jackson and his baseball career and got Jackson to sign a contract by offering him a salary that was comparable to a full-time starting running back and allowing Jackson to join the Raiders only after the baseball season ended.
Joining the Raiders midway through the 1987 season, Jackson rushed for 554 yards on 81 carries in just seven games. Over the next three seasons, Bo Jackson would rush for 2,228 more yards and 12 touchdowns, a remarkable achievement, especially since he was a "second string" player behind Marcus Allen.
Jackson turned in a 221-yard rushing performance on Monday Night Football in 1987 against the Seattle Seahawks. During this game, he ran over Seahawks linebacker Brian Bosworth, who had insulted Jackson before the game. He also made a 91-yard run in the 2nd quarter, to the outside, untouched down the sideline. He continued sprinting until finally slowing down as he passed through the entrance to the field tunnel to the dressing rooms with teammates soon following. Jackson scored two rushing touchdowns and one receiving touchdown in the game.
In his four seasons in the NFL, Jackson rushed for 2,782 yards and 16 touchdowns with an average yards per carry of 5.4. He also caught 40 passes for 352 yards and two touchdowns. Jackson's 229 yards on November 30, 1987, just 29 days after his first NFL carry, is still a Monday Night Football record.
A major hip injury suffered in a 1990 NFL playoff game eventually forced Jackson to undergo a hip replacement, which ended his football career. People thought Jackson's baseball life was over, too, until Jackson, then playing for the Chicago White Sox, homered on the first pitch he saw in 1993. However, the hip condition had sapped his speed and forced him to retire from baseball in 1994.
In 1989 and 1990, Jackson's name became known beyond just sports fans through the "Bo Knows" advertising campaign, a series of advertisements by Nike, that starred Jackson alongside Rock and Roll Hall of Fame musician Bo Diddley, promoting a cross-training athletic shoe named for Jackson.
In 1995, Bo Jackson completed his bachelor of science degree at Auburn to fulfill the promise he made to his mother. On May 9, 2009, Jackson delivered the commencement speech at Auburn's graduation ceremony. His speech was centered on the benefits of stepping out of one's comfort zone.