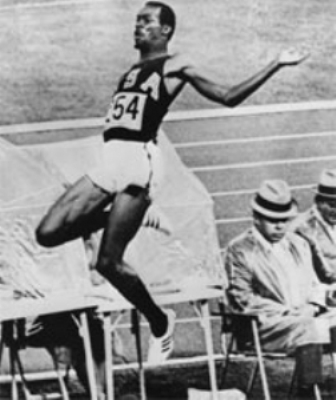 Of all Olympic records, none are more impressive than Bob Beamon's 29 feet 2½ inches long jump on Oct. 18, 1968 in Mexico City. Not only did he become the first 29-foot long jumper that evening, but he became the first to pass 28 feet too. Bob Beamon shattered the world record by an astounding 21 3/4 inches. His world record stood for 23 years, and was named by Sports Illustrated magazine as one of the five greatest sports moments of the 20th century.
Bob Beamon was born on August 29, 1946, in Jamaica, New York. When he was eight months old, his mother, Naomi Brown Beamon, died of tuberculosis. With his stepfather in prison, Beamon's maternal grandmother, Bessie, became his primary caregiver. In 1962, during junior high school,
Beamon
set a Junior Olympic record in the long jump of 24 feet 1 inch.
When he was attending Jamaica High School Beamon became involved with basketball. My high school was a jungle," he said. "You had to be constantly alert, ready to fight or run. If you joined one of the gangs, you might escape harm but you also might be in trouble the rest of your life. If you stayed decent, you stood a good chance of being clobbered every day. So I went hot and heavy for basketball, and I feel it saved me from being cut up. Basketball is big stuff in New York. If you're good in it, everybody respects you. Nobody would want to ruin your shooting eye or your shooting arm."
Bob Beamon soon discovered his true talent lay in track and field. Discovered by Larry Ellis, a renowned track coach, Bob Beamon later became part of the All-American track and field team. At the age of 16 Bob Beamon set citywide track records in New York City and also set the New York State record for the long jump in 1965. That year he ranked second among U.S. high school athletes with a best jump of 25 feet 3½ inches and ranked first among triple jumpers with a best of 53 feet 3¾ inches In 1965, he ranked second in the long jump in the United States, and received a track and field scholarship to the University of Texas at El Paso.
Beamon qualified for the Olympics four months before he was suspended from the University of Texas at El Paso. Bob Beamon, along with other African American athletes boycotted matches again Brigham Young, a Mormon school, to protest the fact that they promoted racial inequalities.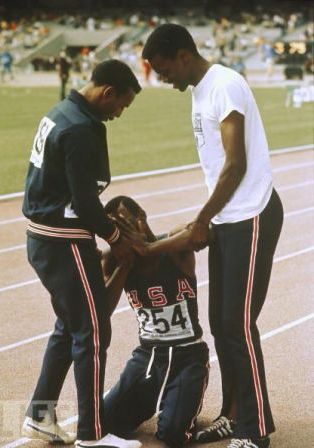 While Bob Beamon had an outstanding season in 1968, he almost didn't qualify for the finals at the Olympics. He fouled on his first two qualifying jumps. At the time Beamon's unofficial coach was his fellow track-and-field star and record holder Ralph Boston, who worked with Beamon to overcome his fouling problem. Before his last try, Boston told him to relax and to take off a foot before he reached the board if he had to, but to be sure not to foul. Beamon followed the advice and qualified.
On October 18 at the 1968 Summer Olympics in Mexico City, Bob Beamon set a world record for the long jump with a jump of 8.90 m (29 ft. 2½ in.). When the announcer called out the distance for the jump, Beamon, unfamiliar with metric measurements, wasn't affected by it. When his teammate and coach Ralph Boston told him that he broke the world record, an astonished Beamon collapsed to his knees and placed his hands over his face in shock. In one of the more enduring images of the games, his competitors then helped him to his feet.
One journalist called Bob Beamon "the man who saw lightning." Sports journalist Dick Schaap wrote a book about the leap, called The Perfect Jump. Prior to Beamon's jump, the world record had been broken thirteen times since 1901, with an average increase of 6 cm (2½ in) and the largest increase being 15 cm (6 in) while Beamon's gold medal mark bettered the existing record by 55 cm (21¾ in.).
The defending Olympic champion, Lynn Davies of Great Britain, told Beamon, "You have destroyed this event". Beamon landed his jump near the far end of the sand pit but the optical device which had been installed to measure jump distances was not designed to measure a jump of such length. This forced the officials to measure the jump manually which added to the jump's aura. Shortly after Bob Beamon's jump a major rainstorm blew through making it more difficult for his competitors to try to match Beamon's feat. Klaus Beer finished second with a jump of 8.19 m.
In making his record jump, Beamon enjoyed a number of advantageous environmental factors. At an altitude of 2240 m (7349 ft), Mexico City's air had less resistance than air would have at sea level. This allows runners to run faster and jumpers to jump farther. In addition to Beamon's record, world records were broken in most of the sprinting and jumping events at the 1968 Olympic Games. Beamon also benefited from a trailing wind of 2 meters per second on his jump, the maximum allowable for record purposes. During the same hour Lee Evans set the world record for 400 meters that lasted for almost 20 years.
Shortly after the Mexico City Olympics, Bob Beamon was drafted by the Phoenix Suns basketball team. In 1972 he graduated from Adelphi University with a degree in sociology. In 1999, Bob Beamon and his wife, Milana Walter Beamon, co-wrote a book about his life,
The Man Who Could Fly
. He has been inducted into the National Track and Field Hall of Fame and the Olympic Hall of Fame.
With Bob Beamon's remarkable performance in in the 1969 Olympics, the English Dictionary added the new word beomonesque. It means an "athletic feat." However in 1991, Mike Powell beat Bob's record at the World Championships held in Tokyo, Japan.