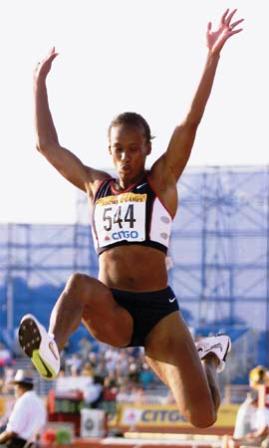 Jacqueline "Jackie" Joyner-Kersee is a retired American athlete, ranked among the all-time greatest athletes in the women's heptathlon as well as in the women's long jump. She won three gold, one silver, and two bronze Olympic medals, in those four different events. Sports Illustrated for Women magazine voted Joyner-Kersee the Greatest Female Athlete of the 20th century, just ahead of Babe Didrikson Zaharias. Jackie Joyner-Kersee stands as an example of how strength and determination can triumph over adversity. An African-American, she has battled racial discrimination and gender bias and triumphed in the male-dominated field of athletic competition.
Jacqueline Joyner was born March 3, 1962, in East St. Louis, Illinois, and was named after Jackie Kennedy. One of four children born to Al Joyner and his wife, Mary, Jackie's older brother Al Joyner will also become an Olympic star and go on to marry
Florence Griffith
. Jackie and her family lived in a poor neighborhood, in a house Jackie described as "little more than paper and sticks". Jackie was only 10 when she started to compete in track meets and winning.
When she was 14 years old Jackie Joyner won her first Junior National Title in the pentathlon. As a high school athlete at East St. Lois Lincoln High School, she qualified for the finals in the Long Jump at the 1980 Olympic Trials, finishing 8th behind another high school student, Carol Lewis. She was also a talented basketball and volleyball player in high school, which led to her basketball scholarship to UCLA in 1980.
As a forward for the Bruins basketball team, Jackie Joyner was a starter in for each of her first three seasons. Joyner red shirted during the 1983-1984 academic year to concentrate on the heptathlon for the 1984 Summer Olympics, then started again in her Senior (fifth) year, 1984-1985. Scoring 1,167 points during her collegiate career, Jackie was the 19th all time scorer for the Bruins.
It was at UCLA that Jackie Joyner first met Bob Kersee, her coach and future husband. Under Coach Kersee's direction, Jackie Joyner excelled at track and won the NCAA heptathlon two years in a row, as well as walking away with the 1982 USA championship. Unfortunately, she also had an injury that would haunt her throughout her career. While preparing for the 1983 World Championships in Helinski, Finland, Jackie Joyner pulled her hamstring and was forced to withdraw from the competition.
Starting in the 1984 Summer Olympics, Jackie Joyner became a regular participant and medal winner in the summer games until 1996. During the 1984 Summer Olympics, Jackie Joyner won the silver medal in the heptathlon, the women's version of the decathlon. Later in the 1986 Goodwill Games, Joyner would be the first woman to score over 7,000 points in a heptathlon event. That same year she received the James E. Sullivan Award as the top amateur athlete in the United States.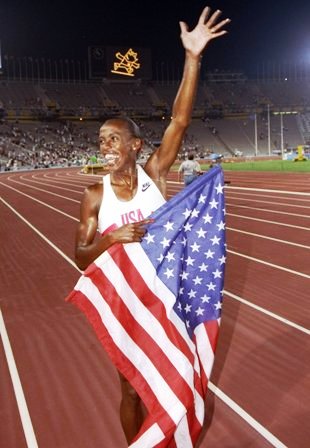 Jackie Joyner returned to the Olympics in 1988, but this time her name was Jackie Joyner-Kersee. Jackie and Bob Kersee were married in January of 1986, and he continued to be her track and field coach. In Seoul, Korea, Joyner-Kersee earned gold medals in both the heptathlon and the long jump, setting the still-standing heptathlon world record of 7,291 points. Five days later, Joyner won her second gold medal, leaping to an Olympic record of 7.40 m (24 ft 3 1⁄4 in) in the long jump.
During the 1991 World Championships in Toyko, Jackie-Joyner-Kersee again suffered a hamstring injury during the heptathlon's 200-meter run, but not before she had easily won the long jump. Her next trip to the Olympics in 1996 was the first time Jackie Joyner Kersee didn't win a medal. At the Olympic Trials, Joyner-Kersee sustained an injury to her right hamstring. When the 1996 Summer Olympics in Atlanta, Georgia began, Joyner-Kersee was not fully recovered by the time the heptathlon started. After running the first event, the 100 m hurdles, the pain was unbearable and she withdrew. She was able to recover well enough to compete in the long jump and qualify for the final, but Jackie was lunable to win the bronze medal. The Atlanta Olympics would be the last Olympics of Joyner-Kersee's long competitive career.
Being done with the Olympics didn't mean Jackie-Joyner Kersee was done with being an athlete. Turning to her second love, she began her career as a professional women's basketball player. In 1996 Jackie Joyner Kersee signed on to play pro basketball for the Richmond Rage of the fledgling American Basketball League. Although she was very popular with the fans, she was less successful on the court. She appeared in only 17 games, and scored no more than four points in any game.
As of August 2010, Joyner-Kersee holds the world record in heptathlon along with six all time best results and her long jump record of 7.49 m is third on the long jump all time list. In addition to heptathlon and long jump, she was a world class athlete in 100 m hurdles and 200 meters. Sports Illustrated voted her the greatest female athlete of the 20th century.