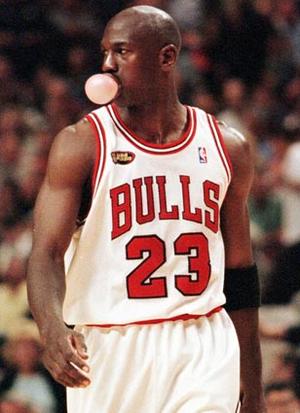 Michael Jordan, one of the greatest basketball players ever retired at age 40, for the third and final time in 2003. No player in NBA history has achieved so much in any amount of time. Michael Jordan is a five-time league MVP, a ten-time scoring champion, a six-time Finals MVP, and a six-time NBA champion. Jordan finished his career with 32,292 points, his career average 30.12 points per game is the best in NBA history. Both the Bulls and the Miami Heat retired his number, marking the first time in sports history that two teams retired a player's jersey in his honor.
Michael Jeffrey Jordan was born in Brooklyn, New York, the son of Deloris and James R. Jordan Sr. His mother worked in banking, and his father was an equipment supervisor. Michael was the fourth of five children. Jordan's family moved to Wilmington, North Carolina, when Michael Jordan was a toddler to avoid the rough streets of Brooklyn. As a youngster, Michael immediately became interested in sports. However, it was baseball not basketball that was his first love. He would play catch in the yard with his father, who loved baseball. He soon started to play basketball to try and follow in the footsteps of his older brother, Larry, whom he idolized growing up.
Michael Jordan attended Emsley A. Laney High School in Wilmington, where he anchored his athletic career by playing baseball, football, and basketball. He tried out for the varsity basketball team during his sophomore year, but at 5'11, he was deemed too short to play at that level. His taller friend, Harvest Leroy Smith, was the only sophomore to make the team. A hard worker, Jordan became the star of Laney's junior varsity squad, and finished the season with several 40 point games. The following summer, Michael Jordan grew four inches and trained rigorously to make the varsity team his junior year. Jordan went on to average about 20 points per game over his final two seasons of high school play, and his senior year, he was selected to the McDonald's All-American Team.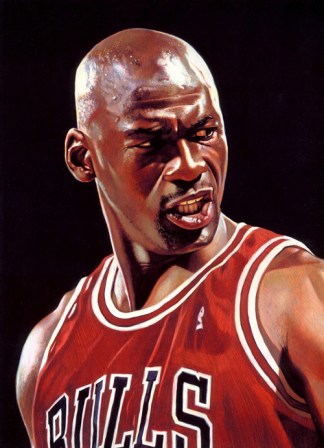 After high school Michael Jordan accepted a basketball scholarship to the University of North Carolina, where he played under head coach Dean Smith. In Jordan's first season at North Carolina he was named Atlantic Coast Conference (ACC) Rookie of the Year for 1982. The team won the ACC championship, and Jordan made the clutch jump shot that beat Georgetown University for the NCAA championship. Jordan led the ACC in scoring as a sophomore and as a junior. The Sporting News named Michael Jordan college player of the year for both years. Jordan was a member of the Summer 1984 United States Olympic basketball team that won the gold medal in Los Angeles, California. Jordan led the team in scoring averaging 17.1 points per game for the tournament.
Michael Jordan left North Carolina after his junior year and was drafted by the Chicago Bulls as the third pick of the 1984 NBA draft. Jordan burst into the big time with a fabulous first season, earning the NBA Rookie of the Year Award in 1984-85 after averaging 28.2 points per game.
Michael Jordan had an injury to his foot that caused him to miss 64 games in his second season, but that didn't stop him from scoring an NBA playoff-record 63 points in a first-round game against the Boston Celtics. The following year in the fall of 1986 Michael Jordan began a career-long onslaught on the NBA record book. He averaged 37.1 points leading the league in scoring.
More than just a scoring machine, Jordan also showed that he was a leader and a winner by guiding Chicago to a trio of NBA Championships. As a rookie, he joined a Bulls team that had won only 28 games the previous season. By 1991 the club had topped 60 wins during the regular season while marching to the first of three consecutive titles.
That summer, Jordan was the key figure in forming the Dream Team that competed in the 1992 Olympics in Barcelona, Spain. The 12-member roster, full of the era's best players were respected as basketball royalty by its opponents whom they outclassed on the way to the gold medal. The members of the Dream Team were idolized like pop icons its fans.
In 1993, tragedy struck Jordan's seemingly perfect life. On July 23, 1993, his father, James, was murdered off Interstate 95 in North Carolina. Two local teenagers, Daniel Green and Larry Martin Demery, had robbed him, shot him in the chest and threw his body in a swamp. The assailants were traced from calls they made on James Jordan's cellular phone, caught, convicted, and sentenced to life in prison. Three months after his father's murder on October 6, 1993, Jordan announced his retirement from basketball citing that "he no longer had the desire to play."
By the time Michael Jordan announced his retirement in 1993, he had earned three league MVP Awards, an NBA Defensive Player of the Year selection, a pair of NBA slam-dunk championship titles, seven berths on the All-NBA First Team and six selections to the NBA All-Defensive First Team. He also led the league in steals three times. A nine-time All-Star Game selection, he earned the game's MVP Award in 1988 after a 40-point performance.
Known as an avid golfer, many expected Michael Jordan to retire to the links, but instead he surprised everyone and ended up on the baseball diamond. Returning to his first love, Jordan set his sights on Major League Baseball. He spent the 1994 baseball season playing for the Birmingham Barons, an affiliate of the Chicago White Sox in the Class AA Southern League. Although he was a good athlete, success eluded Michael Jordan on the baseball diamond.
On March 18, 1995, Michael Jordan announced his return to the NBA through a simple press release: "I'm back." The next day, Jordan donned jersey number 45, since his familiar 23 had been retired in his honor following his first retirement. He took to the court with the Bulls to face the Indiana Pacers in Indianapolis, scoring 19 points. The game had the highest Nielsen rating of a regular season NBA game since 1975. it was obvious that Jordan was still the same superstar player. He would go on to lead the Bulls to three more consecutive NBA championships.
On January 13, 1999, Michael Jordan re-announced his retirement, saying that "he was 99.9 percent sure that he would never play again". Soon after, Jordan became part owner of the Washington Wizards.
In September 2001, after months of rumors, Jordan announced that he was ending his three-year retirement to play for the Wizards at age thirty-eight. At a news conference to discuss his comeback, he said, "
Physically, I know I'm not twenty-five years old, but I feel I can play the game of basketball on the highest level
." The Wizards, who had won only nineteen games the season before, improved with the addition of Jordan, although it wasn't enough to get them to the playoffs in Jordan's two years. However, moments of the great Jordan were apparent such as scoring 40 points a few days after his 40th birthday in the 2002-03 season.
With the recognition that 2002–03 would be Michael Jordan's final season, tributes were paid to him throughout the NBA. In his final game at his old home court, the United Center in Chicago, Jordan received a four-minute standing ovation. The Miami Heat retired the number 23 jersey on April 11, 2003, even though Jordan had never played for the team.