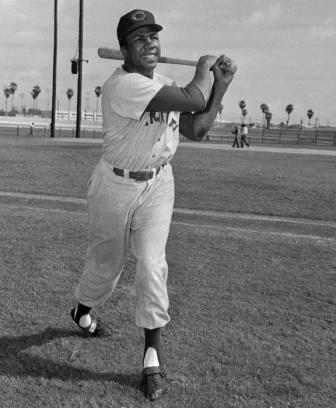 Frank Robinson was one of baseball's greatest players. As Rookie of the Year in 1956 and an MVP in both the American and National leagues, he developed a reputation as an aggressive outfielder and hard-charging base runner. The American League Triple Crown winner in 1966, Frank Robinson amassed 586 home runs and ended his career just 57 hits shy of the 3,000-hit club. His intelligence and leadership helped Frank Robinson become the Major Leagues' first African-American manager in 1975, when he skippered the Cleveland Indians.
Frank Robinson was born August 31, 1935 in Beaumont, Texas, the youngest of Ruth and Frank Robinson's ten children. After her husband deserted her, Ruth took her children, including four-year-old Frank Jr, and moved to Oakland, California. There was little money in the Robinson household living on a single mother's income. Frank Robinson was 14 before he owned his own glove, but that didn't keep him from playing endless baseball.
Frank Robinson attended McClymonds High School in Oakland, California, where he played not only baseball, but basketball and football too. In fact NBA basketball star
Bill Russell
was a teammate of his. Right-hander Robinson played third base and pitched occasionally, playing sandlot and on the championship American Legion Junior League baseball team the "Doll Drug Company" coached by teacher George Powles.
Upon graduation from high school, Frank Robinson was signed by the National League Cincinnati Reds and played third base and outfield with their minor league teams until he joined the parent club in 1956.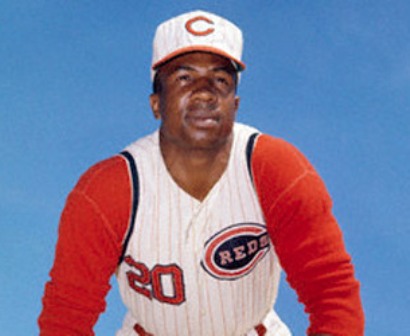 Playing for the Reds' minor league teams in Ogden, Utah, and Columbia, South Carolina, Frank Robinson was forced to suffer racial prejudges on and off the field "
Ogden was in a Mormon state, and though I didn't know it, at that time the Mormon religion insisted that Negroes were inferior beings
," he recalled in his book Extra Innings. "
I got my first taste of racial bigotry in Ogden
." He could not use the hotels or restaurants frequented by white players and had to use only "black" cabs to get to the games. On top of it all, he had to endure the racial taunts and obscenities shouted by fans and opponents. The situation was no better in Columbia. After three years in the minors, Robinson was called up to "The Show" in 1956.
Robinson seemed to have come out of nowhere in 1956 to win the Reds' left-field job. In his first major league at-bat, he drilled a fastball off the outfield wall for a double. Crowding the plate, challenging pitchers, and sliding hard, he tied Wally Berger's rookie record of 38 homers, made the NL All-Star team, led the league with 122 runs scored, and was hit by pitches a rookie-record 20 times.
In 1961 Robinson led the Reds to their first pennant since 1940 with his first MVP season, hitting .323 with 37 HR, 124 RBI, and 117 runs. His .611 slugging percentage led the NL, and he stole 22 bases in 25 attempts to lead in stolen base percentage. Frank Robinson was especially torrid in the stretch run. So dangerous was Robinson after being brushed back that Phillies manager Gene Mauch began fining any of his pitchers who worked Robinson inside. "
Pitchers did me a favor when they knocked me down
," Robinson said. "
It made me more determined. I wouldn't let that pitcher get me out. They say you can't hit if you're on your back. But I didn't hit on my back. I got up
."
Robinson won an NL Most Valuable Player award in 1961, and he batted more than .300 in 5 of the 10 years before he was traded to the American League Baltimore Orioles in 1966. In his first season with Baltimore he won the Triple Crown, leading the league in home runs (49), runs batted in (122), and batting average (.316). In 1966 Frank Robinson was again named the Most Valuable Player, but this time for the American League Orioles, becoming the first player to win the award in both leagues.
The Orioles won the 1966 World Series and Robinson was named the Series MVP. In the Orioles' four-game sweep of the defending champion Los Angeles Dodgers, Robinson hit two home runs. The first was in Game One, which Baltimore won 5-2, and in Game Four, Robinson's home run was the only run of the game in a 1-0 series-clinching victory. Both home runs were hit off Don Drysdale.
Described by The Sporting News as "a Grade-A Negro" upon coming to Baltimore, Robinson was not yet a civil rights activist. When asked to join the Baltimore chapter of the NAACP, he declined unless the organization would promise not to ask him to make public appearances while he remained active as a player. His attitude changed only after he was confronted by Baltimore's segregated housing and a lack of support from the team in overcoming the bigotry of the city's real-estate business.
Within a few years, Frank Robinson was one of the most outspoken players in the majors on a variety of racially charged issues, among them a lack of enthusiasm for rebuking white pitchers for throwing at black hitters.
Managing in the winter leagues and making it known that he would like to be the first black manager, Robinson was traded to the Cleveland Indians in September 1974 and after the season he was named player-manager. He added drama to his debut by putting himself in the lineup as designated hitter on opening day 1975 and slamming a homer in his first at-bat.
Fired during the 1977 season, Robinson spent several years as a coach and a minor league manager before San Francisco hired him in 1981. He brought the Giants home third in the second half of the split season and again in 1982. In 1986 Robinson returned to the Orioles as a coach and was awarded the American League Manager of the Year Award in 1989 for leading the Baltimore Orioles to an 87–75 record, a turnaround from their previous season in which they went 54–107.
Robinson known in baseball as the Director of Discipline, was chosen by Major League Baseball in 2002 to manage the Expos, which MLB owned at that time. The 2002 Expos performed surprisingly well, finishing 2nd in the AL East, and posting a 19-game improvement over 2001.