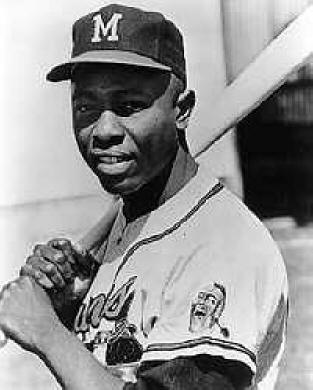 Henry "Hank" Aaron is recognized as the cleanup hitter who holds the Cadillac of baseball records: His 755 home runs are the most by a major leaguer. "Hammerin' Hank"is a former African American baseball player whose Major League Baseball career spanned from 1954 through 1976. Aaron is widely considered one of the greatest baseball players of all time. In 1999, editors at The Sporting News ranked Hank Aaron fifth on their list of "Greatest Baseball Players". During his professional career, Aaron performed at a consistently high level for an extended period of time. He hit 24 or more home runs every year from 1955 through 1973, and is the only player to hit 30 or more home runs in a season at least fifteen times.
Hank Aaron was born February 5, 1934 in Mobile, Alabama to proud parents Estella Aaron and Herbert Aaron. He had seven brothers and sisters, and one of his brothers, Tommie Aaron, managed to play Major League Baseball as well.
Henry Aaron's family was poor, and he spent much of his childhood on a farm picking cotton. Many say that this helped to give him really strong hands which helped him to hit home runs. Being a part of a family that could not afford baseball equipment did not deter him from trying to play baseball anyway. Hank would make his own bats and balls from materials he found. He also practiced hitting bottle caps with sticks.
As a freshman and sophomore in high school, Hank Aaron played outfield and third base for the baseball team at his school and assisted his team in winning the Mobile Negro High School Championship in both years. He was also very good at football. In fact, he had a few scholarship offers for football. He instead turned those offers down so that he could concentrate on baseball. Aaron was a cross-handed hitter and a power-hitter. When Hank was only fifteen years old, he had his first tryout with a franchise of the major leagues. It was with the Brooklyn Dodgers, but he was not selected to the team.
In 1951 Hank Aaron quit school to play in the Negro Leagues for the Indianapolis Clowns. After leading his club to victory in the league's 1952 World Series, Aaron was recruited the following June to the Milwaukee Braves for $10,000. The Braves assigned their new player to one of their farm clubs, The Eau Claire Bears, where Hank Aaron was named Northern League Rookie of the Year.
In 1953, Aaron was one of the first five black players in the South Atlantic League. He moved from shortstop to second base, but it didn't affect his hitting. Though faced with the racism of the south, he sparked Jacksonville to the Sally League pennant by leading the league in batting (.362), RBI (125), runs (115) and hits (208). He was voted the league's MVP.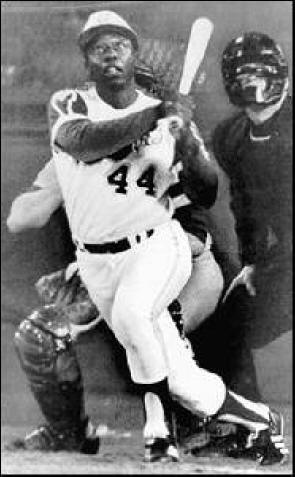 At spring training the next year, it didn't look like 20 year old Hank Aaron would make the Braves. But then Bobby Thomson suffered a broken ankle sliding into second. The Braves needed an outfielder to replace Thomson, and the 6-foot, 160 pound Aaron won the competition, taking over as the regular left fielder.
On April 13, Aaron made his major league debut sporting the number 5, and was hitless in five at-bats against the Cincinnati Reds' left-hander Joe Nuxhall. Two days later Aaron collected his first major league hit, a single off Cardinals' pitcher Vic Raschi., and the following week, Aaron hit his first major league home run, also off Raschi. Over the next 122 games, Aaron batted .280 with thirteen homers before he suffered a fractured ankle on September 5th. Hank Aaron decided to change his number to his lucky 44. As Aaron's career continued he would hit 44 home runs in four different seasons, and he would hit his record-breaking 715th career home run off Dodgers pitcher Al Downing, who coincidentally also wore number 44.
In 1955, Hank Aaron made his first All-Star team, and it was the first of his 21 All-Star game appearances, which tied a record. He completed the season with a .314 average, 27 homeruns, as well as 106 RBIs. In 1956, Hank Aaron managed to get two National League batting titles and he hit .328.
In 1957, Hank Aaron won his only National League Most Valuable Player Award. This year he batted .322 and also led the National League in home runs as well as runs batted in. On September 23, 1957, Hank Aaron hit a two-run walk-off home run in the eleventh inning of a game that he was playing against the Cardinals. The win resulted in Hank Aaron being carried off of the field by his teammates. The Milwaukee team then went on to win the World Series competing against the New York Yankees. Hank Aaron hit .393 and managed seven RBIs and three homers.
Although Aaron himself downplayed the "chase" to surpass Babe Ruth, baseball enthusiasts and the national media grew increasingly excited as he closed in on the home run record. During the summer of 1973, he 39 year old Hank Aaron hit 40 home runs in 392 at-bats, ending the season one home run short of the record. He hit home run number 713 on September 29, 1973, and with one day remaining in the season, many expected him to tie the record. But in his final game that year, playing against the Houston Astros (led by manager Leo Durocher, who had once roomed with Babe Ruth), he was unable to achieve this. After the game, Aaron stated that his only fear was that he might not live to see the 1974 season.
Over the winter, Aaron was the recipient of death threats and a large assortment of hate mail from people who did not want to see a black man break Ruth's nearly sacrosanct home run record. The threats extended to those providing positive press coverage of Aaron. Lewis Grizzard, then editor of the Atlanta Journal, reported receiving numerous phone calls calling them "nigger lovers" for covering Aaron's chase. While preparing the massive coverage of the home run record, he quietly had an obituary written, scared that Aaron might be murdered.
In his first at-bat in 1974, Hammerin Hank Aaron homered off Cincinnati's Jack Billingham, tying Ruth. His eyes got teary as he rounded third base. That night he called his mother. "I'm going to save the next one for you, Mom," he said.
On April 8, 1974, the largest crowd in Braves history (53,775) came out to witness history. Aaron didn't disappoint. In the fourth inning, he ripped an Al Downing pitch into the Braves bullpen, where it was caught by reliever Tom House. As Aaron rounded second base, two college students appeared and ran alongside him before security stepped in. The new home run king was mobbed at home by his teammates.
A quarter of a century later, Aaron still has the record, and the hate mail. "I read the letters," he said, "because they remind me not to be surprised or hurt. They remind me what people are really like."
After retiring as a player, Aaron became one of the first blacks in Major League Baseball upper-level management as Atlanta's vice president of player development. Since Dec. 1989, he has served as senior vice president and assistant to the president, but he is more active for Turner Broadcasting as a corporate vice president of community relations and a member of TBS' board of directors. He also is vice president of business development for The Airport Network.